Night Stalker 2006 DVD Release Coverage

Night Stalker 2006 DVD Release Coverage
Interviews with the cast and crew of the 2005 TV show Night Stalker to mark the DVD release.
In 2005, ABC gave the horror-themed TV show "Night Stalker" a chance in prime time. Unfortunately for horror fans, up against the insanely popular "CSI', the series only lasted for 10 episodes. But wait, that's not the end of the story - all 10 episodes are now available on DVD. To mark the release of the DVD, Staci Lane Wilson got a chance to talk to the cast and creators of the show. What changes were made between the new version and the classic by the same name? What did the cast think of working in horror roles? Those questions and more shall be answered with a single click:

Night Stalker - DVD Release: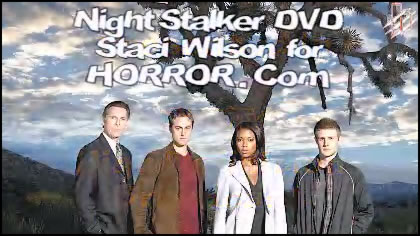 Click The Image Above To View The Night Stalker Coverage.
Don't forget to read Staci's review of the Night Stalker DVD for Horror.com.