Wicker Man Remake Interviews

Wicker Man Remake Interviews
Exclusive Horror.com interviews with the cast of the 2006 Wicker Man remake.
The Wicker Man remake - featuring Nicolas Cage, Leelee Sobieski and Ellen Burstyn - is in theaters this weekend. The first question that horror fans will ask, and a question they ask often these days, is how the remake stands up to the original film. Check out the video interviews with the Wicker Man cast below and then click on over to Staci's review to find out all of the Wicker-ish dirt:

Wicker Man - Cast Interviews: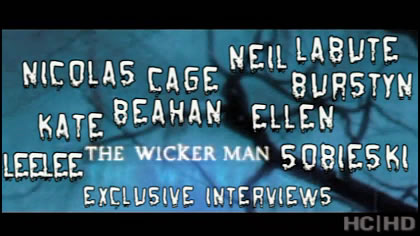 Click The Image Above To View The Wicker Man Interviews.
Don't forget to check out Staci's review of The Wicker Man for Horror.com.