The Illusionist Interviews

The Illusionist Interviews
Interviews with Edward Norton, Jessica Biel, and Neil Burger about The Illusionist movie.
The Illusionist has been getting great early reviews and solid word of mouth. This weekend, the talked-about Victorian-era fantasy gets a wider release, which means it might actually be showing in your town. The movie is the first major film from director Neil Burger and boasts an impressive cast including the legendary Edward Norton (The People vs. Larry Flynt, Fight Club) and super-babe Jessica Biel (Texas Chainsaw Massacre Remake, 7th Heaven) and features original music by Phillip Glass.

The story in the film revolves around a romance between a magician (Norton) and a princess (Biel) in turn-of-the-century Vienna. The film has been getting accolades for the imagery and atmosphere as much as the story. Horror.com's Staci Wilson got a chance to sit down with Edward Norton, Jessica Biel, and Neil Burger to talk to them about the story and the making of the film. Click the video below to find out more about The Illusionist:

The Illusionist - Cast Interviews: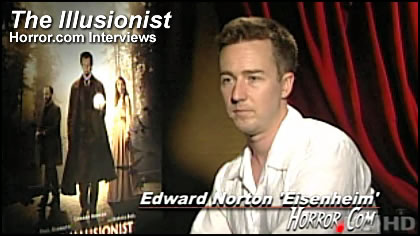 Click The Image Above To View The Illusionist Interviews.
Be sure to check out our review of The Illusionist too. The official website is here.