Sinderella at the Bloodcurdling Ball - Dear Diary

Sinderella at the Bloodcurdling Ball - Dear Diary
HDC's Staci Layne Wilson on the other side of the red velvet rope
The usual typo-tumbled ramblings by Staci Layne Wilson
I've been on the press line covering awards shows for many years — from nationally televised to "wherever" webcast, and interviewing everyone from A-list megastars in their Gucci gowns and Christian Louboutin pumps to chatting it up with up-and-coming horror directors in their threadbare Suspiria black tee-shirts, jeans and Doc Martens.
The first-annual Reaper Awards was somewhere in between — we had A-list horror icons, some dressed more to the nines than others. And we had "us": our core crew of diehard fans who also happen to be journalists, walking on the red carpet at the swanky Roosevelt Hotel in the heart of Hollywood, CA., on a rainy Tuesday night (the 13th, naturally).
One of them was me. We were in attendance as judges on the awards (which we have been working on for months) as well as presenters onstage. So this is just a little insider's view about what goes on behind the scenes… for the real report, please check the exclusive-to-HDC article by Marco Mannone.
[READ IT HERE]
In addition to my delightful duties at HDC, some of you may know I work for other online and TV outlets and am also the Departments Editor of the Fantastique print magazine. Marco is one of my regular writers for the mag, so I thought he'd be a perfect stand-in for me. He didn't go the full monty with red hair and blue streak, but I think he did OK.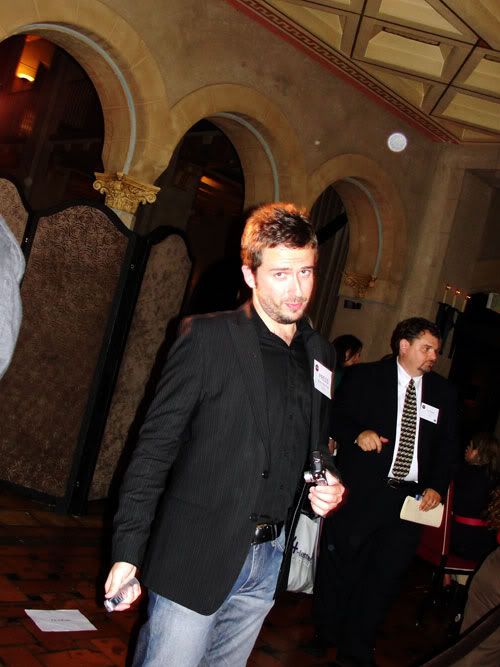 After hobnobbing a bit in the lounge with friends, honorees, and fellow presenters (Steve "Uncle Creepy" Barton, who put on this shindig in association with Home Media Magazine; Mick Garris; Sid Haig; Larry Zerner; Spooky Dan; Robert Hall; Daniel Farrands, etc.), it was time to walk the red carpet gauntlet.
I felt a bit silly posing for still pictures — I don't have my pouty look down, but it was cool to have a place to don my long-closeted Betsey Johnson gown — and I must say that when it comes to being interviewed (except by Marco, who mercifully shot me the softballs), it's impossible to not come off sounding like a complete imbecile when asked something totally out of left field (or maybe that's just me… hm).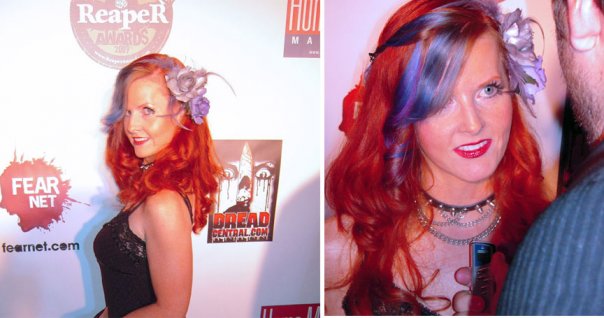 Once we were seated at our reserved table (real silverware, red and white wine, a cooked meal and everything!), the ceremony began. It was emceed by the beastfully bodacious Barton (I say I'm Naughty Niece to his Uncle Creepy; he says beauty to his beast… very sweet). The voluptuous va-va-voom factor was ramped up by everyone's favorite trophy-girl, Evil Emma Jacobs. She was flawless in handing over each and every Grimmy (a frightfully fantastic Grim Reaper effigy designed and made by Fearwerx and Emce Toys) to the grateful winners. For the full report on who won what, check out Marco's overview.
Jonathan Saba from Starz / Anchor Bay accepting an Award, Spooky Dan presenting one
I was relieved to be tasked with the relatively simple presentation of Best Vampire/Werewolf, because there was only one finalist nominee and therefore only one recipient. How could I mess up on just one little thing? I do work in front of the camera all the time, but it's a little different standing onstage in a roomful of people. We weren't given scripts, but some of the presenters who went on before me obviously thought about that and prepared (directors Joe Lynch and Adam Green had a hilarious comedy routine about teleprompters). Some didn't. I'm in the latter category… but that's always me. I'm a wing-it person.
Uncle Creepy introduced me, and when I got to the podium I immediately noticed that the winner's envelope for Underworld: Rise of the Lycans was underneath another one. No prob, I just shuffled it to the top and went ahead with my intro. Then I said, "And let's look at the clip." Um… let's look at the clip. Clip? …Please? Didn't occur to me that if the envelopes were swapped in order, so might be the footage. So it took a moment to get that sorted out, and then I proceeded to butcher the pronunciation of the Sony accepter's surname. Nice job, Wilson.
But it wasn't over yet! Since Derek Mears, the new Jason Voorhees from the '09 reboot, was stuck in Las Vegas, I was to fill in for him and co-present a Grimmy with Dan Farrands, producer of the new re-releases of the featurettes on the Friday the 13th DVDs out this year.
I did a tiny acting gig on the Friday the 13th: A New Beginning fresh featurette (I am Saffron Fontaine, the robot-dancing stripper who never actually strips), so I guess it seemed I was the next best thing to Jason Voorhees. And I happened to be there. And I speak English. (That is the first and last time, I am certain, I will ever be asked to stand in for Derek Mears!)
Dan and me hadn't really worked anything out beforehand (Derek was going to drag him up onstage in a sleeping bag… me, I left my machete in my other purse so I had nuthin'), so when Uncle Creepy announced only Dan's name to come up and present the award for Best Remastering, I thought: "Whew! They changed their minds." But Dan didn't… he took my hand and I followed him back onstage. We announced the recipient, I mangled yet another poor person's name, and away we went.
Actually, it was a blast. I did enjoy it and while I am not a natural born stage performer, what the hell — I'm broadcasting myself on YouTube anyway! (Flip finesse by Enzo Giobbé) I can't be any worse than Tricia Walsh or Boxxy, right? …Right? Um, guys…?
At the end of the evening, the king of DVD featurettes, Michael Felsher was honored with a special Grimmy for outstanding achievement. He was unable to be there (working on the latest Romero DVD — huh. Excuses!), but he put together a hilariously funny acceptance speech with was in the spirit of a DVD menu and featurettes. Unmitigated genius. (The full acceptance speech, or at least a lot of it hopefully, will be posted up at DreadCentral.com sometime this weekend. I'll add the link when it is online.)
It was an honor to be asked to not only judge the horror DVDs in so many inventive categories, but to present a couple. But the real honor is being able to know and work with such a great crew of committed colleagues (some of whom should probably be committed, but.. a-hem… they're awesome).
Please check out these related links for more perspectives on The First-Annual Reaper Awards
…Add comments, if I am forgetting anyone!