The Scariest Steps
One giant leap for mankind, one small step for the psychotic man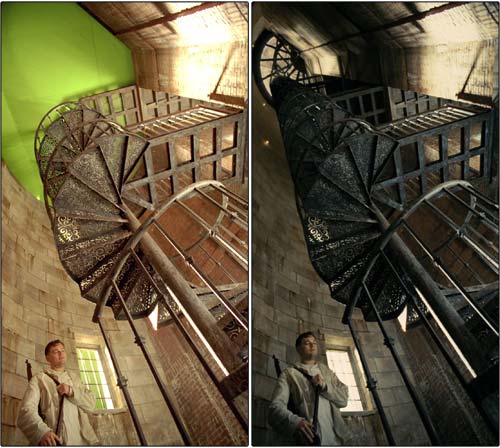 Green screen comparison from DVD Extras on Shutter Island
With the advent of Martin Scorsese's SHUTTER ISLAND coming out on DVD, we thought it would be fun to not only talk about the spooky stairways (and stairwells) in that film (see the specifics in our review, here), but to also spotlight images of some other movies which employ the use of stairs to coax scares.
The Ward C 'Escher' structure figures prominently into Teddy's ascent into madness — it's these stairs of despair which give him his first clue he's not really himself. In the DVD extras, the actors and director talk more about the production design and inspiration for the strange steps.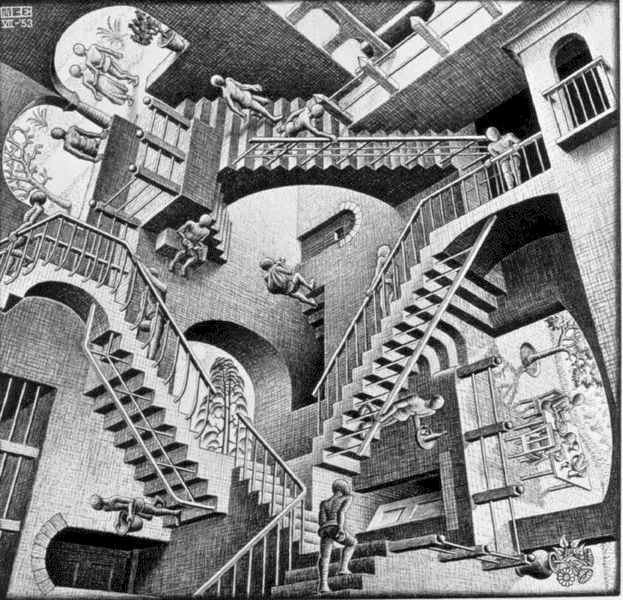 Of course, the most iconic image has got to be one of the first-ever captured on film, and that's NOSFERATU (1922). An another early contender is DRACULA (1931), the scene in which the Count is shown standing at the top and serenely surveying the potential victims below. Then there is another superlative scene of him carrying his "bride to be" down the poisoned path.
Who can ever forget the famous fall down the stairs in the PSYCHO (1960) house of horrors? (Not to mention the priest's "fall from grace" in THE EXORCIST (1973).)
Or what about notable European fright flicks?

The Bird With the Crystal Plumage

,

The Red Queen Kills Seven Times, Kill Baby Kill

, and so on.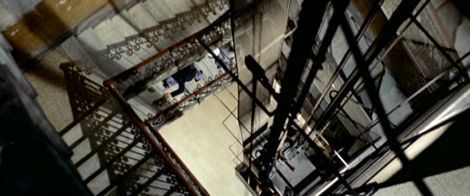 And then of course there are many scary movies all about stairs:

The Spiral Staircase, The People Under the Stairs, Wishing Stairs

, the Masters of Horror episode

Valerie on the Stairs

, and so on.
This has been just a brief overview on what kinds of spooky stairs can be found in suspense and horror movies — what are some of your favorites?
Related Links (not all horror-specific)