Universal's Halloween Horror Nights & Eyegore Awards Launch Report and Maze Review

Universal's Halloween Horror Nights & Eyegore Awards Launch Report and Maze Review
Halloween Horror Nights Universal Studios 2011, featuring Rob Zombie, Eli Roth, Alice Cooper, John Carpenter, Wes Craven, and Diego Luna. Exclusive photos and quips from Bailee Madison, Calico Cooper, Eli Roth, James Gunn, Sid Haig, Adam Green and Joe Lynch, plus many more on Chillerama, The Thing 2011 remake, Hostel, The Lords of Salem, Scream 4, Don't Be Afraid of the Dark, and Welcome to my Nightmare.
Halloween Horror Nights / Eyegore Awards are a long-standing tradition at Universal Studios Theme Park, and it shows no sign of waning. Every year the red carpet gets even more crowded with actors and directors, the press line gets longer, and the Awards Show is even more jam-packed with cool kudos than ever before. I remember when it was a much smaller, more modest affair, and especially when journalists and invited guests got to have the run of the mazes at least an hour or two before that part of the park was opened to the public. But mostly, the format is a familiar as the plot of an old Friday the 13th movie: Red carpet interviews, party mingle-fest, awards presentation, self-guided maze tours.
HALLOWEEN HORROR NIGHTS RED CARPET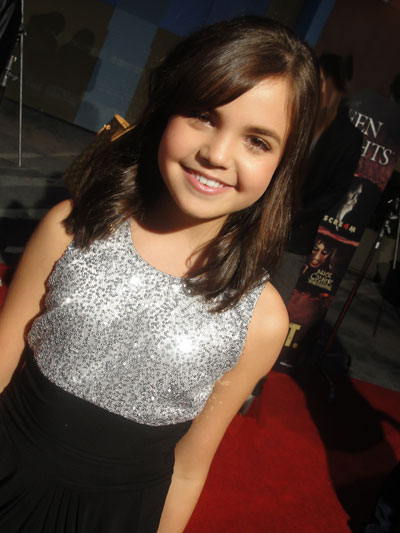 12 year old star of Don't Be Afraid of the Dark Bailee Madison was on hand as the youngest Eyegore Award recipient, ever. She said she was really honored to be recognized for her work in a movie that was so well-made by such a talented producer as Guillermo del Toro. She's adorable - she even remembered our interview from months ago, at the L.A. junket for DbAotD.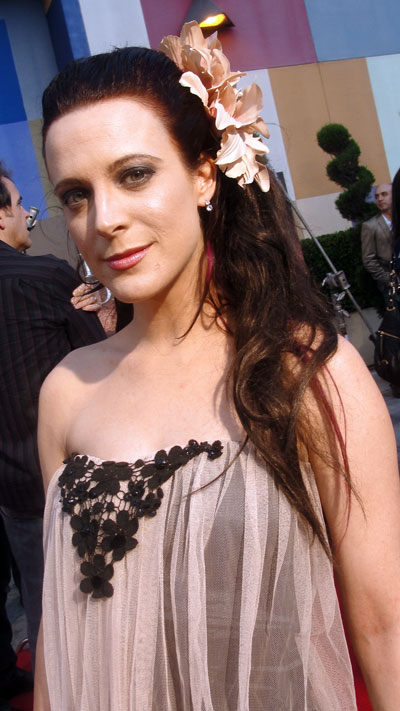 Alumni award recipient, actress and singer Calico Cooper was there to present an Eyegore to her father Alice Cooper, who also had a horror maze debuting that night. She said she's really proud of her dad in general, but was especially excited about his new maze and his successful tour. (He was actually on tour while the festivities were going on that night - though our tipsheet from Universal indicated he would be there, the pre-taped acceptance speech we saw later bore out the fact they knew all along Mr. Cooper wouldn't be in attendance.) Calico made some jokes about showing her boobs in the maze that night (hm, I missed that 3D experience!), and was happy to hear how much I liked the movie she was in with her dad, SUCK.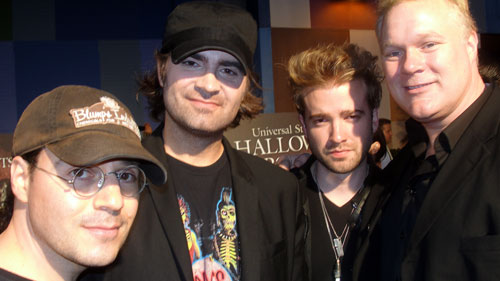 Most of the guys from Chillerama - l to r: Adam Rifkin, Joe Lynch, actor Anton Troy, and Tim Sullivan. The directors all talked about how thoroughly disgusting each of their parts in the anthology are… using every word in the book to describe the bodily functions they are currently splattering across screens in drive-ins and grind-houses everywhere.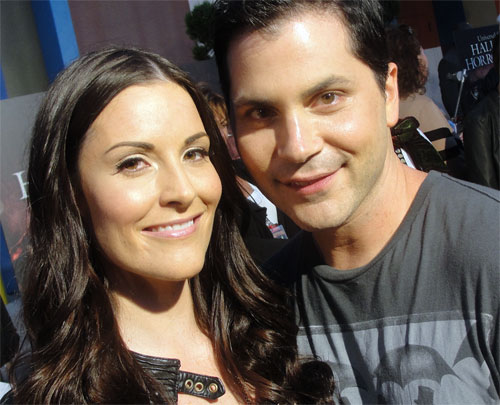 The other guy from Chillerama, Adam Green. With him is his wife and long-time muse, Rileah. Adam is especially excited about his horror-styled sit-com, which he created with and which costars Joe Lynch — it's called Holliston and it can be seen soon on FEARnet.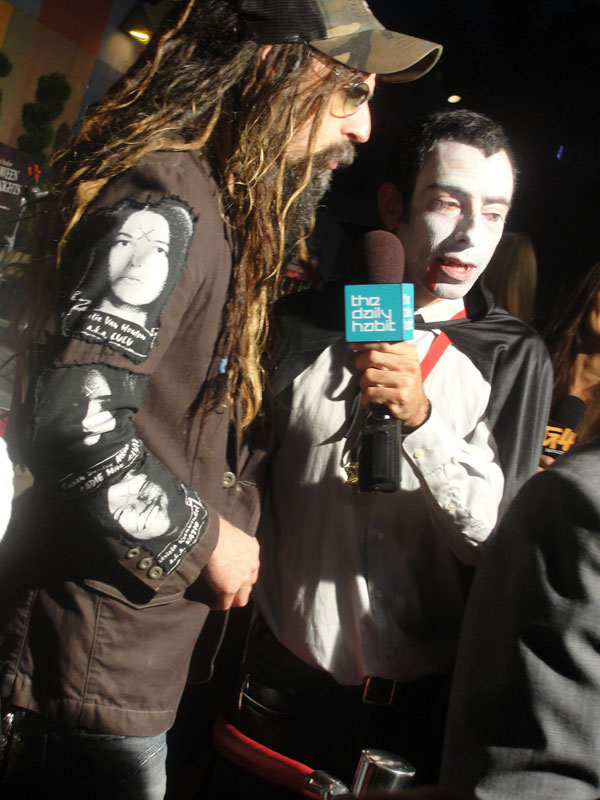 Rob Zombie, a former Eyegore Award recipient, was launching a new maze at the park as well as presenting onstage. We talked a little bit about The Lords of Salem, which we were also talking about on last year's red carpet. Sometimes these projects take quite a while to come together, but I was surprised when he said they are still casting although the movie's slated to shoot in a couple of weeks! (Sheri Moon Zombie is a shoo-in, however... the "count dragula" reporter is not...)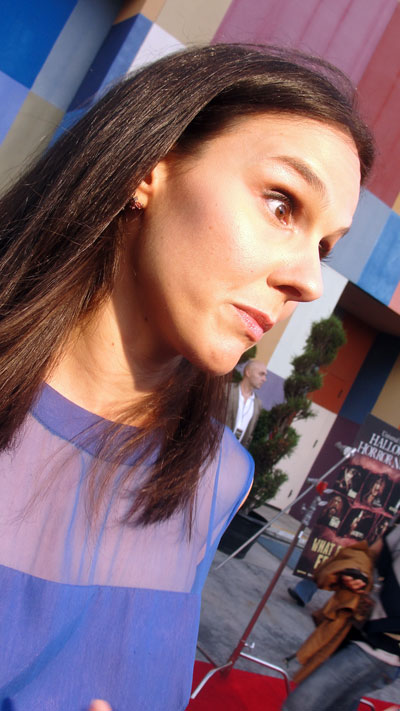 Kim Bubbs, who plays a scientist in the new remake of The Thing, said that while she really couldn't give anything away about her role in the film she "had fun" making it. It's taken me a day or so to get this report out, so I do hope no one has scooped me on this.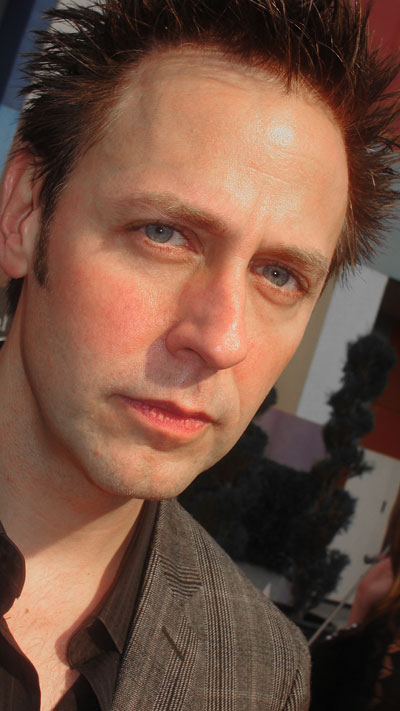 James Gunn, whom I've been interviewing since before his directorial days (first encounters: red carpets for Dawn of the Dead remake, and Scooby Doo live action feature), was on hand at the Eyegore Awards to present a trophy to his former roommate, Jamie Kennedy (star of Wes Craven's Scream films). He had a funny story about sofa surfing there for six months, before he finally got a gig.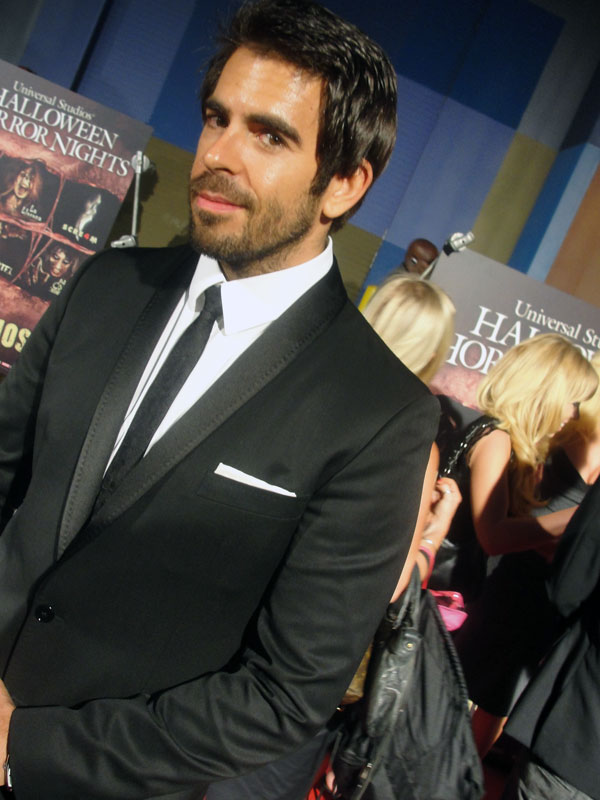 Eli Roth, also a new maze designer, was dressed to the nines after an extended trip to Italy; I asked him if he met with giallo style icon Edwige Fenech while he was there (he cast the babe of yore as an art teacher in Hostel 2) and he said no, but he did hang with Dario Argento, Lamberto Bava, and the like.
Just before dashing in, I got a quick pic with Eli to add to "the collection" (known him since the t-shirt era, long before these designer suit days!)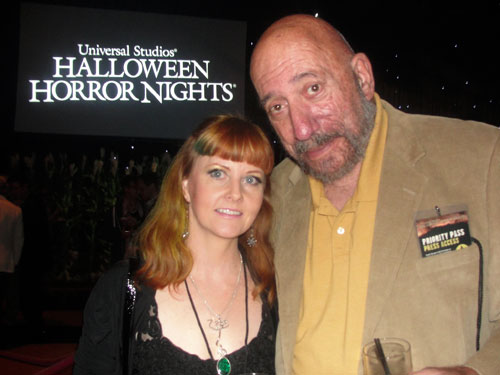 A snap with Sid Haig, another longtime interviewee and a friend to boot (that's one of the nice perks to working in the small community of horror journalism… sometimes, professional and personal lives mesh very well - there's a trust, because on both sides of the red carpet, we know we immerse ourselves in the genre world because we genuinely are fans).
The party wasn't as elaborate as far as having performers mingling with the crowd (the "circus freak" theme from a few years back was pretty awesome), but the open bar wasn't limited to just wine and beer, and they had a pretty decadent dessert tray. This year's décor was very well done: lots of corn stalks, and even a live actor portraying a scarecrow hanging behind the stage — it reminded me of The Wizard of Oz with a dash of that Billy Mumy Twilight Zone ep, and a dash of Children of the Corn.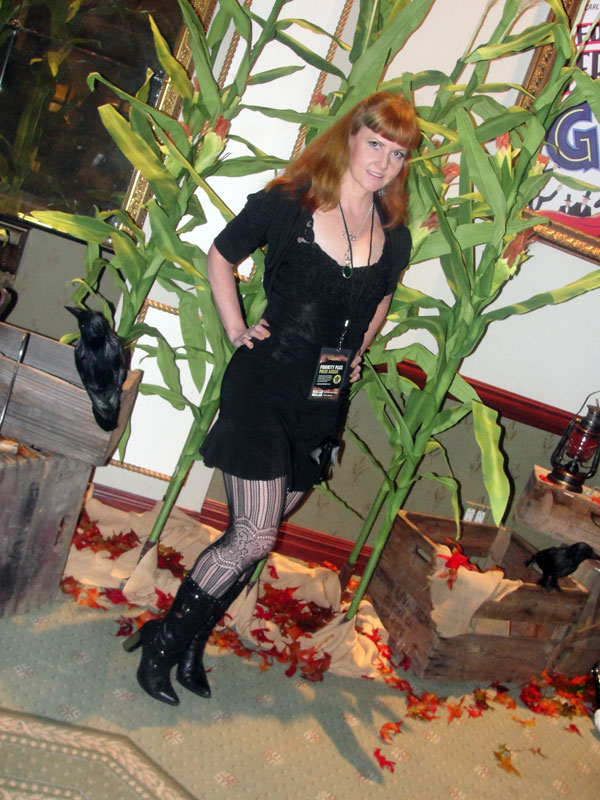 Once everyone was sated and seated, it was time for the big show to begin. Corey Feldman hosted (I believe it's his third year in a row… made me pine for the Rainn Wilson days - incidentally, Wilson was there to receive an award for his work on Rob Zombie's House of 1000 Corpses, as Fish-Boy, who was immortalized in the maze]). The show seemed to run a bit long, and the presentation to absentee Alice Cooper was so well done and seemed to be the biggest award of the night that it seemed anticlimactic that the show kept going on after that.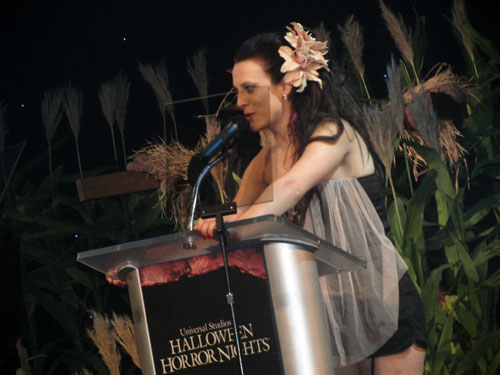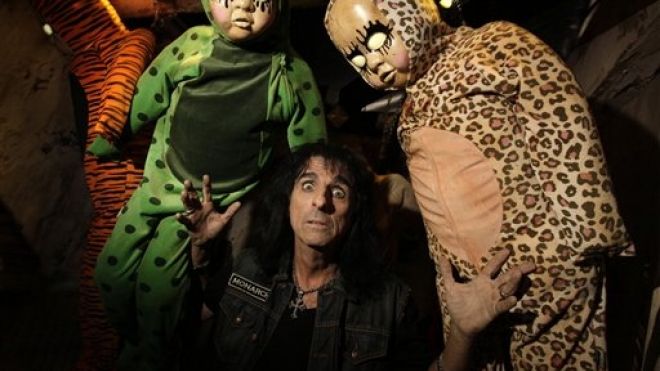 From the press release: "Recently inducted into the Rock & Roll Hall of Fame, Alice Cooper created the concept of the theatrical rock concert and has thrilled generations of fans with spectacular stagecraft and darkly flamboyant showmanship. His recording career spans six decades, includes over two dozen albums, millions of record sales, countless world tours and appearances in scores of movies and videos, including a brief but memorable appearance in both "Nightmare on Elm Street: Freddy's Dead" and Universal Pictures' "Prince of Darkness." The rock icon will also unveil his new maze, "Alice Cooper: Welcome to My Nightmare" at this year's "Halloween Horror Nights," inspired by his landmark concept album and its long-awaited sequel "Welcome 2 My Nightmare," to be released on September 13 through Universal Music Enterprises."
First of all, I have to admit that I'm not a fan of walking around and getting lost in amusement parks, rowdy crowds, dry ice and fog on my contact lenses, or mazes that smell like sweat and rubber. But if you are… then hey! I recommend Halloween Horror Nights, because it's got all that and more.
Reviewing as objectively as possible and looking at the mazes for their complexity and ingenuity, there were all pretty damn good. I like the fact that Universal really works closely with the filmmakers on their designs. There are six news mazes in all this year, and the only one I missed seeing was The Wolfman: The Curse of Talbot Hall.
Let's take a look at mazes, from the already good to the very best, in order.
Rob Zombie's House of 1000 Corpses
Description: Rob Zombie's House of 1000 Corpses: in 3-D Zombievision. Enter a 3-D world of carnage and chaos that could only be envisioned by horror icon Rob Zombie as you brave Captain Spaulding's deadly tourist trap.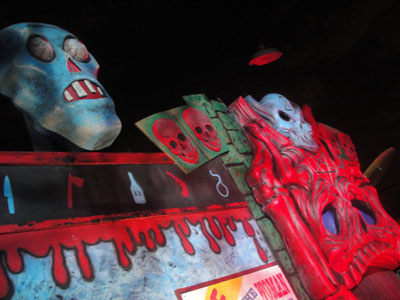 My take: Anyone who knows me, knows I only like the 3D effect in very small doses. Having said that, the 3D (Universal provides the cardboard red and blue anaglyph glasses) effects are pretty impressive. Even while you're standing outside waiting to get in, the signage on the exterior of Captain Spaulding's museum springs out. Once you get inside, you're taken on a note-for-note tour of the film, beginning with the store, through the Firefly residence, and then into subterranean network of tunnels where Otis look-alikes jump out, yelling, "run, rabbit, run!" There is a lot of to see here, but it gets my vote as leave-fave because of the 3D and the retread of old, familiar ground.
Eli Roth's Hostel: Hunting Season
Description: Eli Roth's Hostel: Hunting Season. Escape to devilishly hedonistic Bratislava, home to Eastern Europe's most horrifying Hostel where pleasure and pain go hand in hand. Descend to hell's darkest corner as you sample the forbidden fruits of extreme terror. It's hunting season and vulnerable prey is in high demand!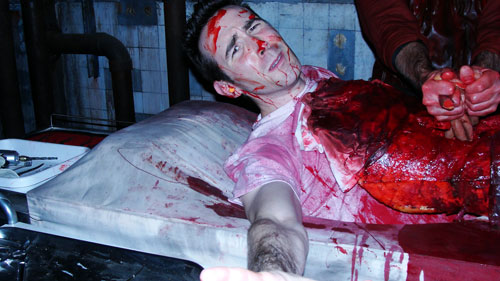 My take: I liked this maze, aside from the smell and the smoke, because even from the very start, before you walk in, they have sexy actresses working the line pretending to be Slavic prostitutes luring you in. Once you get inside, there is some of the shadow imagery seen in the film, as well as the famous "horned creature" only glimpsed briefly in the movie, but seen several times in the maze. Some of the murdered cadavers look a bit phony, but you're not really supposed to be taking a good look. Fortunately, there's a mix of real actors (see above) helping to sell the scares. There are a few peep-holes into Elite Hunting Club party scenes taking place in another room, but walking through a maze is not conducive to stopping and gawking, so that didn't work for me. Hostel 2 is also worked into the tour, towards the end.
Description: The Thing: Assimilation. Venture on a perilous journey to the isolated outpost of Thule Station. Discover why scientists went missing in the seemingly infinite, frozen reaches of Antarctica. Make the most shocking discovery of your life as you encounter a frightful alien creature that claims its victims without remorse, morphing into anything…or anyone!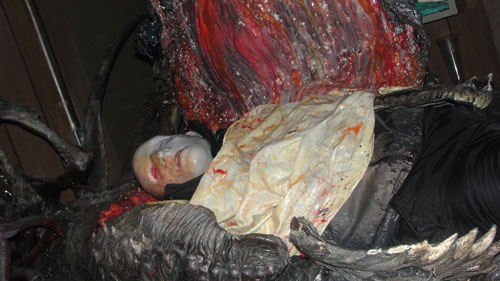 My take: Nice use of white snow and white laboratory in a haunted house experience, where most-everything is usually pretty dark. Not only did I like it because of the motif, more sci-fi than horror which is unique in this setting as it is, but the creatures were very well done and there are bunch of jump scares. The scenes set in the laboratory, with the animals dead or and escaped (hm… where might they be lurking?), is quite effective. Downsides? The place should have been approximately Arctic-chilly, adding yet another sensory element to the scares, and also… it was really smelly (lab-rat ambiance?).
La Llorona: Villa de Almas Perdidas
Description: La Llorona: Villa de Almas Perdidas as imagined by Diego Luna. Explore the chilling legend of pain and anguish as your ears succumb to the petrifying screams of a woman consumed by the dreadful guilt of drowning her children and then herself. Doomed to wander the Earth for eternity, La Llorona will stop at nothing to find the souls of her murdered children.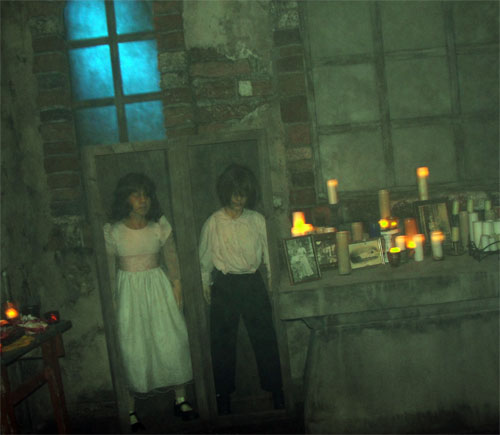 My take: While this eerie enclave is certainly the most low-key of them all, it gets my kudos for its uniqueness and inborn spookiness through religious iconography. The maze begins in a wide open room of a church, which is nicely appointed with crosses, rosaries, candles, statues, mourners, and… a few dead kids propped up in caskets. Moving on, we witness the murder of the children, and take a tour through the haunted Mexican village where the ghost of La Llorona wails, weeps, and reaps.
Alice Cooper's Welcome to My Nightmare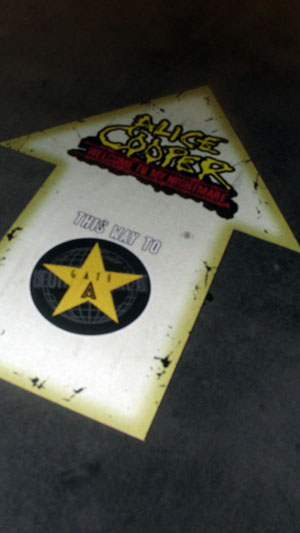 Description: Alice Cooper's Welcome to My Nightmare. Enter the gruesomely twisted mind of shock rock legend, Alice Cooper, as he takes the stage in what is sure to be your final performance. Find your way through a labyrinth of razor-sharp guillotines, smell the burning flesh rotting upon electric chairs, and face off against deadly boa constrictors, demonic dolls and more.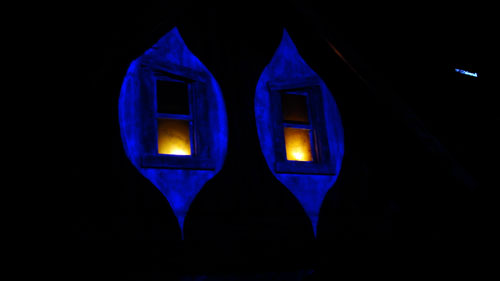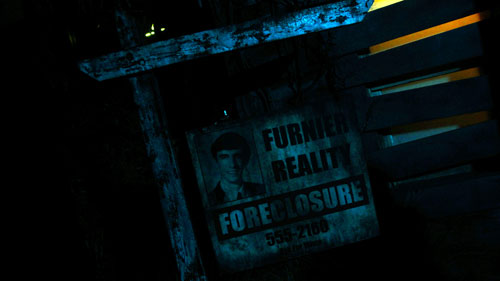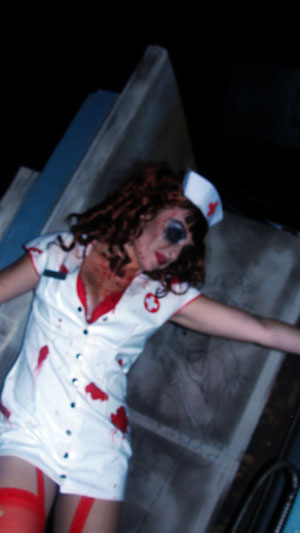 My take: Never having seen Alice Cooper's live show in person, I'm not sure how much better I'd "get it" if I had — but I suspect that some of the things which did not make sense to me actually would be of great benefit to his hardcore fan base. What I do know about are the naughty nurses, the clown imagery, School's Out, Only Women Bleed, and of course the spiders and the pythons. There is a lot of that! Unfortunately, the pythons squirt water when they pop out at you (in fact, there was a lot of wetness in all the mazes, plus acrid smoke-puffs). Other than the few minor discomforts, it's by far the coolest looking haunted house on the lot (the structure is even Amityville'esque, except the "eyes" are painted like Cooper's dark "tears" - nice touch).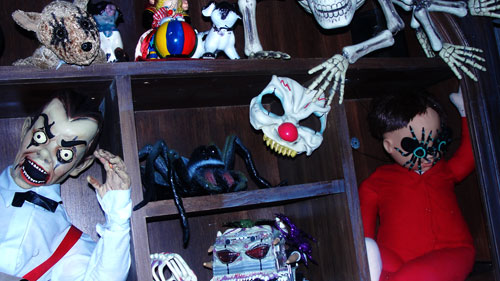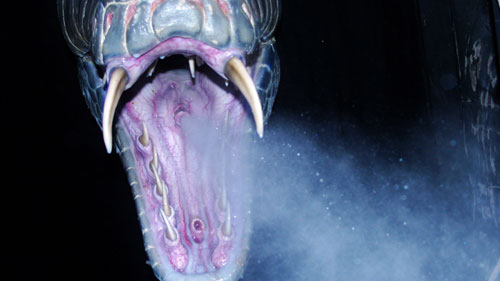 Also, not part of the maze presentation, are the Halloween Horror Nights perennials: The Mummy rollercoaster, the Terror Tram, and stroll-by of Norman Bates' haunted home.