Bent-Con Photo Report
Going on right now, this weekend at the Westin Bonaventure Hotel in Downtown L.A., is Bent-Con, the coolest Gay & Lesbian Comic, Art & Lifestyle convention (as they say, "It's like Comic-Con, only gayer!"), er, out… there. I was lucky enough to roam the bent booths, catch a couple of the events, and get a sneak peek at concepts for something I'm really excited about, Wendy Pini's proposed stage play musical rock opera based on Edgar Allen Poe's Masque of the Red Death, which she is working on with Mars of Deadhouse Music (already a Poe go-to, what with his scoring of The Key to Annabel Lee short triptych films earlier this year).
Much more to follow on Pini, Mars and Masque, an in-depth article and review posting soon, but for now, enjoy the pics and check out the amazing array of awesomeness.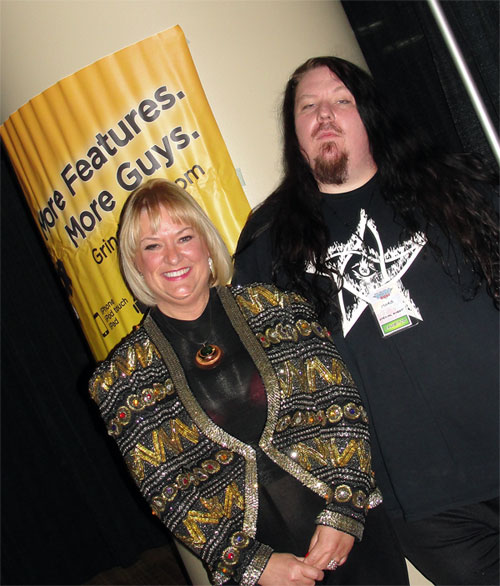 Wendy Pini and Mars Homeworld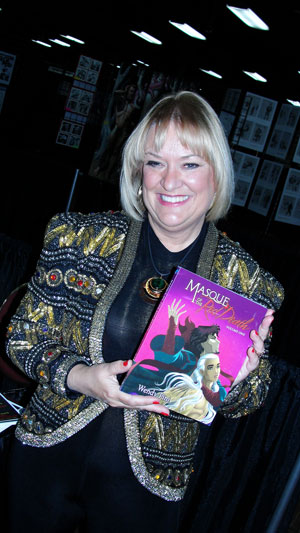 Wendy shows off one of her graphic novels,
MASQUE OF THE RED DEATH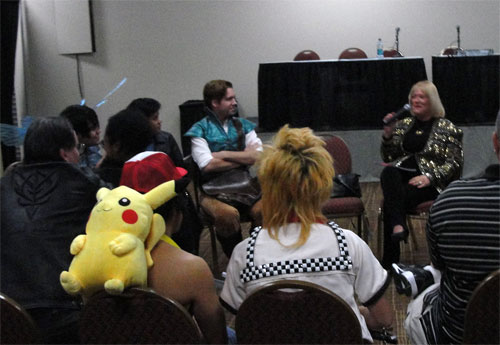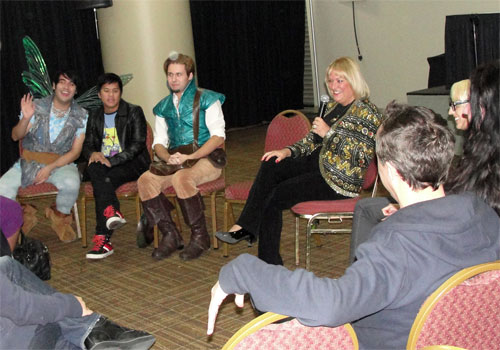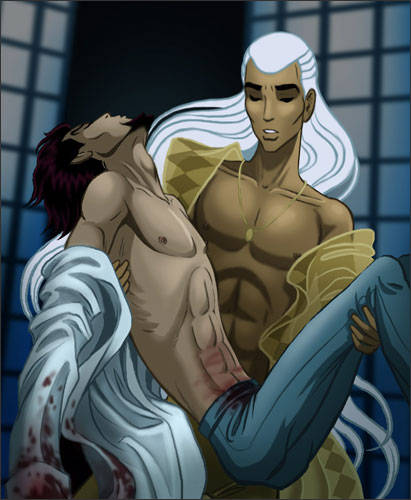 Wendy talked about Steffan and Anton's
evolution through the musical stage production

One of the many festishy vendors on the floor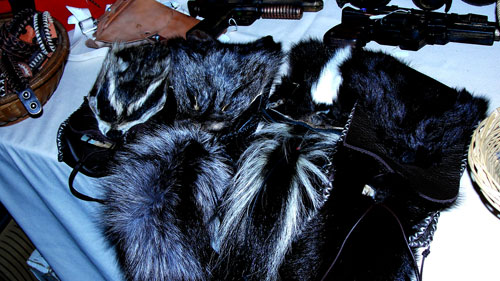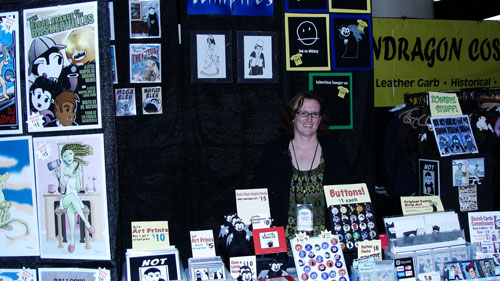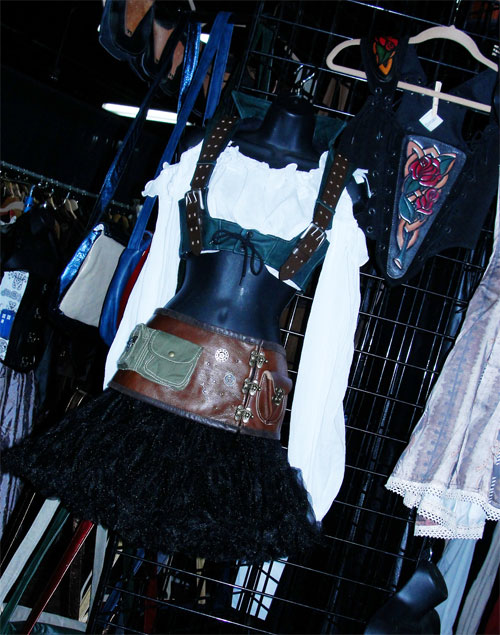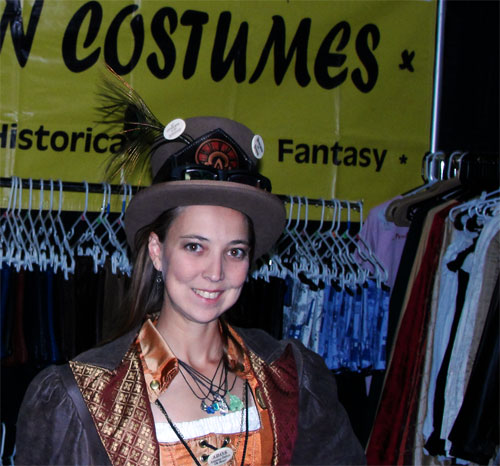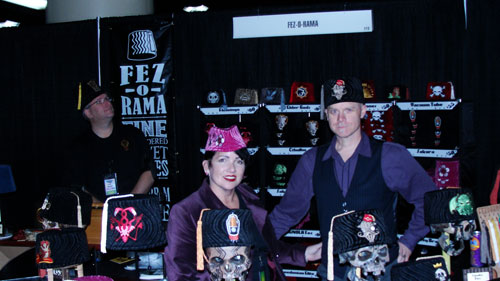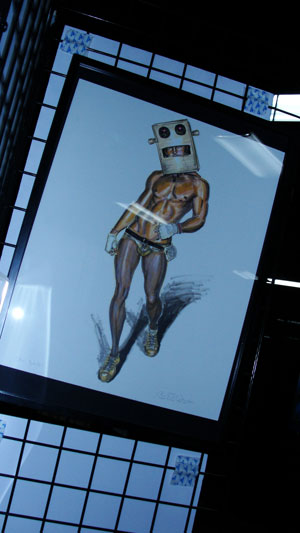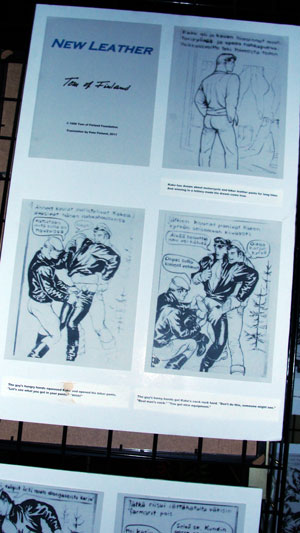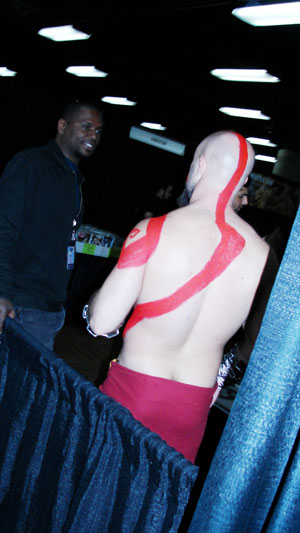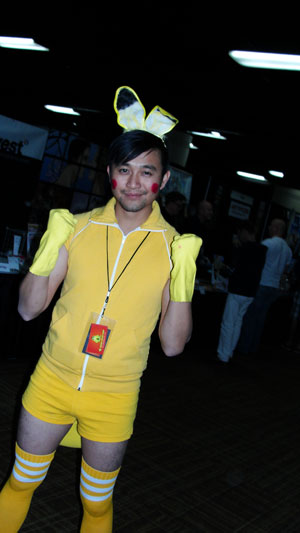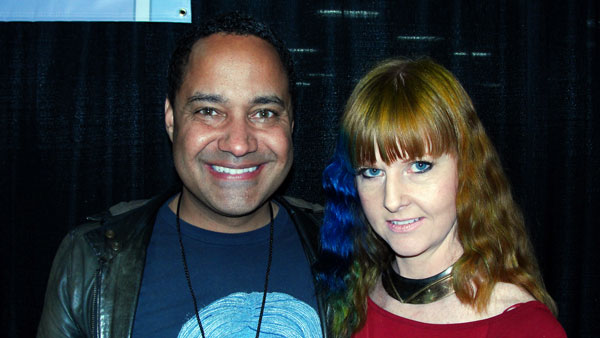 Special guest and panelist, Jeffrey Reddick
Some really grand guests this year, setting the bar for next year's BENT-CON (2012)
o Wendy Pini, self-publisher & creator of Elfquest, and the newly released Masque of the Red Death.
o Marc Andreyko, Eisner and Harvey award-winning comic-book and screenplay writer known for his work on Manhunter for DC Comics, Torso, The Lost, Pagliacci: The Clowns and more recently Captain America and Bucky for Marvel comics and Castlevania: The Belmont Legacy for IDW.
o Patrick Fillion, artist, writer, creator and co-publisher of Class Comics Boytoons, Naked Justice and Camili-Cat.
o Robert Fraser, co-publisher and writer at Class Comics.
o Axel, creator of Circuit Boy and Photon Red comics and celebrated erotic-artist.
o Brad Rader, Emmy award-winning animation director, storyboard artist, and creator of True Adult Fantasy comics.
o Brian Anderson, award-winning creator of the comic So Super Duper.
o Charles "Zan" Christiensen, Publisher of Northwest Press and writer of The Mark of Aecus and The Power Within.
o Chuck Kim, writer on NBC's Heroes and with DC Comics.
o Dave Davenport, Comix artist of Marginalized Publications, DogSpunk.Com and tattoo artist.
o David Kelly, creator of the newspaper strip "Steven's Comics", collected in Rainy Day Recess: The Complete Steven's Comics by Northwest Press.
o Michael Derry, artist, creator of the comic Troy and illustrator of The DiCaprico Code.
o Denis Caron, creator of the humor-based, adventure web-comic L.A.W.L.S.
o Jeff Schuetze, artist/writer of the humorous comic strip JEFbot.
o Jody Wheeler, writer, director of In the Closet and creator of DoorQ.com: The Gay SciFi, Fantasy and Horror Site.
o Joe Phillips, artist, illustrator, animator, designer and sculptor.
o Michael Manning, artist/writer/creator of the graphic novels The Spider Garden, Hydrophidian, In A Metal Web, and In A Metal Web II.
o Jon Macy, creator of Fearful Hunter and the 2010 Lambda Literary Award winning Teleny & Camille from NorthWest Press.
o Justin Hall, creator of Glamazonia: The Uncanny Super-Tranny from Northwest Press. Also creator of True Travel Tales and co-editor and contributor to Hard to Swallow.
o Rebecca Hicks, artist/writer and creator of Little Vampires.
o Robert Trebor, character actor, perhaps best known for his role as "Salmoneus," on the cult hit shows Hercules: The Legendary Journeys and Xena: Warrior Princess.
o Rick Worley, creator of the webcomic A Waste of Time, recently published as a collection from Northwest Press.
o Ronnie Mena, celebrated face/body painter in Los Angeles, CA.
o Robert O'Green, of Hidden Deadly Productions an indie film company responsible for A Lower Power, and shortly Star-Squire vs. Destructo-Ray.
o Jane Espenson, writer and producer, Husbands, Buffy The Vampire Slayer
o Jeff Krell, creator of the groundbreaking comic strip Jayson.
o Belasco, erotic comic-book artist, sculptor and animator.
o Sarubear, comic-book artist, creator & blogger of On The Line.
o Travis Richey, co-creator of the hit web-series, Robot, Ninja and Gay Guy and the newly released Inspector Spacetime.
o Tim Sullivan, director of 2001:Maniacs, I Was A Teenage Wearbear, Chillerama.
o Tom of Finland Foundation, nonprofit organization dedicated to protecting, promoting and preserving erotic art.
o Tommy Kovac, artist and writer various comic-book series with SLG Publishing and Disney Press, Wonderland and more recently, The Royal Historian of Oz.
o Jeff Jacklin, artist, writer and publisher of the long-time favorites Hearts & Irons, and comic strips Paul Bunyan & Ursas Major: A Werebear's Tale.
o JT Tepnapa, director, Judas Kiss, Star Trek: Hidden Frontier.
o Justin Hall, artist, contributor and creator of True Travel Tales, Hard 2 Swallow, Glamazonia: The Uncanny SuperTranny.
o Sean-Z of Rated-Z Studios and the creator of Myth.
o SOLD OUT CLOTHING, Officially licensed Tom of Finland customized shirts; Pop Culture Tees – LGBT, Superhero, Music & Movies.
o Carlos Pedraza, writer, producer, Star Trek Phase II and Judas Kiss.
o Kerry O'Quinn, creator and publisher of Starlog and Fangoria magazines.
o Paul Ward, director of Stephen King's One For The Road film.
o Alex Woolfson, publisher of Yaoi911 and writer/creator of the sci-fi web-comic Artifice, and the comic series, Tough
o Brian McCulley, director the zombie webseries The Locals.
o Sean Paul Lockhart (aka Brent Corrigan), actor in Werebears and Judas Kiss.