Bag of Bones Red Carpet Premiere Interviews

Bag of Bones Red Carpet Premiere Interviews
Staci Layne Wilson interviews and photographs director Mick Garris and stars Pierce Brosnan, Annabeth Gish, Caitlin Carmichael, David Sheftell, and William Schallert.
When the Masters of Horror TV series creator and Stephen King's favored director himself tells you that his latest cinematic ghost tale, Bag of Bones, "isn't a horror movie," you don't want to believe it.
After all, Mick Garris has been scary and generally spooky for years what with his Inside The Howling doc, his eerie erotica in The Silver Scream, and right up to his most recent feature film, Riding The Bullet. "With a name like Bag of Bones, it's not easy to sell it as a romantic story, but that's what it is. It's a ghost story," Garris concedes, "but it's a ghost story about mourning and loss and being able to love again. Not that anybody wants a relationship with Mike Noonan (Brosnan) because lots of them end up dead, but…" Garris chuckles. Hm. Maybe there is something at least macabre in the miniseries, slated to air on A&E on Sunday and Monday, December 11 and 12.
I read the King source material in 1998 when it was first published, but I couldn't remember the reasoning behind the title. Garris fills me in: "The bag of bones is a quote about a character in a book — no matter how well-drawn, is nothing but a bag of bones compared to the dullest human being walking the earth. And so that's where the title comes from and it comes out when Pierce is talking about his character having lost the ability to write, having lost the love of his life."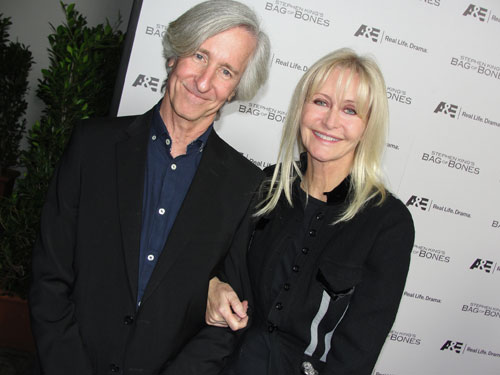 The Garrises: Mick & Cynthia

Brosnan read the book, too. "The book is fantastic," he says. "My character is an author, quite a successful one. He loves his wife, adores his wife. And then she dies… dramatically. He's depressed, and so he goes away to the lake house in Maine, as they do in Stephen King novels... And in doing so, he unearths this mystery."
Annabeth Gish plays Jo, Noonan's departed dear. While Gish agrees with Garris that Bag of Bones "Isn't really horror," she does say, "There's one particular image of Jo that's zombified. It's pretty creepy, pretty scary. Otherwise, it's levels of ghostdom. She kind of appears vaguely ghost-ish. She's even translucent at one point."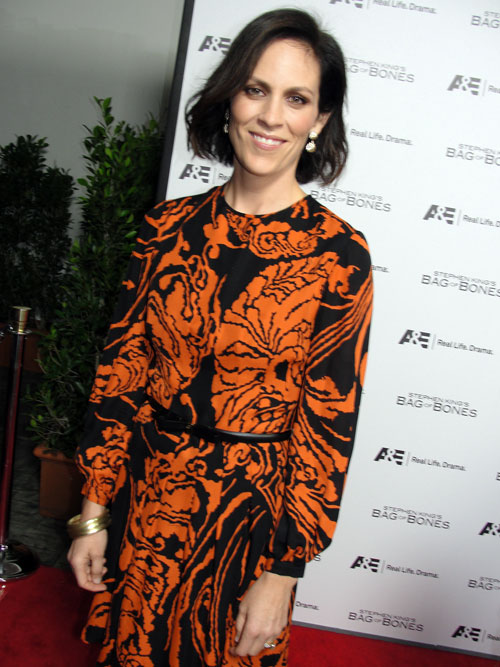 Gish in Gucci
(yes, I went there - sorry, HDC readers!)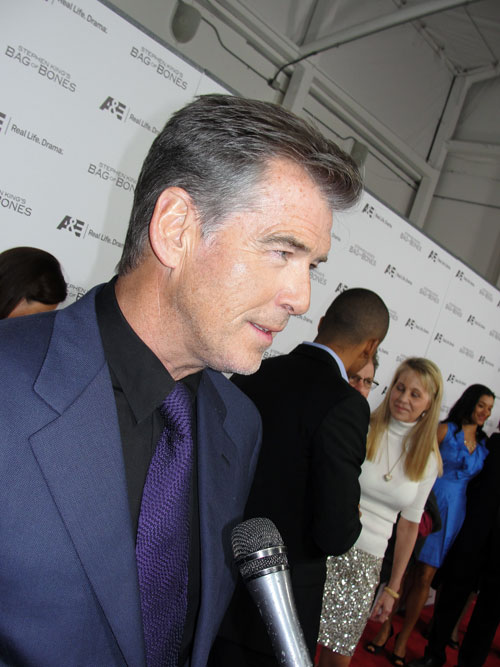 Brosnan is like the Cowardly Lion:
"I do believe in ghosts, I do, I do!"
Jo is sort of a spirit guide in the tale, spurring her husband into sleuthdom through a series of nightmares which are actually clues to a past crime (involving actors David Sheftell and Anika Noni Rose). In waking life Noonan becomes involved in a custody battle over the daughter of a young widow (Melissa George) and the child's wealthy grandfather (William Schallert), and deals with crippling writer's block all the while.
It was a pretty huge role for Brosnan, and its dimension and depth are mainly what drew the erstwhile James Bond back onto television (last small screen appearance was in 1998). Needless to say — but they did — Brosnan's colleagues were awed by his presence. Gish gushed, "I was so impressed by Pierce's worth ethic. Yes, he is James Bond and yes, he is iconic, but he is a consummate artist and actor, too. Every take was different, every take was completely invested and he was a delight to work with. Just absolutely impeccable."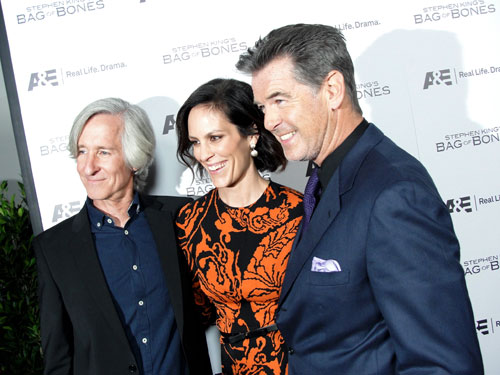 Garris adds, "Pierce was really committed to this. He went to places I never would have thought. He gets downright operatic, but he nails it. Best things was, there didn't need to be a lot of discussion, because he came prepared. He knew the script and what he needed to say, but he was open to trying different things. He is at a point in his career where he wants to take chances."
Other actors from the miniseries, Melissa George, Matt Frewer, Jason Priestley, are not on hand on the red carpet, but they've all praised Garris for his calm, his patience, and yes, his "niceness" (Garris' production company is called Nice Guy).
William Schallert, who is wheelchair bound, would not miss the gala for anything. He wants to show his support. "Mr. Garris made more accommodations for me, because I had fallen. He was so considerate. He went out of his way to make sure I could stay in the picture; they could have replaced me after my injury, but he didn't. We were able to get through some very difficult scenes, because of his considerate nature and being so talented." Schallert plays Max Devore, the grandfather of the sought-after child whose fate is intertwined with Mike Noonan's.
Gish concurs on Garris' genuine kindness. "He's this master of horror and yet he's the sweetest man. For him, I'd do anything. In Desperation (another Stephen King miniseries, from 2006), I allowed six tarantulas to be placed on my body. And for this one, Bag of Bones, I had to go through four hours of prosthetics."
Eight year old Caitlin Carmichael, who plays the child in the custody case says, "It's really fun! I didn't get scared at all, because Mick showed me how everything works. I like knowing how everything works. The most interesting thing for me to learn about was the special effects."
When I ask Caitlin whether or not she'd be allowed to see the ghostly tale, she says, "I'll probably get to see all of the movie, but I haven't read any of the book yet," adding, "I'm on the cover of the new book. My ad campaign is on the 10th anniversary edition of the Bag of Bones book!"
She looks like an apparition on the book jacket, but Caitlin won't say if plays one in the series. As for the spirit world in everyday existence, Gish says she's not necessarily a believer, while Brosnan is absolutely gung-ho. "I'm Irish, so of course I believe in ghosts. I am very superstitious. I grew up in a rural part of Ireland, with cemeteries all around us, and everyone would tell ghost stories at night. The spirits were part of our lives."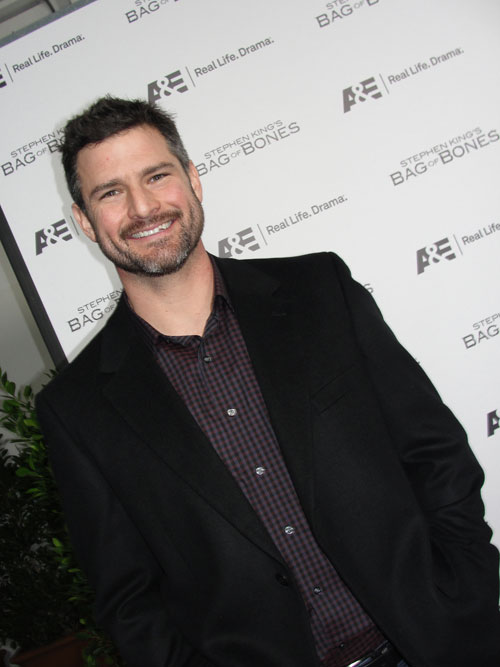 Teleplay writer,
Matt Venne
When it comes to the drama behind the mystery, one can safely say that the Bag of Bones movie almost went the way of the dead itself. When I remind Garris that Horror.com has been following the story for over half a decade, he laughs. "Yes. Only 5-1/2 years! (but) It's been good, and I am happy with our movie. What we gained was time, having the support of a network that doesn't have 100 other projects going on at the same time, their commitment to an actor like Peirce Brosnan, I think everything was a gain. The only stuff we lost was due to time.
"But as far as losing the (horror) — we didn't. I was afraid the brutalization of Sarah Tidwell would have to be abbreviated. There wasn't any question. I intentionally over shot some of this stuff, thinking we'd have to lose it. I'm really happy with it. I mean, it was a nightmare in preproduction, you know, our blood was cooled when we had to fire the crew and go home for a couple of weeks, we didn't know if it would be back on. But once we were and that train started going down the mountain, there was no stopping it."
Along with Garris for that train ride has been screenwriter Matt Venne, who is pleased to finally be standing on the red carpet to talk about this story, which he's held dear and dear for so many years. "The most amazing thing with Mick in this is that it's been a continuous journey together trying to get this movie made. And so it really hit me recently, when Mick mentioned Bag of Bones in the past tense. Like, yes! It's really made. Oh my gosh, we did it! The movie is really done. It was going to a feature, then it was a miniseries on ABC, and finally it's home on A&E. It's almost unbelievable."
Usually, reporters ask stuff like, "What was the most challenging thing about…?" Not me. Nope. I really think outside the box and go for harder hitting questions, like, "What was the most fun thing about…?" Venne had a good answer. "The most fun thing about adapting Stephen King is to have it be your job to read his books, to literally be OK to immerse in his stories, to read it deeply, and then read it again and think about it. That's the most amazing thing is, he creates these universes. Mick, early on, said, 'Look, the movie has to be what we can see onscreen.' There are no voiceovers, or anything. So, trying to make literal those thoughts, to see him yearning for his dead wife, was a great challenge. Stephen King is a truly great writer. I'll never be as good a writer as him, I'll never attain that level of true pop culture relevance, so it was an honor to think, especially in regard to my wife and daughters, 'OK I was a little part of that legacy' is the coolest thought."
Air Date/Time: Sunday, December 11 at 9/8c and Monday, December 12 at 9/8c
Teleplay Writer: Matt Venne
Cast: Pierce Brosnan, Annabeth Gish