Monsterpalooza Burbank, CA - The Movie Monster Con

Monsterpalooza Burbank, CA - The Movie Monster Con
Rubber Room's Annual Monsterpalooza Art of the Movie Monster Convention and Festival in Burbank, CA. 2012 report and exclusive photos.
Text and Photos by Staci Layne Wilson
Although the Man of 1000 Faces was Lon Chaney, I've chosen to share a quote by the late, great Vincent Price: "We, exponents of horror, do much better than those method actors. We make the unbelievable believable. More often than not, they make the believable unbelievable."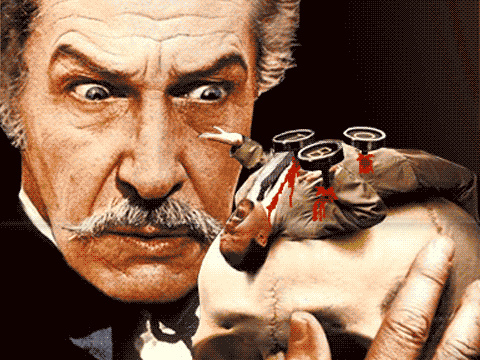 Those words, decades old now, still hold fresh and true in the world of horror movie makeup and practical effects, which were on full display this weekend in Burbank, CA., at the annual Monsterpalooza - The Art of Monsters Expo and Convention. Con creator Eliot Brodsky was on hand to oversee the festivities, which filled every banquet hall and ballroom of the Airport Marriott Hotel — there were some remarkable panels and events (the Predator 25th Anniversary gathering was the hot ticket, on Saturday), celebs and makeup effects artists signing autographs and doing demos (from Gremlins director Joe Dante, to Face/Off contestant Megan Areford), tons of vendors who were hawking wares from cute toy Frankensteins ($20), to skillfully fashioned maquettes ($175), to full-sized (we're talking 12' tall!) werewolf statues, complete with fur and claws ($4,500).
While I saw more of Lon Chaney on display at Monsterpalooza (even a blood relative, Lon Chaney Jr.!), I have always loved the subtlety of Vincent Price — even in some of his most over-the-top makeup-enhanced performances, such as Masque of the Red Death, Theater of Blood, or The Abominable Dr. Phibes — he did, as he well knew, help make the unbelievable believable.
And who helped even more? The makeup artist. His name was George Blackler (1912–1986), and he was a well-rounded individual; a workhorse with a name not as recognizable as, say, Jack Pierce or Dick Smith, but he created an amazing array of cinematic artistry. Not only for 1973's Theater of Blood, in which Price portrayed a disgruntled Shakespearean actor out to kill his critics while donning a variety of disguises, but on some other fan faves like Roger Corman's The Tomb of Ligeia, Ken Russell's Tommy, and several Hammer films.
Also somewhat unsung, but well-represented at Monsterpalooza, are the beautiful ladies who contrast the creepy creatures — it was my pleasure and honor to meet the beautiful Jessica Harper, who faced off with the with the wicked witch in Suspiria, and also quite a kick to chat with the lovely and gracious Julie Adams, whose shapely body will forever be emblazoned in our memories as it was held in the green fin-arms of The Creature From the Black Lagoon.
I've been a reporter on this beat for a number of years now, and been to every annual celebration of the genre from The Weekend of Horrors to Comic-Con… and I can honestly say, I had the best time, learned the most, and enjoyed Monsterpalooza more than any of the others (and I barely scratched the surface… I wonder what's under than pancake makeup? …I didn't see any of the film and documentary screenings, for instance, of which there were many). If you really love horror films and collectibles (I didn't even mention the original movie posters and stills yet!), especially old-school classics with all the accoutrement, I highly recommend in-person attendance of Monsterpalooza.
Check out some of the pics I took. It's the next best thing to being there! (If you didn't make it this time around, be sure and check the official Monsterpalooza website for details on how to attend and their own recap)
While I am not sure if he qualifies as a "monster" -- who can resist Jack from The Shining? This was one of the many likenesses (some of which were lifecasts; others models and sculptures) on display.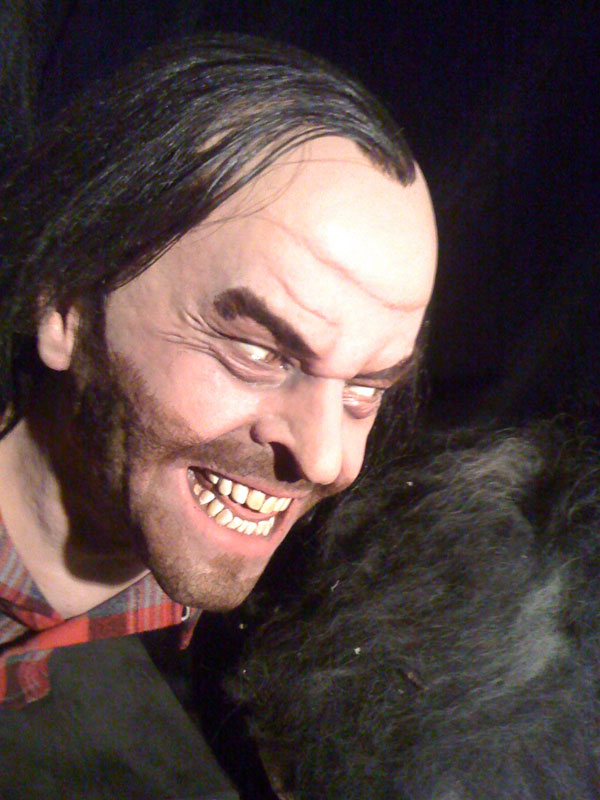 The attendees really got into the spirit of the day; those who weren't in the "black tee and jeans" uniform, dressed to the nines (and fangs). Speaking of black tees (not me; I chose to wear vintage Pucci), I thought it was hilarious that Monsterpalooza staff was dressed in -- you guessed it -- black tee-shirts. I overheard someone asking for directions, and they were told, "Ask the man over there, in the black tee shirt" (by my estimate, he had approximately 1,000 possible choices there in the hallway alone!)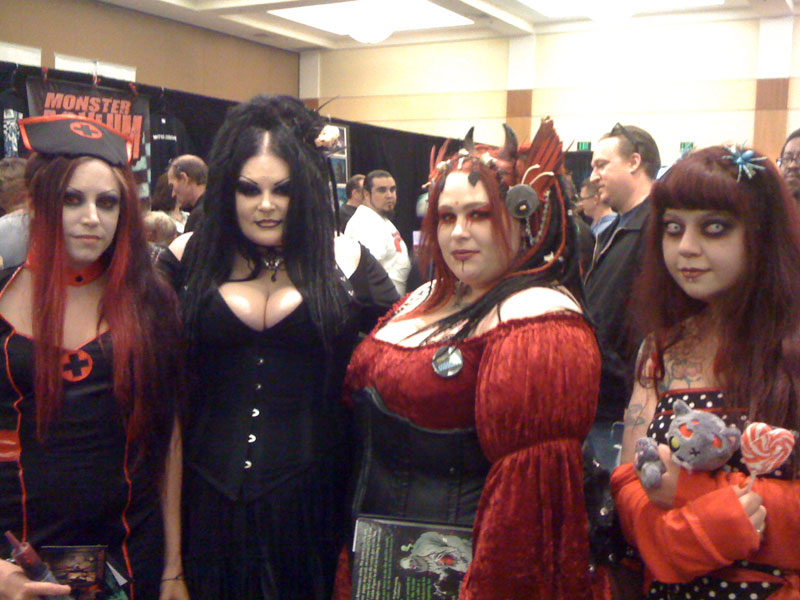 A life-sized staue of Christopher Lee, all decked out as Dracula.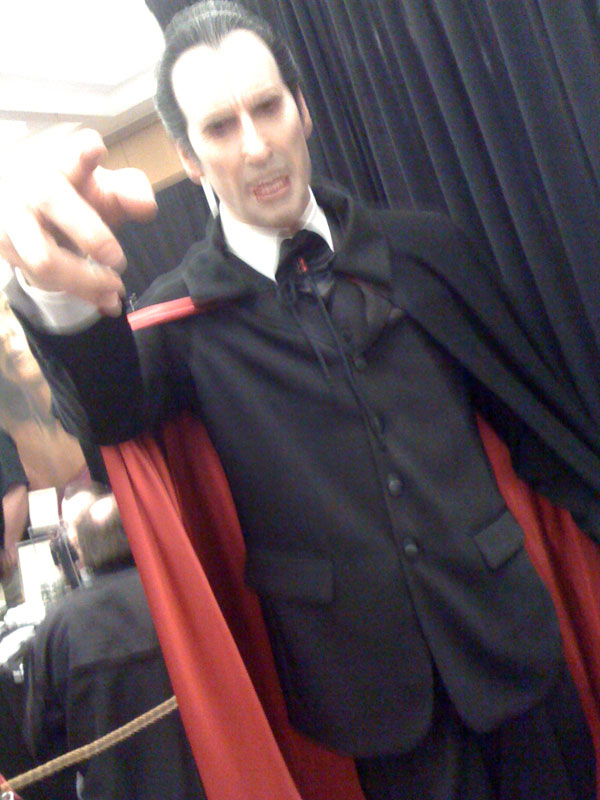 I am trying to sell lots of movie posters on eBay, so I was NOT buying... byt that didn't stop me from wishing and wanting. So many great ones, from classic Universal monsters to alternative foreign designs of childhood favorites! Reasonably priced, too.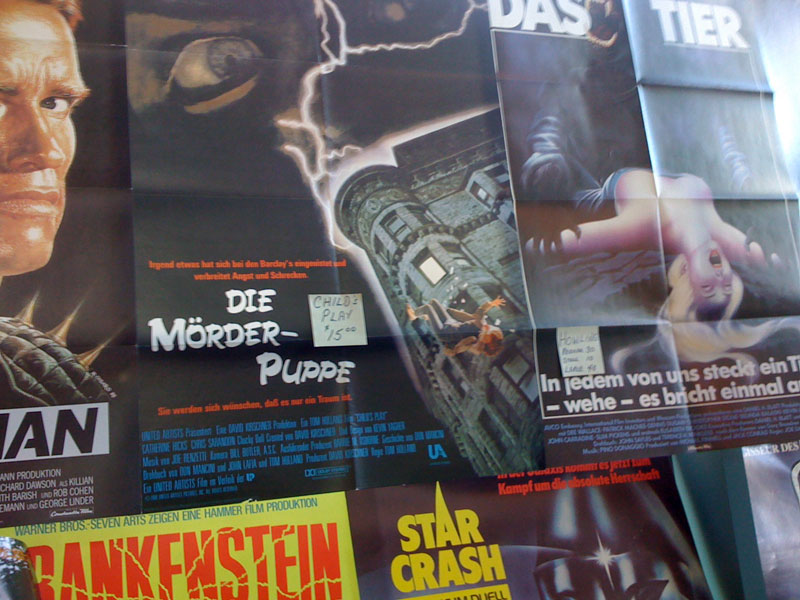 Some of the vendors got proactive, and offered live demonstrations.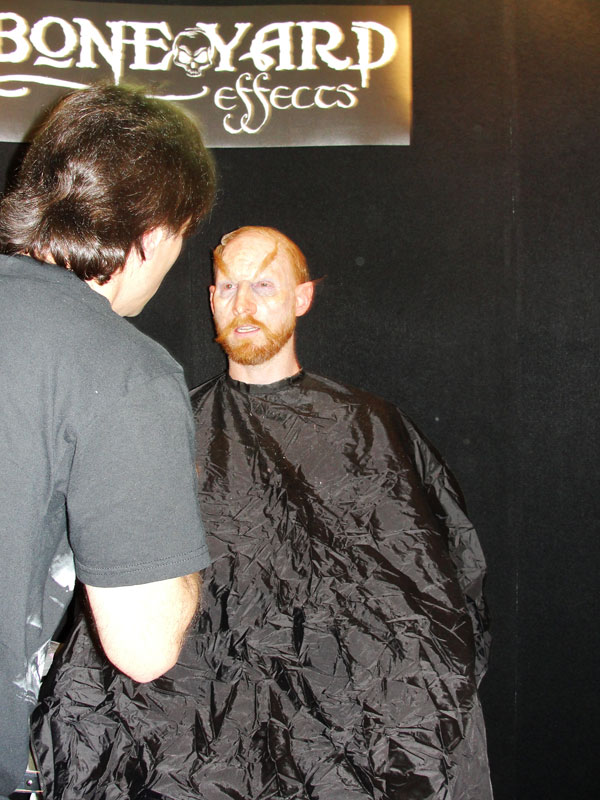 This freakish fella was our maitre'd into the Monsterpalooza Museum & Gallery, where there was mind-boggling mix of modern art and classic models.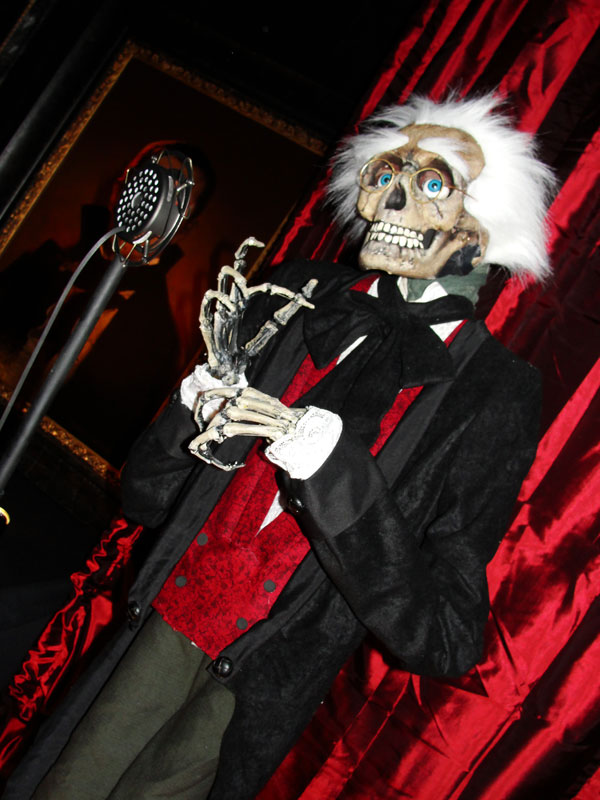 Just a few family portraits, which would be a lot of fun to have on display along the staircase.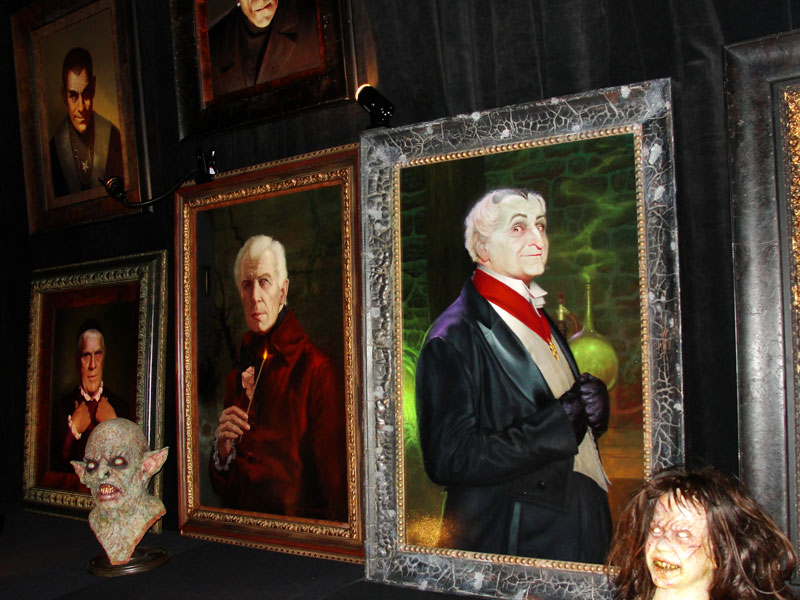 This artist, Daniel Horne, has some of the most arresting, classic-style oil painting protraits on display -- I loved his Bride of Frankenstein works, especially. There were prints on sale, but only in huge size (I would have been tempted by an 11 x 17!).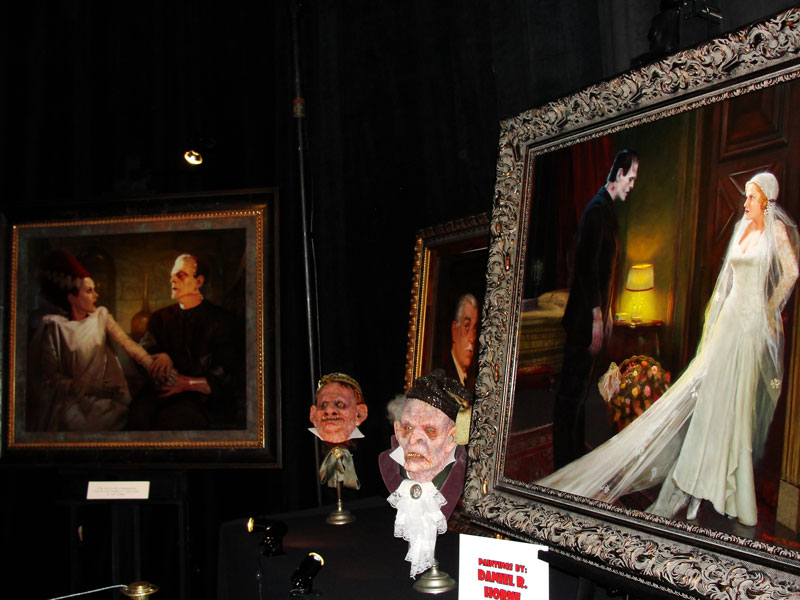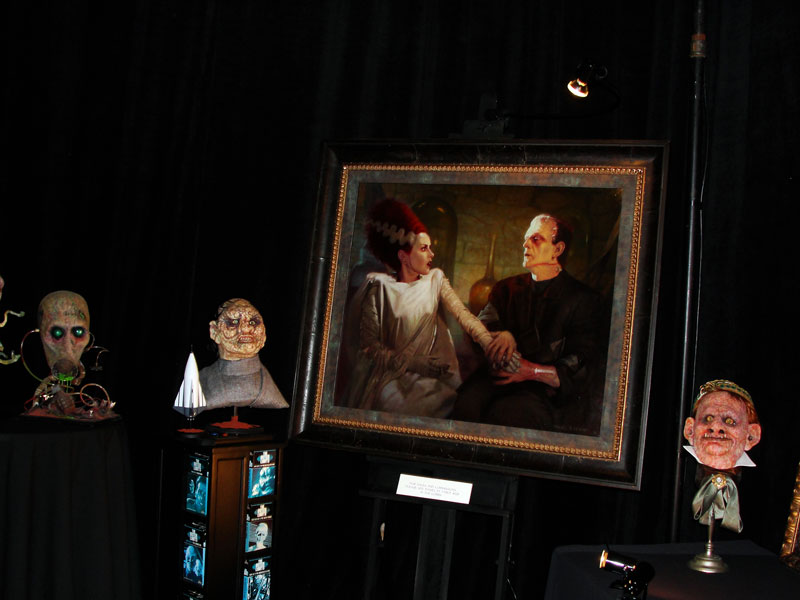 Another big-time fave, the Gieger-style Alien.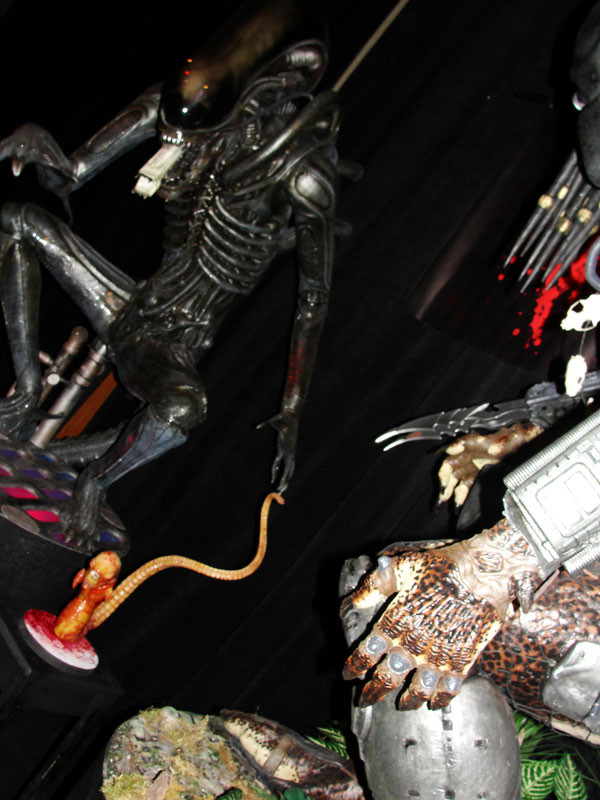 Brundle-fly!
Tobe Hooper's The Funhouse was one of my favorite horror movies as a youngster. It was kick to see the creature from that film, rather than, say, Leatherface, representing his films.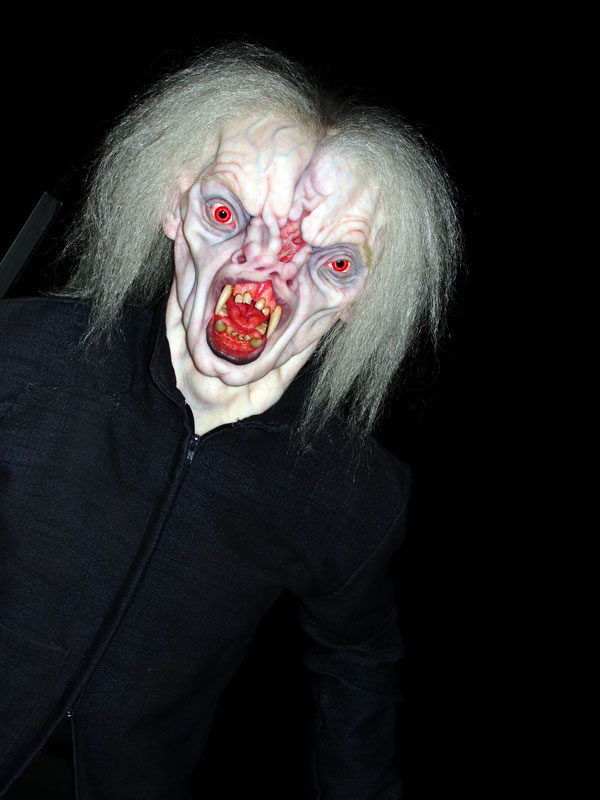 More monsterousness!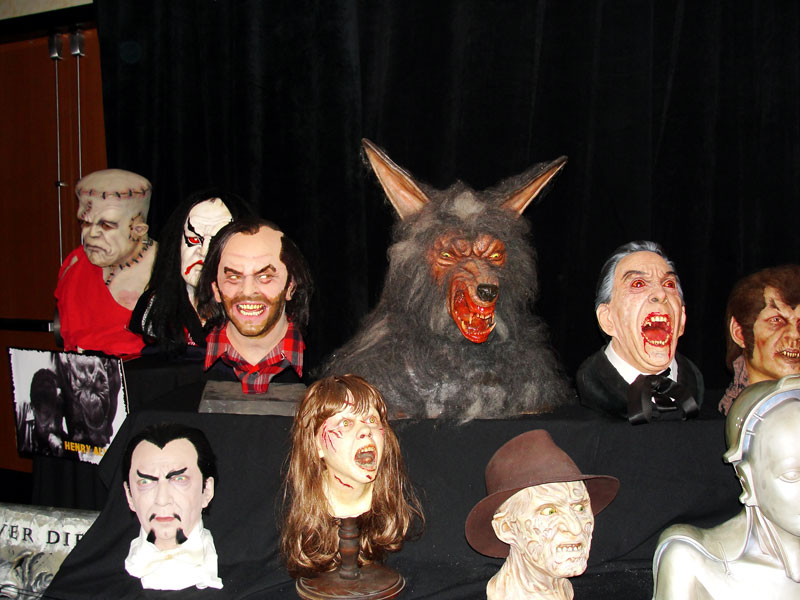 This was defintiely one of the creepier displays in the museum section. I'm not sure where the puma is from, but the dead monkey is from Outbreak.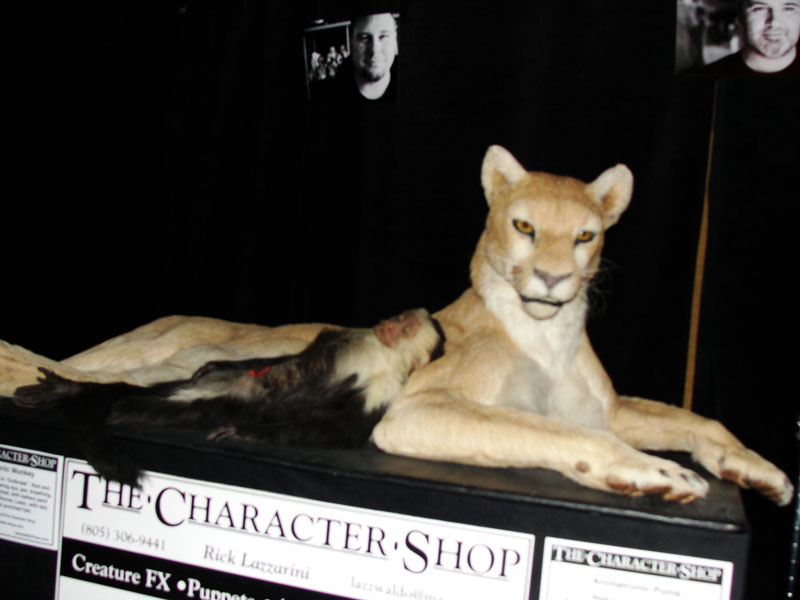 Not all movie monsters are scary - here are some funny ones from the Cats & Dogs franchise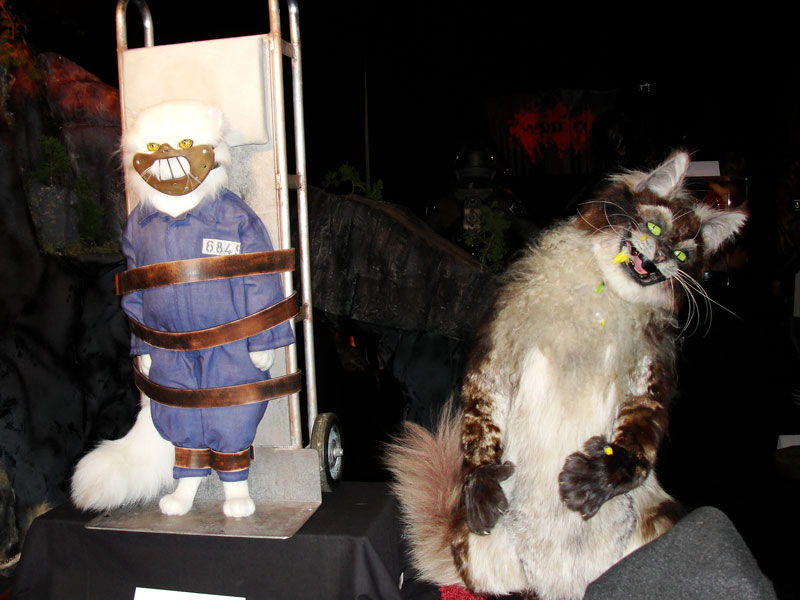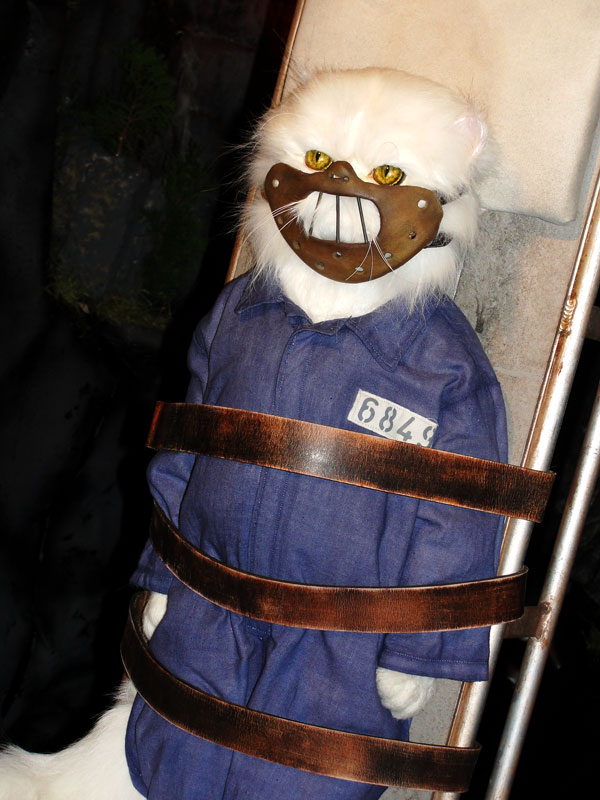 Alien invasion!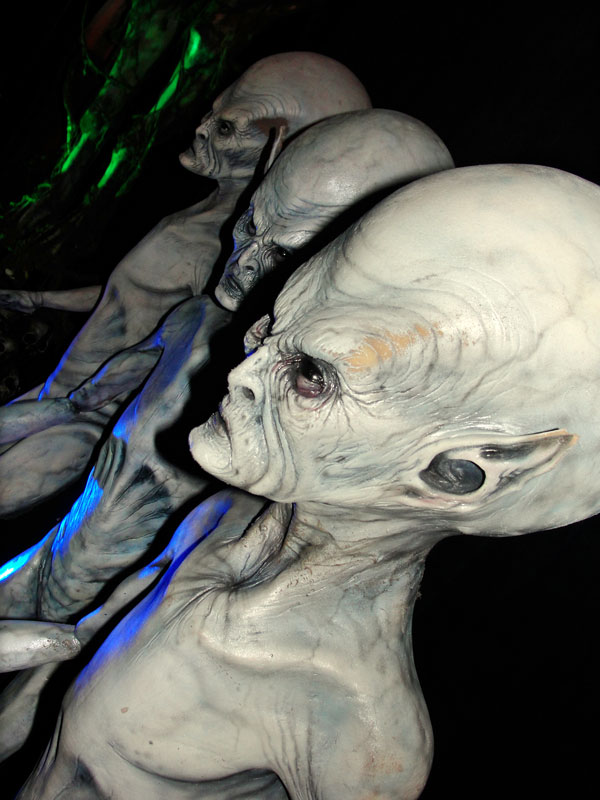 Nice homage to Rick Baker's work on An American Werewolf in London -- and what's more, I got to say hello to director John Landis, and actor David Naughton on-site!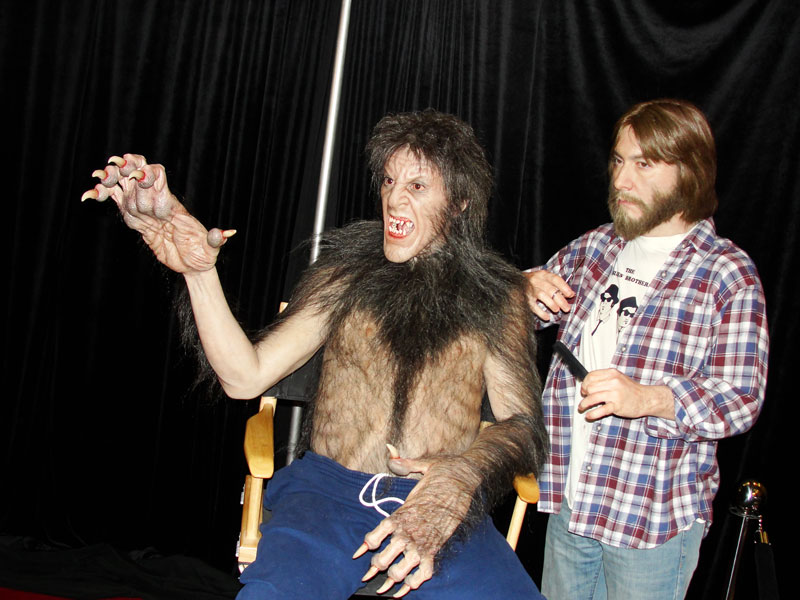 More of the same display, this one showcasing the wrapping-trappings of the classic Universal Mummy.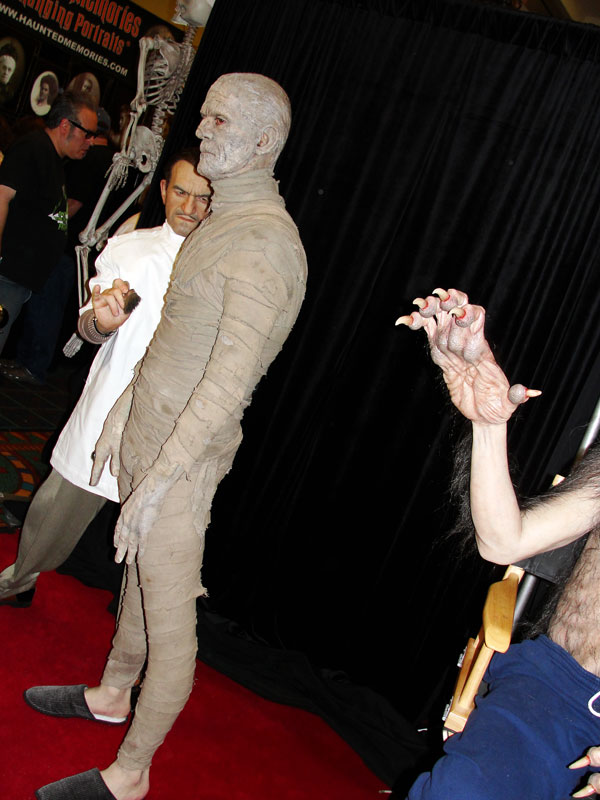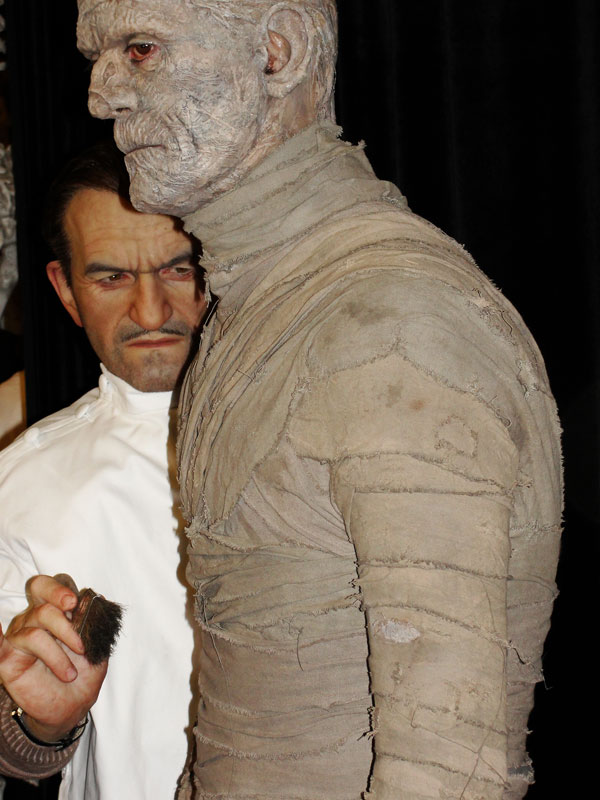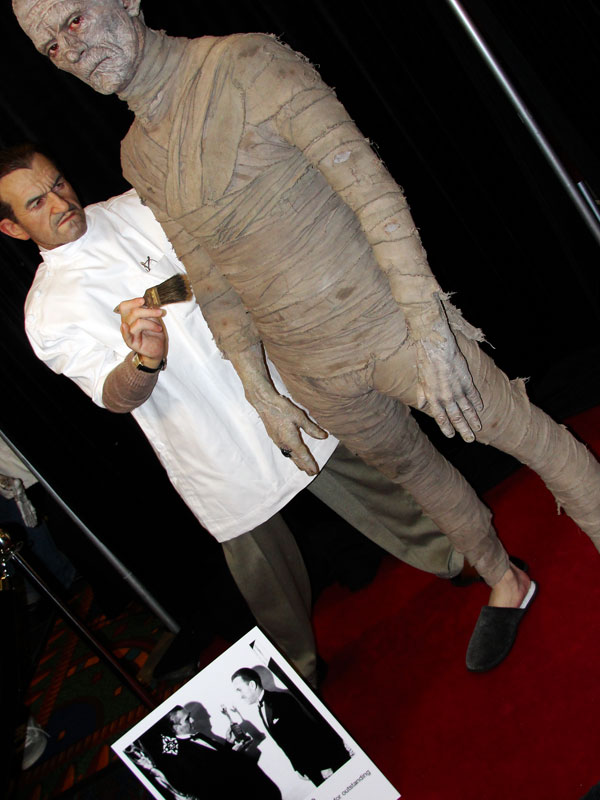 Just in case anyone got too scared, there were naughty nurses on hand for resuscitation.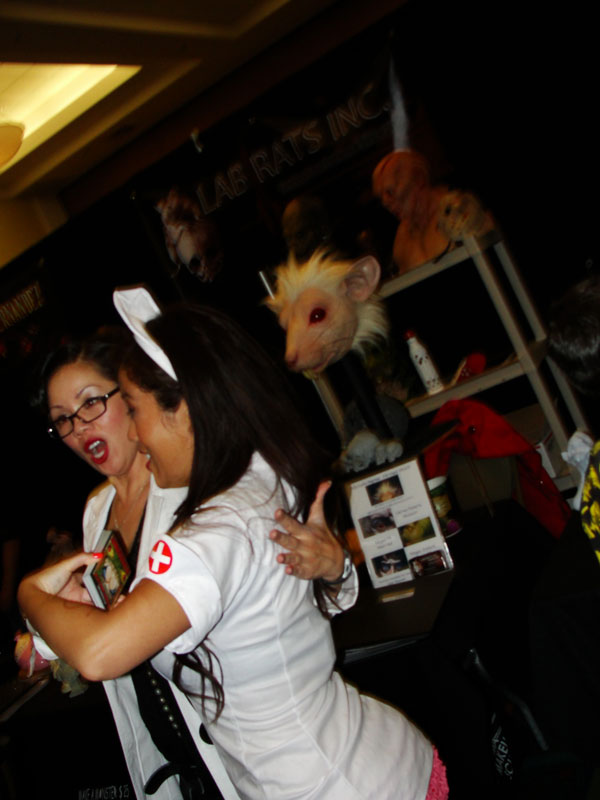 I didn't see Willard, but this menacing mouse was the next-best thing.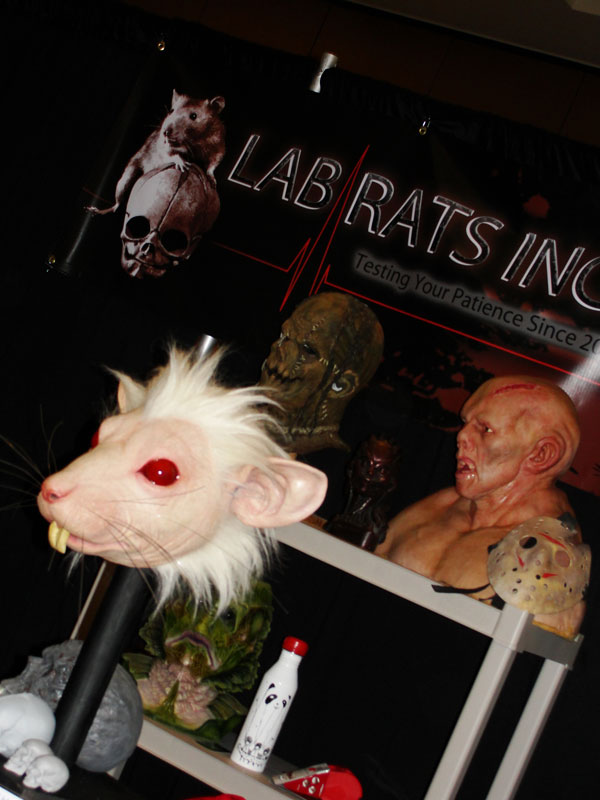 Look! It's a Chiodo Brother... sorry, not sure which one. But I do so love the Killer Klowns from Outer Space, it was a kick to see the filmmakers there in person and to check out their spectacular display.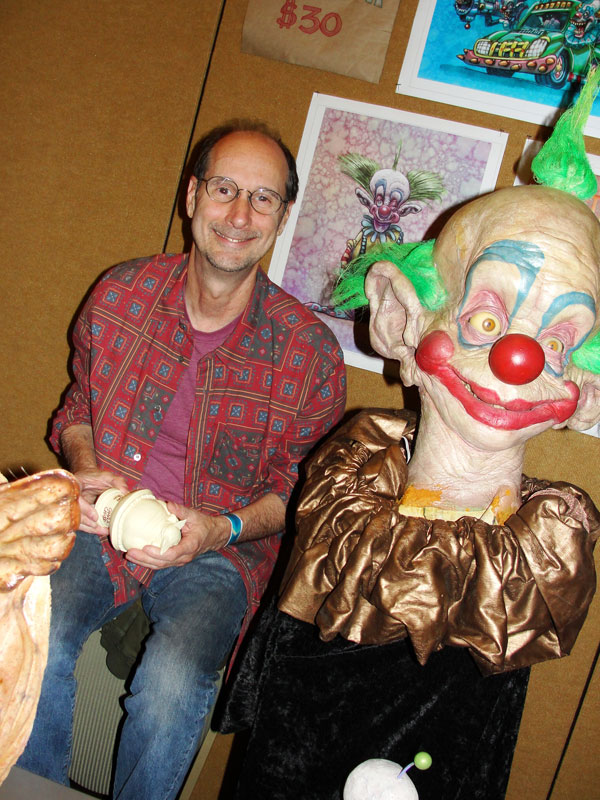 Heeeeeere's Lonny!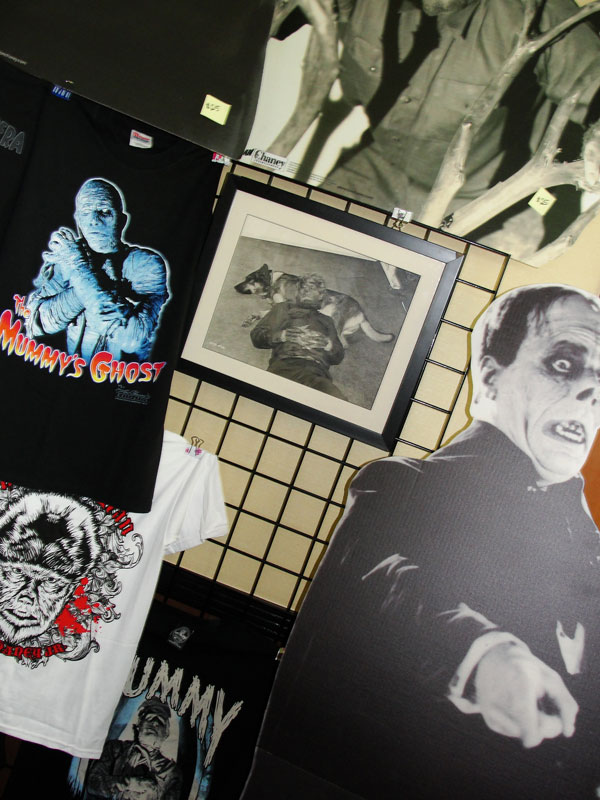 Even in broad daylight, the makeup jobs were absolutely flawless and faultless. I was impressed!
This young lady was mighty impressive, too -- it's Emma Jacobs, who's a budding makeup artist with credits on films such as Black Swan and Mega-Spider.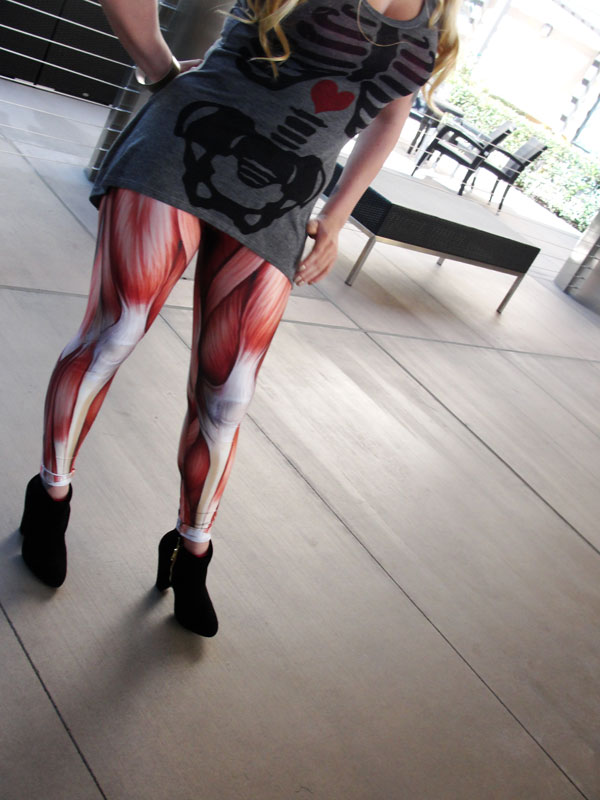 Well, if it isn't a fellow Vincent Price fan! (Yes... look again: she's wearing a VP pendant)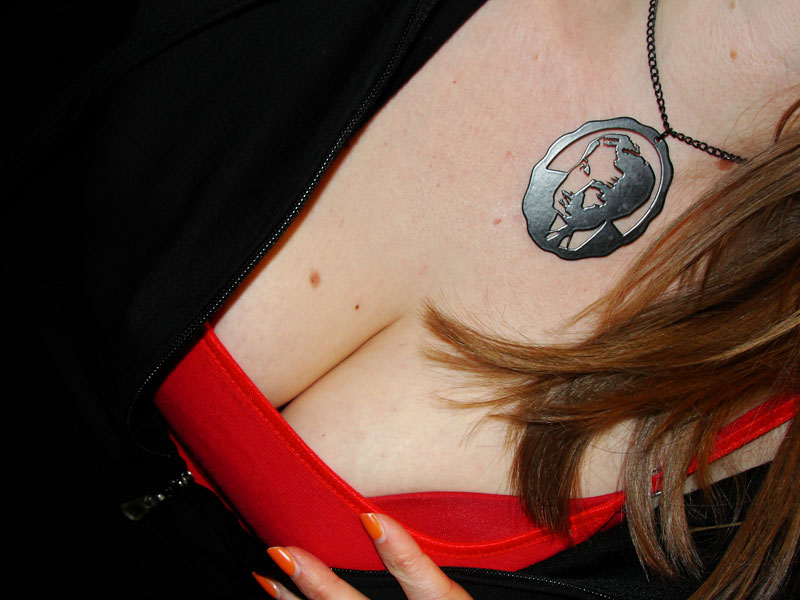 I have no idea why there was a dissected chipmonk in a Catherine-Zeta Jones romantic comedy, but -- here it is!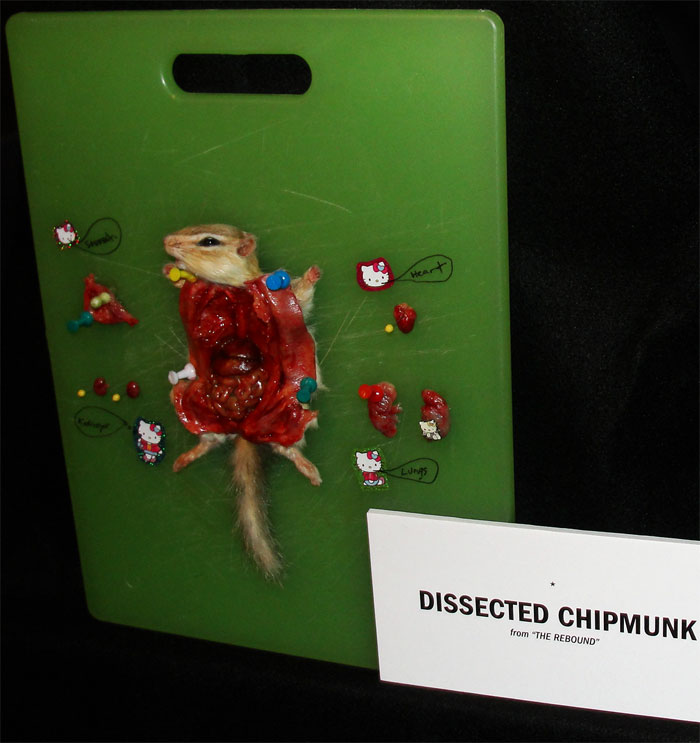 My personal favorite Face/Off Contestant, Megan Areford. She's here with her dispay of Cesar from The Cabinet of Dr. Caligari. Not sure what her affiliation to the film is (hm, seems there's a lot I don't know. See: Above), though I did ask. Still, it was one of the more attractive corners of the con, and Megan's floppy hat was a hit.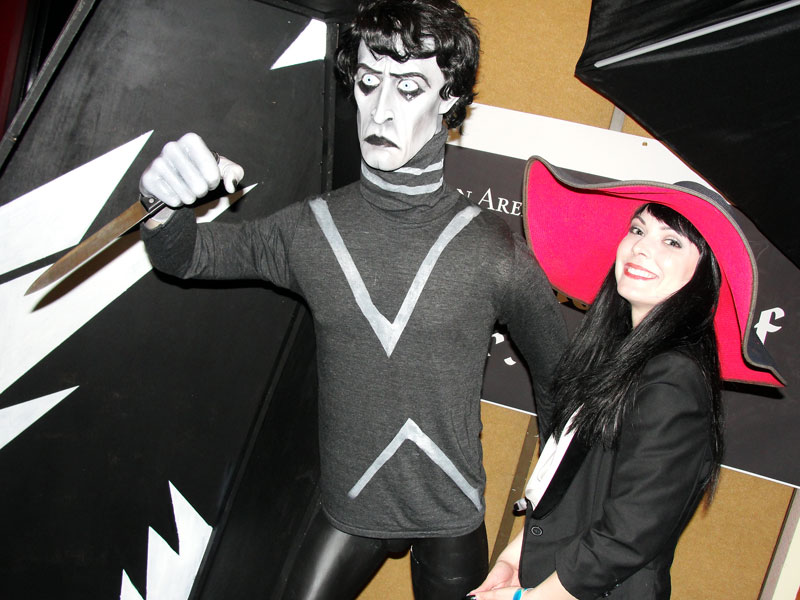 Yours truly with Rachel Belofsky, the originator of the Annual Hollywood ScreamFest. She has a long history with horror.com, as we've been covering her innovative and often news-breaking film festival for years, now (my favorite moment? Being able to see Trick 'r Treat on the big screen before any type of release, while sitting next to Darren Lynn Bousman!)
...And this is how it all ends.