The Devil's Rejects - Sneak Peek Interview

The Devil's Rejects - Sneak Peek Interview
Exclusive interview with cast members of the upcoming Rob Zombie horror film.
Next month, "The Devil's Rejects", the second film written and directed by Rob Zombie, lands in U.S. theaters. The film is the sequel to his horror hit "House of 1000 Corpses", and features some of the same characters as the first film. With Zombie back at the helm, the film has already generated a lot of interest from horror fans.

Two of the stars of the upcoming film, Sid "Captain Spaulding" Haig and Bill "Just Call Me Otis" Moseley, recently sat down with Horror.com. They shared their on-set stories about the film's special effects, working with Mr. Zombie, ravishing Terri from the 70s TV show Three's Company, and for some reason, talked a lot about killing. These guys aren't just good actors, they're funny as well - don't miss this one:
The Devil's Rejects - Sid Haig & Bill Moseley: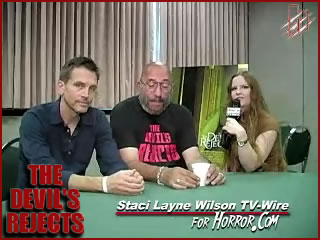 Click The Image Above To View The Devil's Rejects Sneak Peek Interview.
Just added: Read Staci's early & detailed review of "The Devil's Rejects".

Also check out the super-cool Sid & Bill Horror.com shout out in the multimedia gallery!

Stay tuned for more reports from Horror.com as the release date for "The Devil's Rejects" gets closer. Don't miss the official website of the film.
Latest User Comments:
Re: Re: The Devil's Rejects - Sneak Peek Interview
[QUOTE][i]Originally posted by Vempire [/i] [B]If its anything like a house of 1,000 corpses, Rob Zombie can keep it. We know he sucks at music, and his house of corpses confirms he sucks at movies also. [/B][/QUOTE] i dont think its fair to say he sucks but i didnt like the first one either. ive heard this one is better but im not holding my breath
08-15-2005 by pinkfloyd45769
discuss
devils rejects
i am really looking forward to seeing this film house was great mi kids cant wait either i think sid haigh is funny the makeup really suits him:cool:
08-15-2005 by vamp1666
discuss
[QUOTE][i]Originally posted by kittyvacant [/i] [B]Bill Moseley deserves an Oscar nomination for his role as "Otis Driftwood". To sign the petition to the Academy to encourage the nomination of Bill Moseley for the 78th Annual Academy Awards, please visit: [url]www.petitiononline.com/otis78[/url] [/B][/QUOTE] He does deserve it, as I said earlier, I love Otis (call me nuts, but I really do)......but I dunno if I see "The Academy" recognizing this film at all.
07-22-2005 by Marroe
discuss
Bill Moseley deserves an Oscar nomination for his role as "Otis Driftwood". To sign the petition to the Academy to encourage the nomination of Bill Moseley for the 78th Annual Academy Awards, please visit: [url]www.petitiononline.com/otis78[/url]
07-19-2005 by kittyvacant
discuss
I can't wait to see The Devils Rejects! I am part of an online horror bloggers group, and 9 out of 10 are really looking forward to this movie! I liked House, but I heard that this movie is much, much, different. If you're not interested, then that's fine... don't go see it. But there is no reason to trash something before you have even seen it. I've been reading everything I can about it, and I'm really impressed. The video is cool too. You may not be a Rob Zombie fan, but what have you done that tops him? What's your profession? Did you know that out of all the top critics who have seen the movie, it's getting excelent reviews? Check Rottentomatoes.com and see. L.L.
07-11-2005 by lordylordy
discuss