Comic-Con 2005 Coverage
Video featuring Bruce Campbell, Sideshow Toys, Master of Horror, Kate Beckinsale & more.
July 14-17th 2005, Comic-Con 2005 took place in San Diego, California.

As expected, the show was packed with fans of science fiction, horror, and fantasy. It's been a long time since Comic-Con actually focused exclusively on comics. This annual show is a celebration of movies, games, comics, music, toys, TV, and just about anything else you can think of that might somehow relate. The cosplay kids were there (Star Wars represented as always) along with authors, actors, writers, studios, publishers, and all of the rest.

Horror.com has been making the trip to Comic-Con for more years than we can count, and we have yet to be disappointed. This year we brought back pictures and videos to share with all of you.

Here are the first four video clips we've put together - please check back for more Comic Con coverage to come:
Comic-Con Clip #1
Bruce Campbell, Charisma Carpenter & Kevin Van Hook ("Voodoo Moon"), "The Devil's Rejects" cast, and the usual Comic-Con mayhem: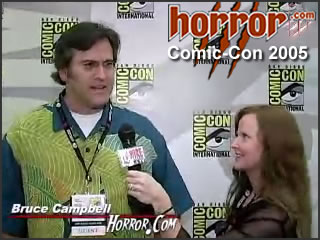 Click The Image Above To View The First Comic-Con Video Clip.
Comic-Con Clip #2
Sideshow Collectibles, Christa Campbell & Philip Creager ("Death By Engagement"), author Peter Bracke ("Crystal Lake Memories: 25 Years of Friday the 13th"), Craig McMahon ("Machined"), Cosplay, and various Comic-Con booths: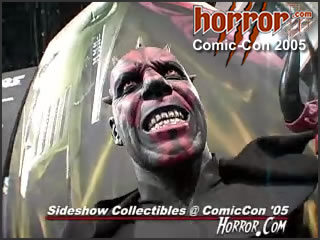 Click The Image Above To View The Second Comic-Con Video Clip.
Comic-Con "Masters of Horror" Clip
Mick Garris ("Sleepwalkers", "The Stand"), Don Coscarelli ("Bubba Ho-tep", "Phantasm"), William Malone ("House on Haunted Hill", "FeardotCom"), and a special appearance by the legendary Stan Lee ("Hulk", "Spider Man", "Fantastic Four", and so many others we can't keep track!):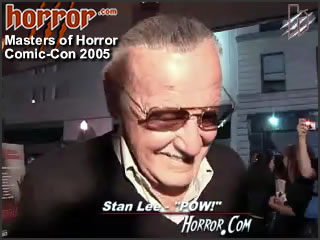 Click The Image Above To View The Third Comic-Con Video Clip.
Comic-Con "Underworld II" Clip
Interviews with "Underworld: Evolution" cast and crew including Kate Beckinsale (Selene), Scott Speedman (Michael), Len Wiseman (Director), and Patrick Tatopoulos (Special Effects):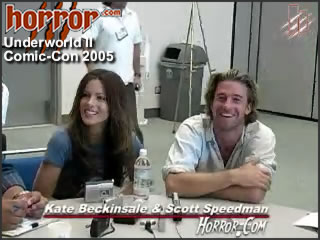 Click The Image Above To View The Fourth Comic-Con Video Clip.
Also check out Horror.com's exclusive "Masters of Horror" coverage!

Stay tuned for more exclusive Comic-Con 2005 coverage - including a photo gallery!