Horror.com
---
ScreamFest L.A. Invades Hollywood
By stacilayne
Created 10/20/2011 - 01:26
It's October! That means Jack o' Lanterns, green cocktails, and Halloween costumes.
And lots and lots of horror film festivals. A bunch of them in L.A., as you might expect… but there is one that stands out above the rest in longevity and growth. Rachel Belofsky's ScreamFest is one I look forward to, always, and have been covering for years, even when it was a smaller affair and tuckedin a far screening room at Universal Studios.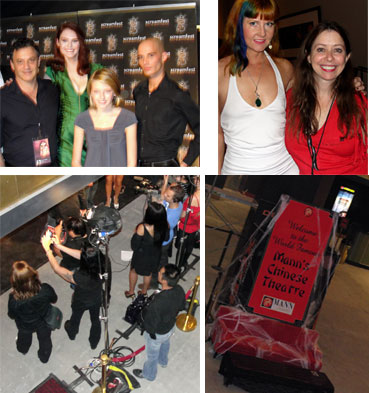 Now it's front and center at the Chinese 6 Theater at Hollywood & Highland, just a stone's throw away from the Kodak Theater where the Academy Awards are held, and directly above the famous corner where Sid Grauman & friends immortalized their hands and feet in cement. As tourists flock to see the latest remake or rom-com this week, they'll have to go toe to toe at the popcorn stand with an army of hardcore horror aficionados — fans and filmmakers come from all over the world to check out the premieres and exclusive engagements, and they're quite enthusiastic.
Among this year's big deals on the big screen are the long-awaited Rosewood Manor (directed by Victor Salva of Powder and Jeepers Creepers fame), the French language Livid (Alexandre Bustillo and Julien Maury's follow up to Inside), Dread director Anthony DiBlasi's newest, Cassadega, and the closing night film, Ti West's The Innkeepers. There is also a great slate of shorts (Time's Up Eve, Road Dog, An Evening with my Comatose Mother, Picnic, Bad Moon Rising, Patient Zero, and Night of the Little Dead — there is even a special screening of 1,000 Ways To Die on Saturday!)
To get your tickets for any of the upcoming screenings, or the Closing Night Party, click here .
---
Links:
[1] http://screamfestla2011.eventbrite.com/