Wonder Fest Tokyo Winter 2006

Wonder Fest Tokyo Winter 2006
Pictures and report from the Winter 2006 Wonder Fest model and toy show in Tokyo, Japan.
Another six months have passed, and you know what that means - it's Wonder Fest time in Tokyo! According to the show guide book (which also doubles as your ticket), the Sunday, February 19th Wonder Fest, officially called "Wonder Festival Winter 2006", is part of the 20th anniversary of Wonder Fest celebration. The first Wonder Festival was held way back in 1985. It would be interesting to see what kind of Japanese model kits DIY builder were working on back in the dark ages (the 1980's) - before the internet even existed.
As is usual with Wonder Fest, the Winter 2006 show was overwhelming in size. The sheer number of exhibitors is incredible. The show took up seven halls at the massive Tokyo Big Sight Exhibition center in the Daiba area of Tokyo. The number of people showing off and selling their models is only surpassed by the huge number of people who come to look at and buy the (mostly) Japanese models.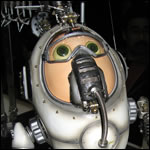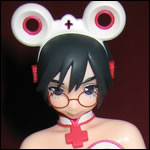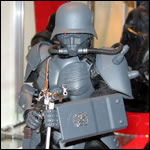 The Horror.com crew arrived relatively early for this Wonder Fest (before the doors opened) and the line seemed to be about a mile long and 5 people wide. You have to see the pictures to fully understand the size of the line to get into the show. The attendance estimates for the recent shows has been around 35,000 people, but it seems more like a million when you are actually inside. No space is wasted!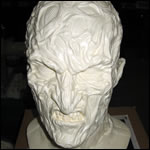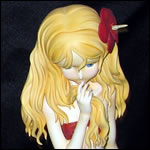 Wonder Fest exhibitors cover a wide scope, with a love for models being the common thread. There are tiny independent model builders, who get one day licenses to build fan models of their favorite existing anime/manga characters and DIY modelers making their own unique creations. From there, you move up to the indie model companies and then on up to the big companies like Bandai and Konami. Models are the focus of the show, but mixed in with that you have people selling shirts, jewelry, keychains, and all kinds of random character related goods, not to mention quite a selection of food. There was also some prime floor space devoted to the 40th anniversary of giant Japanese turtle monster Gamera.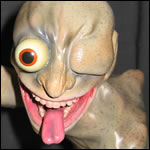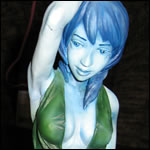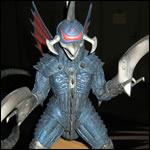 Just outside of one of the halls (but still inside the ticketed area), the cosplayers setup areas where anyone who wants to can take their pictures. Photographers wait in line to take pictures of the guys and girls (and sometimes you can't tell which is which with the costumes) dressed up as their favorite character. It's obvious that many of the Japanese cosplay girls and guys who come to Wonder Fest put a tremendous amount of effort into their costumes and makeup. Their presence wandering around the fest adds to the fun atmosphere of the show.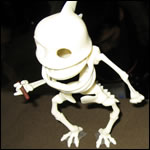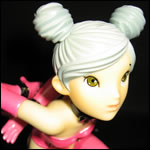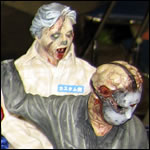 If you get to the show early enough, there are a lot of booths selling one of a kind or limited edition models. Even though the Horror.com crew arrived early this year, we didn't arrive early enough, as many of the extremely limited pieces were already sold by the time we made our way through the supersized line and into the venue. One of the booths that we were excited about was Japanese machine/robo artist Shovel Head's space - we'd heard that he was going to have some brand new pieces on display. Several of his one of a kind creations had already been sold before we arrived, but we got some cool pictures nonetheless.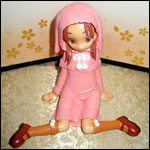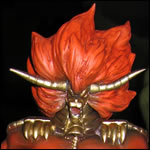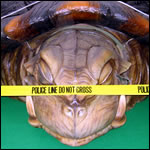 Popular WonderFest booths with rare or extremely cool pieces often have lineups or huge mobs in front of them that you have to make your way through to get up close and see or buy whatever has modelers excited. You would have to get up pretty early to beat the Japanese model collectors to the coolest stuff. That's not so easy for the Horror.com crew when the show is on Sunday morning, which comes right after Saturday night.
Enough reading, though, time to check out the Winter 2006 Wonder Fest Pics. Once again, we came back with a ton of exclusive images to bring the show to those of you who couldn't make it to Tokyo. We picked some of the best ones and they've been posted in the Horror.com image gallery.
Click On Over To See 300+ Exclusive Horror.com Wonder Fest 2006 Pictures
Don't forget to check out our previous Tokyo coverage of Toy Fest, Character Con, Design Festa, and Wonder Fest 2005.
External Link: Official WF Website (Japanese Language)

External Link: Shovel Head Official Site