Jumping-off Point for Shorts Night at the Jumpcut Café

Jumping-off Point for Shorts Night at the Jumpcut Café
Last night at the newly-opened Jumpcut Café in Studio City, CA., filmmaker Elric D. Kane hosted a gala movie night, showcasing some of the best horror shorts, trailers, excerpts and web-series currently available — there were even a few world premieres! (My decidedly non-horror music video, which I directed for The Ventures, and which was shot at the Jumpcut, kicked off the evening). Food and drink discounts were in effect, as it was an after-hours event, and it promises to be the first of many.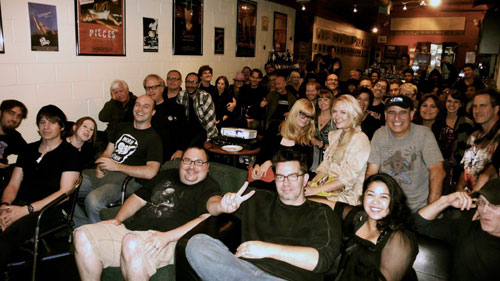 As more and more independent movie theaters shut down (even in Hollywood), cinefiles are picking up the torch and are doing their best to help showcase new and indie talents. Especially in the horror genre.
No other community is as devoted — and as communal — as ours. Sci-fi fandom may be flashier (what with the San Diego Comic-Con and its massive box office returns with its superhero movies), but they aren't as supportive of one another as horror filmmakers, actors, and supporters are. The horror community really is, just that: A community.
In October alone, I attended four horror-only film festivals, and two of the many conventions going on throughout the month. Of course, it's Halloween time, but even so: the scary genre is alive and well! Just look at the box office, with Paranormal Activity 4 opening at #1 over potential Oscars darling, Argo.
Most exciting for the packed house were first-time viewings of Kasch & Skipp's The Long Last Call trailer, as well as Daywalt Fear Factory's hilarious short Meat, starring horror.com fave AJ Bowen, and Ed Ackerman. They play a pair of rednecks who go hunting for the most exotic steak of all. Some of my personal faves from film festivals also showed up, including this year's Viscera shorts winner, The Dump, directed by Rebekah McKendry. Actor Matthew Currie Holmes showed up in quite a few of the films, and we were also treated to a sneak peek at his upcoming directorial debut, P5Ych.
There are only a few films I hadn't already enjoyed, but I have to say, I loved seeing Ama Lea's Slay Bells for the first time… it really got me in the mood for some Yuletide-themed horror (as the director said, "It's Halloween now, and right after that comes Christmas, right?" Right!).
The Gulager family's Moments, which closed the evening, got quite a visceral response (no surprise, as it's a cannibal musical). Patriarch Clu Gulager delivered a lovely, heartfelt speech thanking Elric D. Kane, and all of we fans of horror and indie film, for keeping the dream alive. Hear, hear.
A RUNDOWN OF THE JUMPCUT CAFÉ SCREENING
12-15-96 (Short) - Mae Catt
Blood Shop (Trailer) - Annette Slomka
Blue Hole (Short) - Erik Gardner
Meat (Short) - Drew Daywalt
Moments, Excerpt #7 (Excerpt) - John, Clu & Tom Gulager
P5Ych (Trailer) - Matthew Currie Holmes
Slay Bells (Short) - Ama Lea
Stay at Home Dad (Short) - Andrew Kasch & John Skipp
The Dump (Short) - Rebekah McKendry
The Long Last Call (Trailer) - Andrew Kasch & John Skipp
The Many Doors of Albert Whale (Short) - Marichelle Daywalt
The Sleepover (Short) - Chris Cullari
The Tutor Series (Excerpt) - Shem Byron
Threnody (Short) - Tyrrell Schaffner
For those in the Los Angeles area, follow the news for more free Jumpcut Café movie nights (every Sunday, from features to more shorts-showcase nights).
Staci Layne Wilson reporting