What Scares Charlie Sheen?

What Scares Charlie Sheen?
Charlie Sheen talks horror movies with Horror.com.
Having appeared in over 50 films in a career spanning thirty years, Charlie Sheen knows his way around Hollywood. From his early work in 80s favorites like "Red Dawn" and "Ferris Bueller's Day Off" through his parody projects "Hot Shots!", "Loaded Weapon", and now "Scary Movie 3" (and even offscreen, where his antics have turned a few heads as well over the years), Sheen is known as someone who rarely shies away from challenges, and keeps his sense of humor no matter what comes his way. With all he's done, and all he's been through, are there any movies that scare Charlie Sheen? Staci Wilson sat down with him to find out.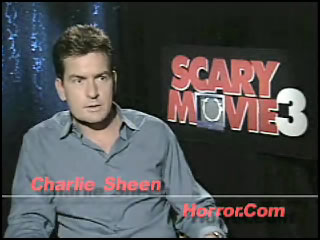 Click The Image Above To View The Video Interviews.
Don't forget to read Staci's review and premiere coverage of the horror spoof "Scary Movie 3".