Comic-Con: Thursday Report & Photos

Comic-Con: Thursday Report & Photos
Tron, Battle Los Angeles, Walking Dead, Piranha 3D.
by Staci Layne Wilson
Thursday - Is it Nerdy in Here, or is it Just Me?
ComiTron… er, Comic-Con got started late on Wednesday with its famous preview night, and some screenings and parties off site, but official interviews with the talent don't commence until Thursday, then the big days are typically Friday and Saturday, with Sunday being "kids day" and therefore winding down and allowing everyone to discuss what revelations they saw and heard.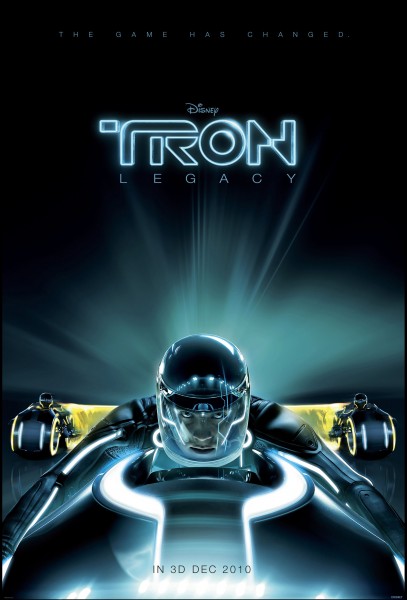 I've been covering Comic-Con continuously for Horror.com since 2004, and it's been interesting to watch the progression and exponential population-explosion in that relatively short time.
In '04 and '05, I remember it being more about fandom, homemade costumes, comic books and indie horror and sci-fi than it was the big Hollywood blockbusters —that has changed (see: '07, '08, '09). The manner in which press conferences, talent junkets and basic 1:1 interviews has changed considerably too, as the amount of attendees has increased so drastically that doing anything inside the actual convention center as press is nigh on impossible. There are lots of events taking place off-site at the hotels next door.
A few years back, I started freelancing for the Syfy Channel and so with my partner-in-crime and cameraman extraordinaire Enzo Giobbe, the workload increased two-fold… no, make that three-fold: I also do interviews for an international outlet, L'Ecran Fantastique magazine. I usually have a full schedule of video and print assignments, then the myriad of parties to cover and attend afterward.
Comic-Con days typically begin at about 6 a.m. to gear up, and wind down well after midnight. Parking has become a nightmare, forcing those not staying in the overpriced (jacked up to $400-$500 a night, on average) hotels next-door to the Center to find offsite accommodations, drive to Harbor, then park a few miles away and walk in (lots of fun, with cameras, tripods and lighting equipment, etc).
Last year's Comic-Con broke attendance records, and it seemed there was just more excitement in general — I got to interview James Cameron and Peter Jackson back to back! — this year was a bit more subdued. Crowds were cranky, protesters were out in full force, iPhone owners were frustrated by Edge (or no signal at all), and one poor seat-stealer even got stabbed in the face with a pen.
While there was no Avatar, no Twilight, and no District 9 this time around, there was the pervasive presence of Tron: Legacy and the very strong trailer debut of the much-anticipated Walking Dead zombie series on AMC.
My first assignment of the morning was the Tron press conference at The Bayfront Hilton, and it was packed to the rafters. Nearly every reporter I know is also a fanboy or a fangirl, so we were as thrilled as anyone to hear what Jeff Bridges might have to say about returning as Flynn. (This is actually the third year we've been talking Tron remake at Comic-Con, but this time it's for real!)
All the principals of the cast were there, including Bridges, Bruce Boxleitner, Michael Sheen, Garrett Hedlund and Olivia Wilde, along with director Joe Kosinski, and producers Steven Lisberger and Sean Bailey, plus writers Adam Horowitz and Eddy Kitsis.
Main talking points were about the 3D aspect (seems every movie I covered there this year was either in Real 3D or retrofit 3D!) and of course the light suits. When Olivia Wilde said "It was amazing" to wriggle into that skintight sheath costume, Michael Sheen quipped: "It was amazing to watch Olivia in the suit."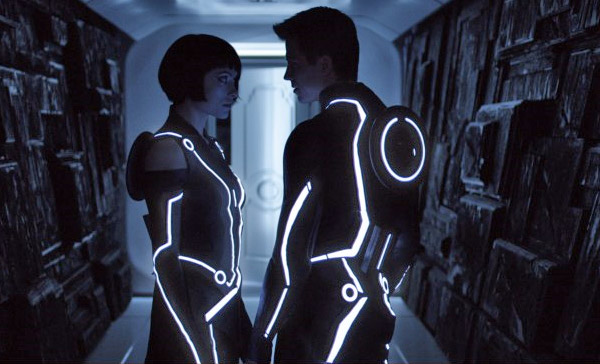 Expect to see lots of Tron-inspired fashions and nods in the months to come. Designer Donatella Versace flattered the movie's aesthetic - sleek black uniforms, white and blue glowing light - in a recent menswear show in Milan. Entertainers Rihanna, Katy Perry and Lady Gaga have all donned Tron-inspired fashions at shows and events. The Black Eyed Peas featured a flying "lightcycle" (Tron lingo for motorcycle) on its recent concert tour, and Audi has designed a concept car echoing the look of the vehicles in the movie.
Disney did it up big on Thursday by not only being Tron-crazy, but they also showed a brief clip of Johnny Depp as Jack Sparrow addressing the Comic-Con crowd about what the fourth Pirates movie isn't going to be about. He jokingly said we can forget all about seeing the Fountain of Youth, it isn't going to have Penelope Cruz, either.
We all knew Guillermo del Toro would later be talking about Don't Be Afraid of the Dark but everyone was speechless when he announced he would be writing and producing an new version of Disney's The Haunted Mansion! (And possibly directing, though it's too early to tell.) "This is really for the hardcore fans. It's a dream come true for me," del Toro said, "and I hope to steal as many props as possible." He also confirmed that Eddie Murphy won't be in his movie…but maybe there's still hope for Jennifer Tilly's disembodied head in the crystal ball. (And speaking of balls, del Toro's quote "horror has to have balls and they have to be sweaty and wrinkled" was tweeted and re-tweeted!)
After Tron, there was the Battle: Los Angeles step-and-repeat, plus a press conference. I knew a little bit about the movie beforehand — love Michelle Rodriguez, and Aaron Eckhart — but didn't know until I saw him that day, that Jonathan Liebesman was the director. He is a nice guy (I've interviewed him several times), very smart and has a great visual sense, but… he did bring in two really awful (in my opinion) horror movies in Darkness Falls and Texas Chainsaw Massacre: The Beginning. At the press conference, he promised the aliens would be "scary" and "different from anything we have ever seen before". He said it's hard to come up with a twist on the humanoid or insect-like aliens we all know, but they did it. We'll see! I'm always open and hopeful, even when guarded.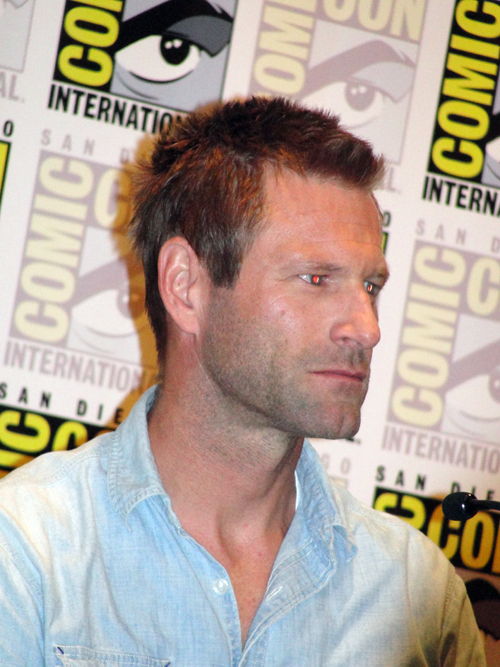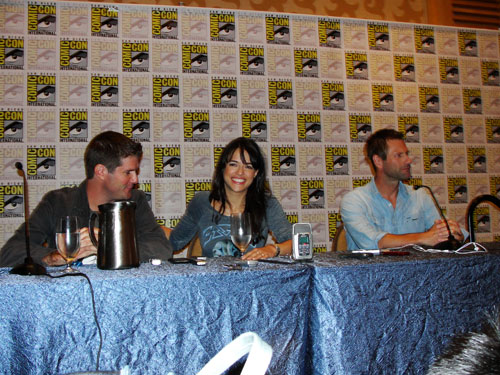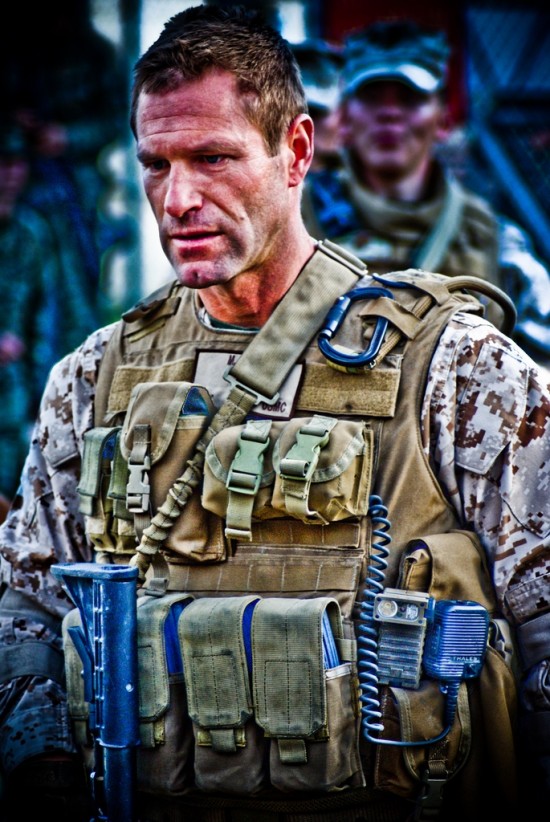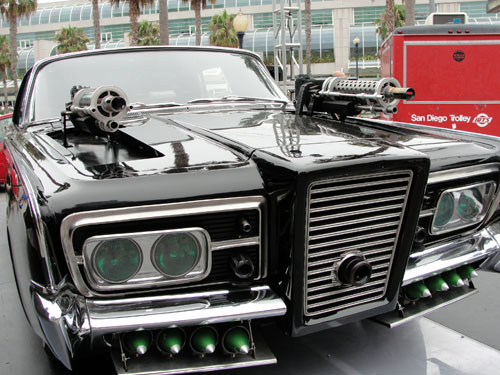 Here is a view from the Hilton Bayfront Hotel, where most of the interviews took place. It was nice out this year in San Diego — usually, it's egregiously hot in July.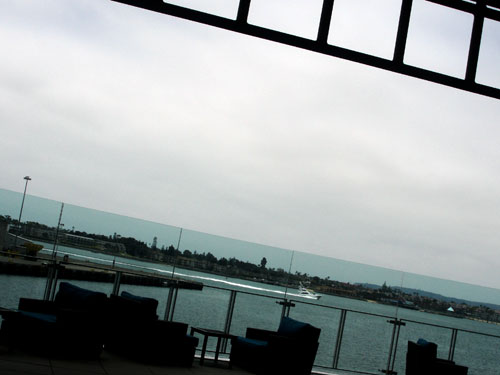 Here's a little more of the picturesque city, where I snapped a few shots while walking to and from meetings and parties (driving is an impossibility — once your car is parked, there it stays!)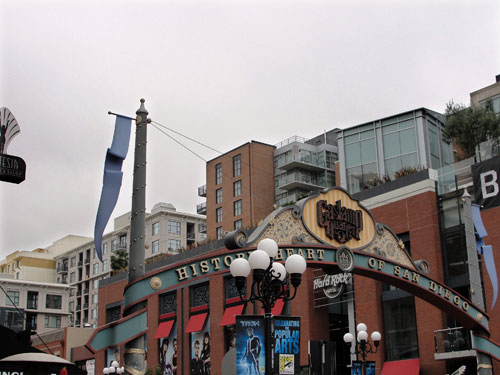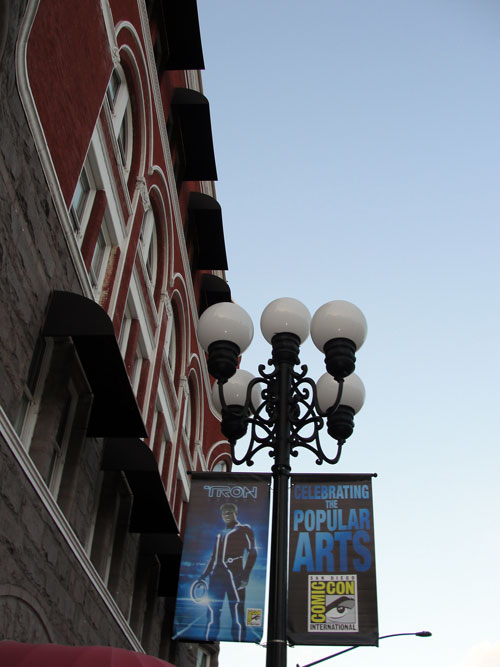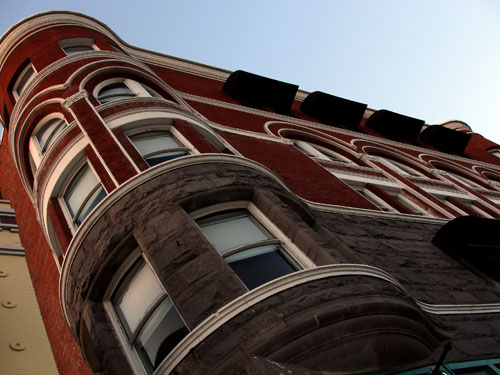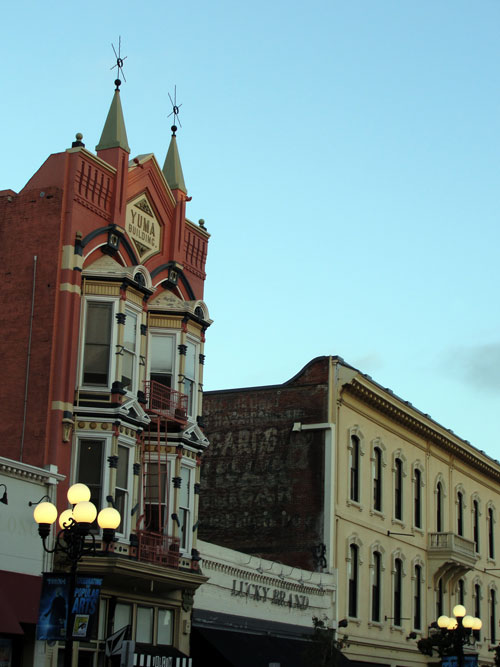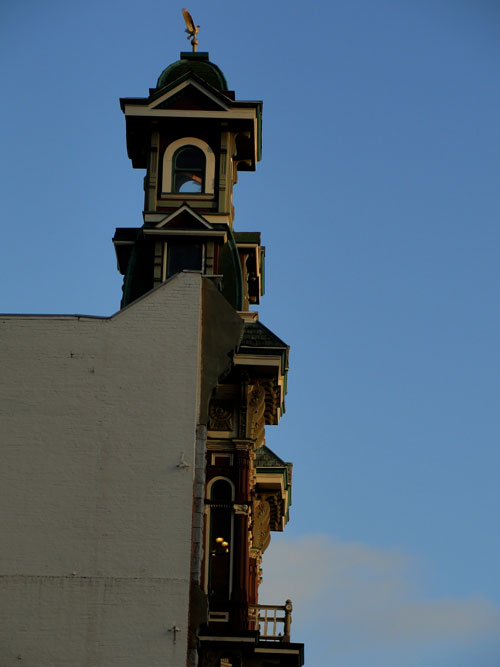 The final interviews of Thursday were for The Walking Dead, a much-anticipated series on AMC (yep, the home of Don Draper will now open its doors to zombie-men). Horror and all-around genre icon Frank Darabont directed the first episode, which airs in October, and produces the program along with the uber-amazing genre-gal Gale Anne Hurd. The interviews with them, and also Andrew Lincoln (Rick Grimes), Jon Bernthal (Shane Walsh), Sarah Wayne Callies (Lori Grimes), Laurie Holden (Andrea), Emma Bell (Amy), plus Greg Nicotero (Make-up Artist), are coming soon but in the meantime here are a few pics.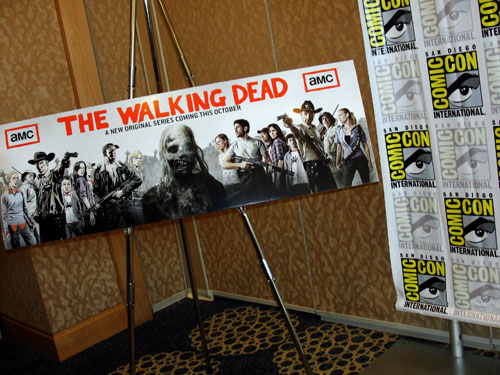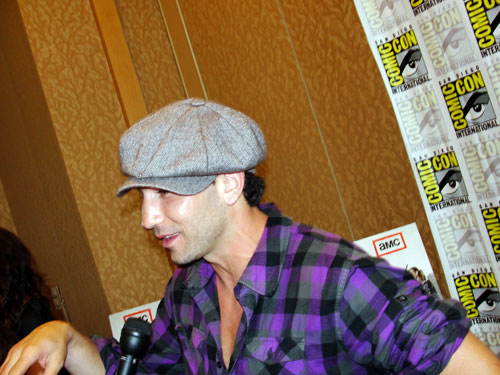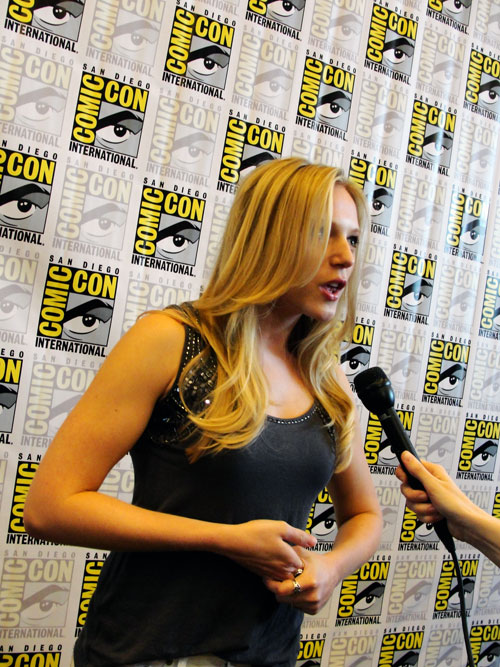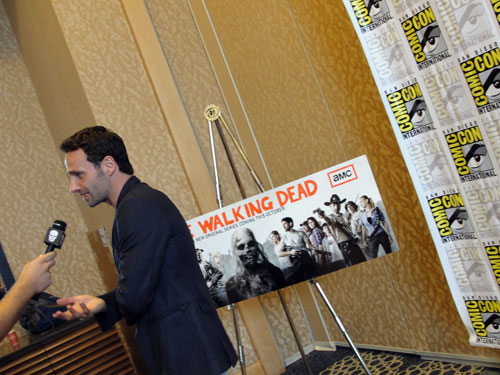 I don't see Frank Darabont often enough for him to really remember me, but I've been talking to him since I did the red carpet for The Majestic and have covered all of his subsequent movies. I was also one of the first writers to review his book Wapulski's Typewriter, and we have a couple of mutual friends (Doug Hutchison, and Mick Garris). When he said I looked familiar, I reminded him. Sometimes it's a fine line, doing that. I usually do like to break the ice by reminding an actor or director, "Hey, we talked at the junket…" or, whatever. But it could be misconstrued as self-serving, especially when it's done at a roundtable-style interview. It's a tough call; depends on the person, I guess.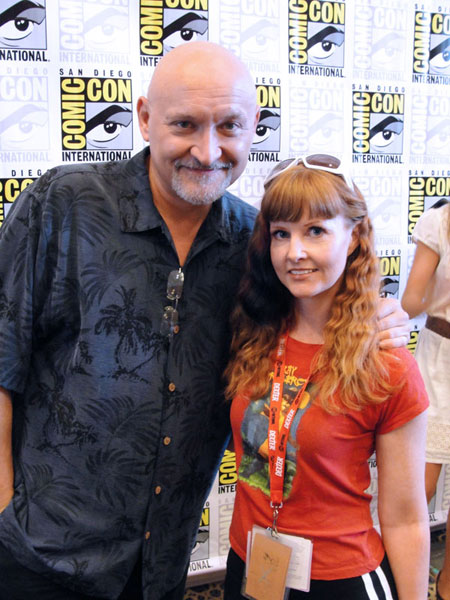 Anyway, Frank is very nice and he seemed OK with my name-dropping. Laurie Holden is also super-sweet (and I've talked to her several times, too) — but I got a little shy when she gave me a compliment about my hair, and I started babbling… oops. Embarrassing. (Yes, I *do* get paid for this job!)
Here is Frank, playing the world's smallest violin for Sarah. (Actually, I have no idea what's going on, here. Invent your own funny caption.)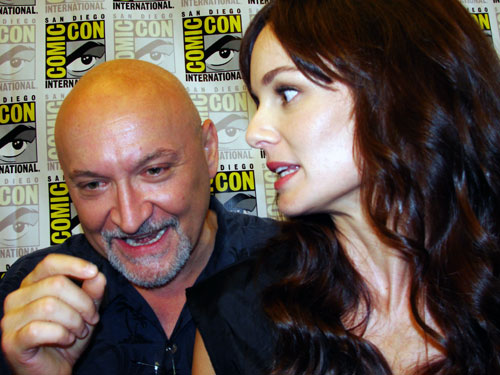 I didn't get a separate picture of Greg, but I talked to him as well and I have to publically say "thanks so much" because he was really tired and wanted to go (that step-and-repeat went way over, time-wise), but he gave us 110% with some great answers. He further whet my appetite to see the show, the way he described the makeups and what each "zombie" brings to their role — however, Frank did tell me that even though AMC is known for its drama, we won't be seeing any soliloquy-spouting zombies. "Once you're dead, your brain is gone," he said. They're essentially killing-machines, and Frank promised fans of the comics won't be disappointed.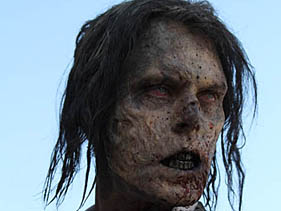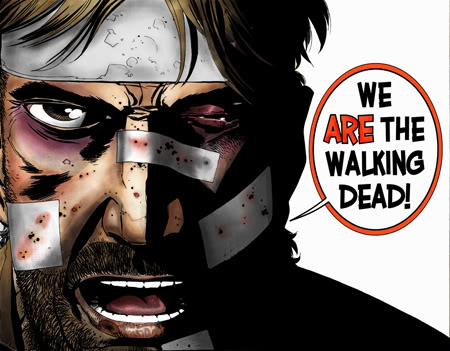 I was so booked, I was unable to see any of the famous Hall H Comic-Con panels first-hand, but I heard that Sly Stallone's appearance for The Expendables totally trumped Angelina Jolie's presentation of Salt. I also missed the Red footage and another chance to interview one of my all-time faves, Helen Mirren (but I've already talked to her twice this year — shouldn't be greedy, I suppose). Bruce Willis was also at Comic-Con to talk Red, but he popped in on The Expendables to have a little fun chatting about his cameo in that movie.
Although there were a lot of action and high-octane thrillers being talked about at the Con (and yeah, even a few comic book related topics), horror got its due with a very well-attended screening of
The Last Exorcism
and there was not only a lot of excitement over Saw 7 in 3D, but Twisted Pictures producers Oren Koules and Mark Burg with the Guinness World Record for the 'Most Successful Horror Movie Series' with $732 million total global box office sales.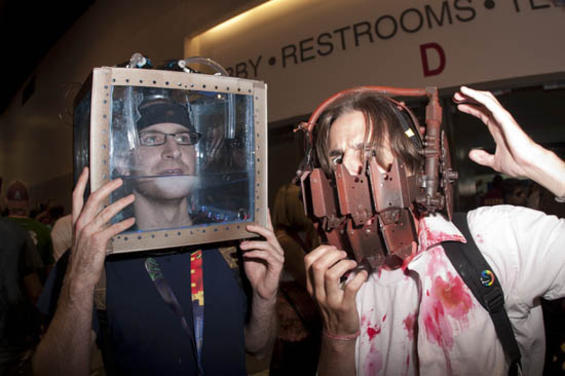 After The Walking Dead, Enzo and me went to the Magnet/DreadCentral.com party, where we ran into a lot of friends and colleagues. I saw director Darin Scott there, who showed me the new poster for his movie,
Dark House
, in which a quote from Horror.com is prominently featured! I wish I had a picture of it, or Darin, but here's the next best thing.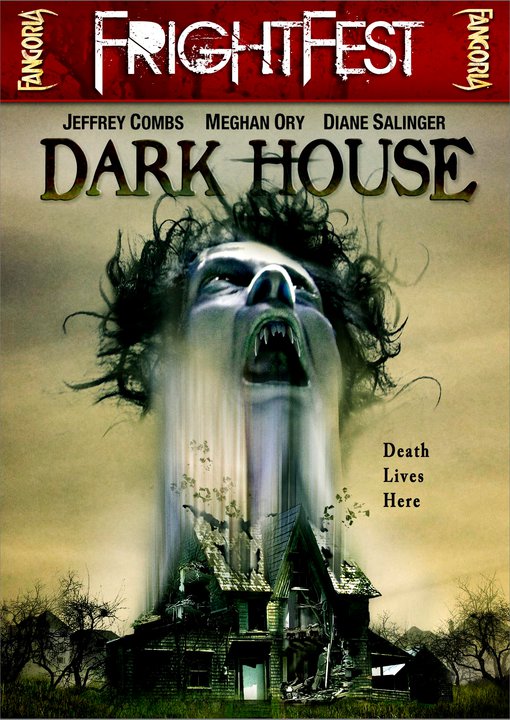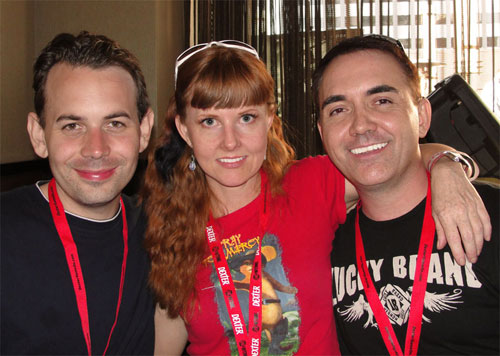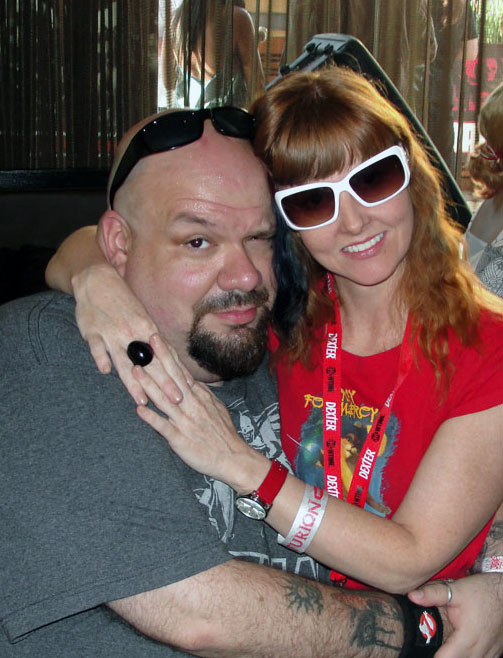 The host with the most! Dread Central's own Steve "Uncle Creepy" Barton, who will also be hosting the
Reaper Awards
this year (and I'm judging again :)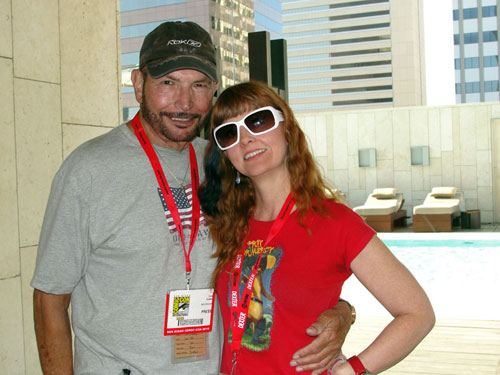 Your intrepid Comic-Con reporting team, Enzo Giobbe (camera) and me (questions).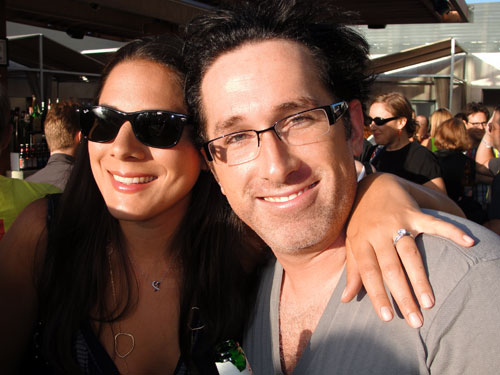 Laura and
Darren Bousman
. Bousman was there at Comic-Con for last year's hit (Repo! The Genetic Opera) and his upcoming horror flick, Mother's Day (I've seen it, and I loved it. It's seriously brutal and bleak as hell).
Never Sleep Again's Lito Velasco, Annette Slomka, and Dread Central's
Debi Moore
.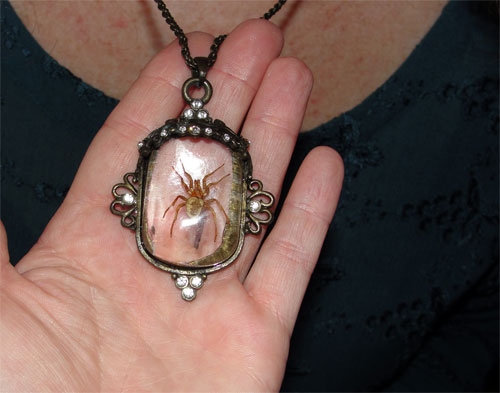 I loved Debi's necklace -- here's a visual. Also, the palmists among you can see how long I've got to live.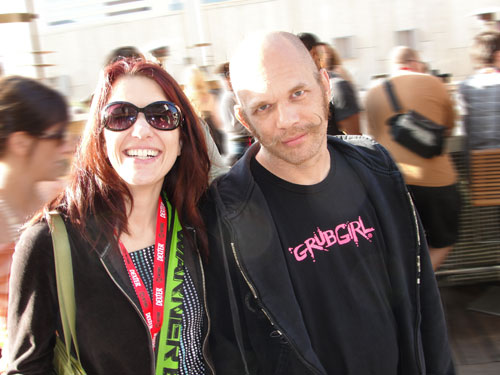 Jace Anderson
and Adam Gierasch, who are the filmmakers behind the upcoming Night of the Demons remake, plus Mother of Tears and Autopsy.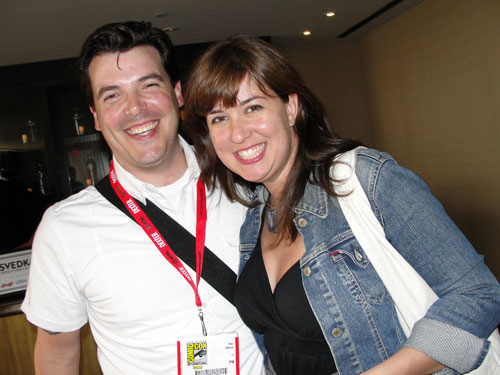 Mac and Dinah McLean from
Click Communications
, the lovely folks who provide horror.com with a lot of review DVDs and other fun stuff to share with all of you.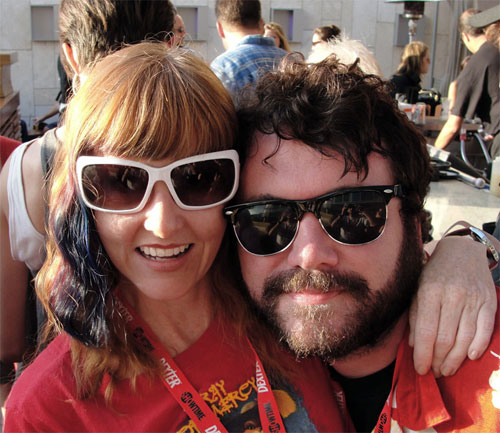 Wow! It's AJ Bowen from
House of the Devil
!!! (However, the
Magnet
goodie-bag contained another of AJ's movies, The Signal.)
The party food was your usual bird-peck serving sizes, so after that Enzo and I went to eat. Unfortunately, his retaurant wasn't open yet...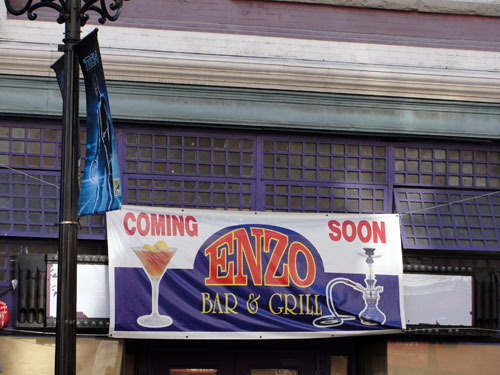 ...So we made due at George's, home of the famous $6 burger. It was so good, we went back again -- and every time, it was quiet and not at all crowded. Perfect respite.
After that, it was time to hoof it to the Piranha 3D footage screening at the Horton Plaza Regal... where we stood in line for over an hour (to see five minutes of clips! The natives were getting restless, to say the least, by the time the print finally arrived). One of the stars of the film, Jerry O'Connell, was extra cool and made the wait (almost) worthwhile by personally handing out 3D glasses to the masses!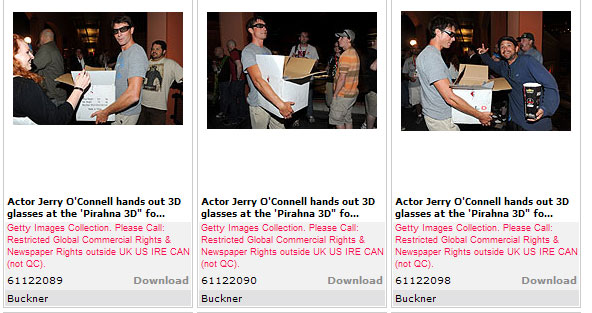 While in line, I caught up with Frank H. Woodward and Mark Henry of Wyrd, who co-directed the upcoming feature documentary,
The Splat Pack
. They were kind enough to give me a screener since I (representing Horror.com, of course) am in it — and as the photo below attests, here it still sits waiting to be watched.
That's the thing about Comic-Con; not only is it a soul-sucking, strength-sapping experience while you're covering it as a reporter (as mentoned, I was working for two other outlets in addition to good old HDC), but once you get home there are reports to file, reviews to write, pictures to resize for the web, links to locate, videos to edit and upload, and so on and so forth.
Back to the screening. I'd just watched the old
Joe Dante Piranha DVD
(newly-fangled), so I was primed for the remake. I use the term loosely; director Alex Aja (High Tension, The Hills Have Eyes, Mirrors) says it's "not a remake" and for once that is not just Hollywood lip-service. The sizzle reel we saw was absolutely nothing like the 1978 film. The CG fish-fiends are beyond brutal, and there is far more blood and gore. Plus, we got to see Eli Roth get beheaded (who was in attendance, sitting a few rows behind me) and a Greg Nicotero cameo (also there). What's not to love?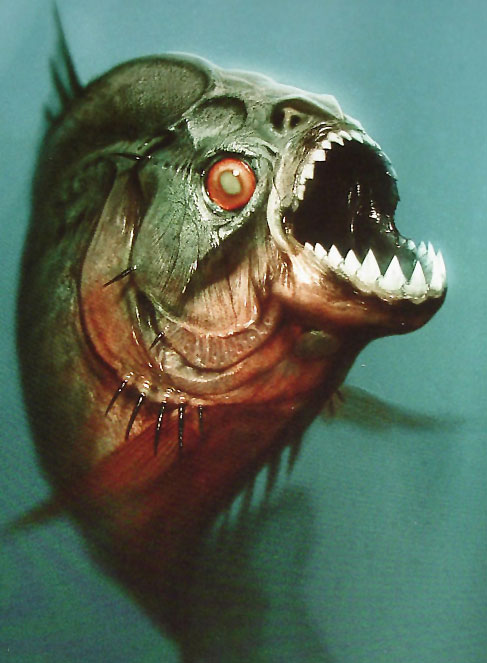 One day down, and all's well that ends well! Unlike last year, we weren't able to stay close-in to the Con (paid an arm and a leg at The Hilton, right next door) — so we opted for The Mission Inn about 4 miles off and it was really great. I recommend it highly (breakfast at Du-par's is free!).
More exclusive photos, and video interviews, to follow...
==coming soon==