Amit Tishler - Exclusive Interview with Animator & Filmmaker

Amit Tishler - Exclusive Interview with Animator & Filmmaker
Amit Tishler, Big Bear Horror Film Fesitval 2010
by Staci Layne Wilson
SLW: How did you become involved with the BIG BEAR HORROR FILM FESTIVAL, and did you come up with the idea for the short teaser with the bears yourself?
AT: After seeing my short animation filmWINTERHUNT in the January screening of the "Hollywood Shorts" festival in LA, Big Bear Horror Film Festival director Michael Coloumbe contacted me and generously offered me to send my film to his upcoming 2010 BBHFF festival. Over the last year I've been in touch with the festival directors Jamie Kristen and Michael Coloumbe and after accepting both BORN TO BE DEAD and WINTERHUNT to the 2010 festival, I animated a teaser trailer for the festival in order to help them promote this great event.
The original concept for the teaser was the BBHFF team's. The design, direction and overall execution was mine.
SLW: What's your background in art, and who are some of your influences?
I studied my undergraduate degree in Bezalel-academy of art and design, Jersalem's animation department where my main focus was on traditional 2D animation. My graduation project - BORN TO BE DEAD is one of my films that will be screened in this year's festival, after already being screened in in several animation festivals including "NYCIFF"in NYC and "Animacursed" in Brazil.
After graduating from Bezalel, I worked for two years at the Israeli industry as both a full time and freelance Flash animator for several studious and software companies. I also worked as a character designer in both Flash and the classic hand drawn techniques. These days I'm studying in the United States, at the Minneapolis College of Art and Design (MCAD), working toward my Master of Fine Arts degree (MFA).
The main influences over both my style of drawing and my style of directing are over the top Nickelodeon cartoons like Ren and Stimpy and Invader Zim (in general i'm a Vasquez fan). Video games, films and japanese anime. All of these combine together to form my style and sometimes it really shows.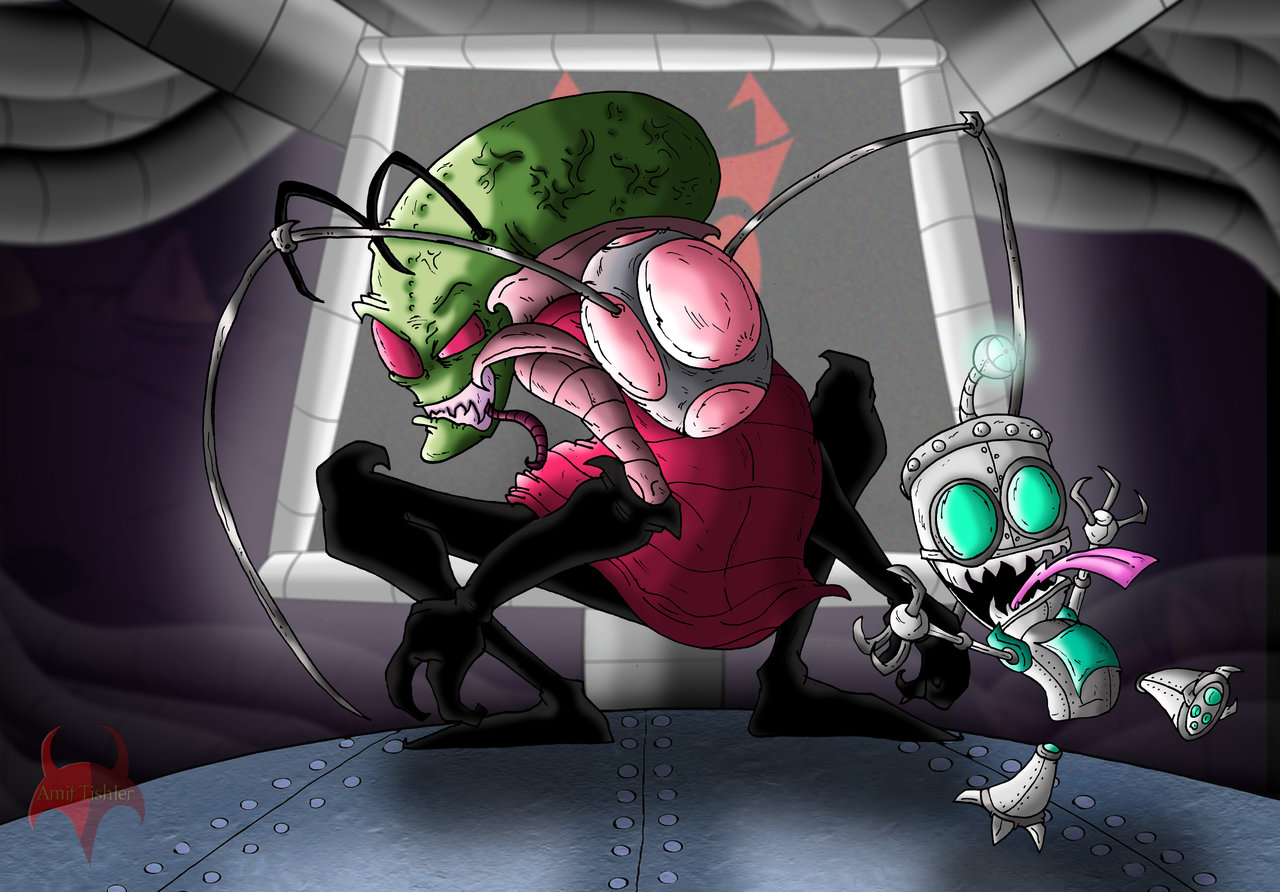 SLW: Tell us a little more about your short films, and why that medium (as opposed to, say, feature length) is what you're into right now.
WINTERHUNT is Set in a cold and snowy mountains, the film tells the story of a brave little hunter that seeks a prey through the freezing blizzards. The hunter stumbles upon an unlikely prey, an egg that just hatched out of the snow and mistakes the hunter for his mother. But when the angry Yetti notices what's happening, the hunter shortly becomes the hunted and finds himself in need of assistance from his former prey.
The film was digitally produced using Flash, combining classic animation elements with cut out animation techniques . Production ended in about three months of work, out of my previous Tel Aviv, Israel home. The short is aimed at teen and adult audiences, due to some surprisingly violent and gory content.
BORN TO BE DEAD was my undergraduate degree's graduation project. Set in the flaming pits of Hell, the film tells the story of a cute little girl who is banished from Heaven straight into the fires of Hell. The Dark minions quickly learn that if nothing will be done about their new unwelcomed guest, their lives will turn into a living hell.
The film was produced in classic frame by frame 2D animation, using more than a 1,000 hand drawn frames, the entire film drawn only by me in about eight months of work, entirely out of my student apartment in Jerusalem, Israel. The short is aimed at teen and adult audiences, due to its dark tone and content.
These days I have two new projects in the works at MCAD. One is a 2D Flash animation film titles MAGE OF THE GROPETESQUE which follows the daily life of a mischievous magician , who uses his powers for all the wrong reasons, and his encounters with various medieval characters. MAGE OF THE GROPETESQUE will be finished around this November. The other is a more drama themed film which will combine Live action cinema with 2D classic animation. The film is still in pre-production but the concept is already well established.
SLW: Where do you see yourself 3 years from now?
After I finish my studies I would want to continue working on personal projects and perhaps try to start my own studio to run independent films somewhere in north America.
SLW: What are some of your favorite horror movies?
Two that pop up into mind right now are the hollywood version of "The Ring" and the japanese horror film "Battle Royale". What I like about "The ring" is mainly the mystery and moody atmosphere and it's ability to create suspense without the use of gore or excessive violence and intense action. Also, the visuals and direction are a huge plus that really bumps up the experience.
Battle Royale never holds back, it's violent and low on morals. It's dark, well directed, ironic and even amusing at times. Its concept is not innovative but the execution is brilliant and truly adds to its replay value.
[end]