Rogue River at ScreamFest 2010 - Bill Moseley & Lucinda Jenney

Rogue River at ScreamFest 2010 - Bill Moseley & Lucinda Jenney
Rogue River Movie Premiere, Jourdan McClure, Bill Moseley, Lucinda Jenney, Michelle Page, Chris Coy
Staci Layne Wilson reporting
Rogue River, the grim and brutal directorial debut of lifelong horror aficonado Jourdan McClure, made its Hollywood debut at last night's ScreamFest L.A. '10 Film Fesitval. The theater was packed and popcorn was flying as the fans jumped and squirmed in their seats -- this movie isn't exactly what I'd call "fun" (see: Night of the Demons), but it's certainly memorable and effective.
I'll have a film review coming soon, but in the meantime check out our pics of the films' stars from the black carpet, as well as a schedule of films to follow (note: Jennifer Lynch's HISSS has been canceled, but ScreamFest queen Rachel Belofsky promises a good surprise in its place).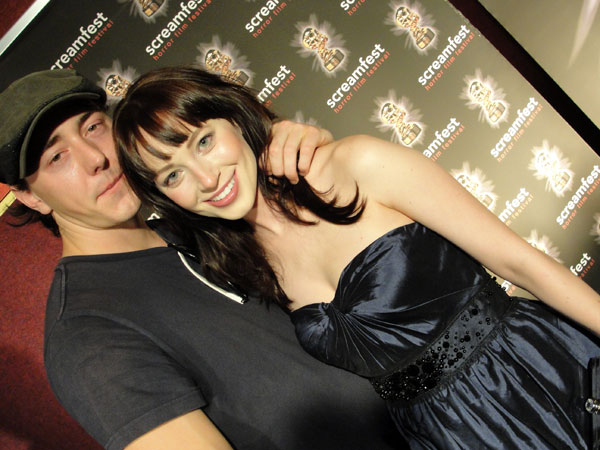 Star Michelle Page cozies up with costar Chris Coy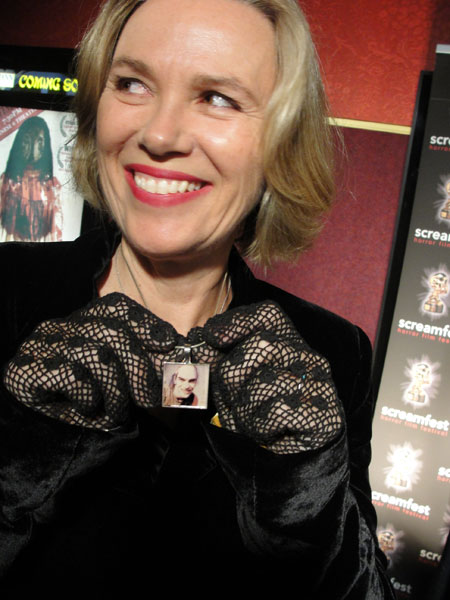 Star Lucinda Jenney shows off her cameo -- it's "Choptop"!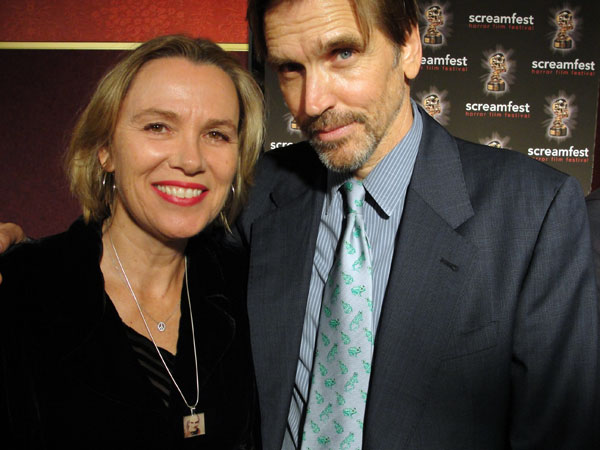 Jenney and her costar in both the film and in real life, Bill Moseley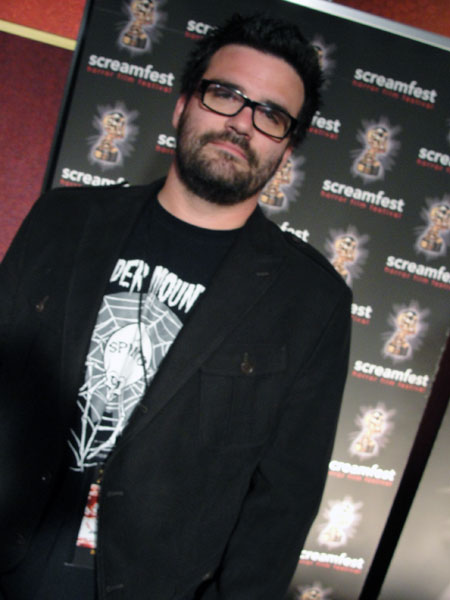 Director Jourdan McCLure
= = =
Coming next at ScreamFest L.A. '10 -- stay tuned for our reviews as movies are viewed! GET YOUR TICKETS HERE
--------------------------------------------------------------------------------
Mirrors 2 FREE screening Tue, Oct 12, 2010 7:30 PM
Psych:9 Tue, Oct 12, 2010 9:30 PM
--------------------------------------------------------------------------------
Tucker & Dale VS Evil Wed, Oct 13, 2010 7:30 PM
My Super Psycho Sweet 16 Part 2 FREE SCREENING Wed, Oct 13, 2010 9:30 PM
--------------------------------------------------------------------------------
The Shrine Thu, Oct 14, 2010 7:30 PM
Undocumented Thu, Oct 14, 2010 9:30 PM
--------------------------------------------------------------------------------
Hysteria Fri, Oct 15, 2010 7:30 PM
The Pack Short film,NIGHT OF THE PUNKS, screens prior Fri, Oct 15, 2010 10:00 PM
--------------------------------------------------------------------------------
Caged (Captifs) Short film, DEVIL'S CREEK, screens prior Sat, Oct 16, 2010 12:00 PM
The Killing Strain Short film, NOT EVEN DEATH, screens prior Sat, Oct 16, 2010 2:30 PM
Psycho Legacy Sat, Oct 16, 2010 5:00 PM
Black Death Sat, Oct 16, 2010 9:30 PM