Reaper Awards "Grimmys" Report and Photos 2010

Reaper Awards "Grimmys" Report and Photos 2010
2010 Reaper Awards coverage and photos by Terrence Kelsey. Daniel Farrands, Bill Moseley, Paul Solet, Tom Holland, Darren Lynn Bousman, Gabby West, Adam Gierasch, John Gulager, Diane Goldner, Eileen Dietz, Sarah Butler, and more.
Terrence Kelsey reporting
You just can't keep a good reaper down during the month of October. He/or she returns for the 2nd Annual REAPER AWARDS to give out the Grimmys to tinsel town's Goblins & Ghouls who gathered at the Historic Roosevelt Hotel on Tuesday, the 13th. Okay, not quite Friday, but that day had to suffice.
The Red Carpet
The event started off on the red carpet, as various actors, filmmakers and studio executives strolled along to smile for the cameras and chat with the press, such as yours truly.
Some of the "horrorific" entertainers, whose brains I picked (kinda tasty, too) were…
Darren Lynn Bousman – whom tells me that MOTHER'S DAY is slated for a late February/early March release, while he begins scouting locations in Spain this month for his follow-up (and potentially controversial) religious-themed feature 11-11-11.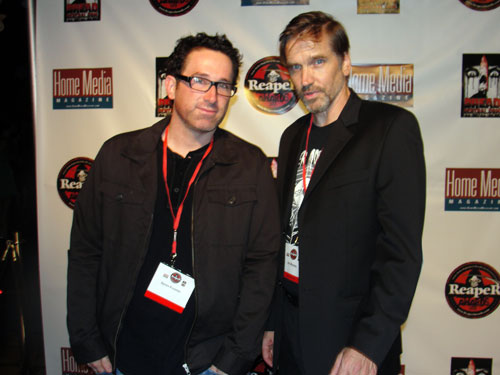 Darren Lynn Bousman & Bill Moseley
Ben Rock – who was genuinely enthused about my heartfelt fandom of his debut sci-fi horror film ALIEN RAIDERS [HIGHLY RECOMMENDED!]. I asked him if they were aware about the RESEVOIR DOGS similarities with the contained set and seemingly heist scenario that starts the movie off. Apparently, Quentin Tarantino's film didn't factor into the story proceedings at all, but Ben liked that I saw that connection within the film. I told him his film deserves to be seen on the big screen, which it does.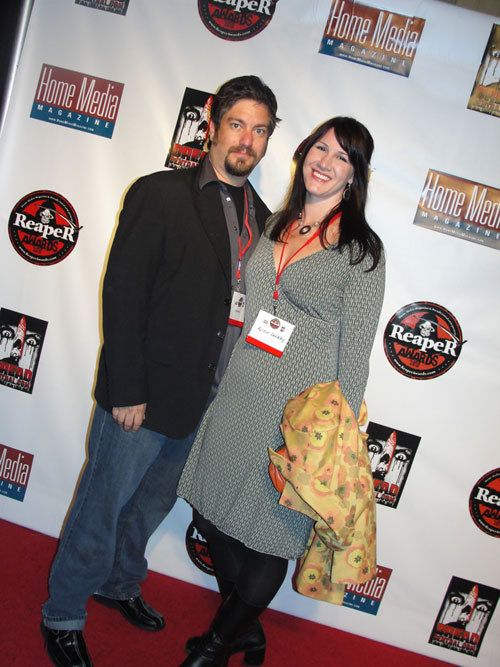 Paul Solet: I asked him what's next on his plate after GRACE. His response: "I try not to talk about things that are in development. I remember as a fan (of other filmmakers) going, 'oh he's doing this, oh he's doing this' and then it's like, ya' know, what the fuck? You start to feel like you're getting betrayed a little bit. You know what I mean? So, a lot of really exciting shit. It's just very important to me that I do it right. I'm not going to take something I don't believe in."
I further asked if he's still going to go for the classic 70's horror style (ala Roman Polanski) that he employed in GRACE? He answered with, "Yeah, that's in my blood. It's very likely something you'll see more of."
Paul was also presenting tonight, but wasn't sure for which award. What he did know was that Tom Shankland's THE CHILDREN is up for it, which is one of his favorite movies: "I really love that movie, so I'm really hoping that Tom wins that award."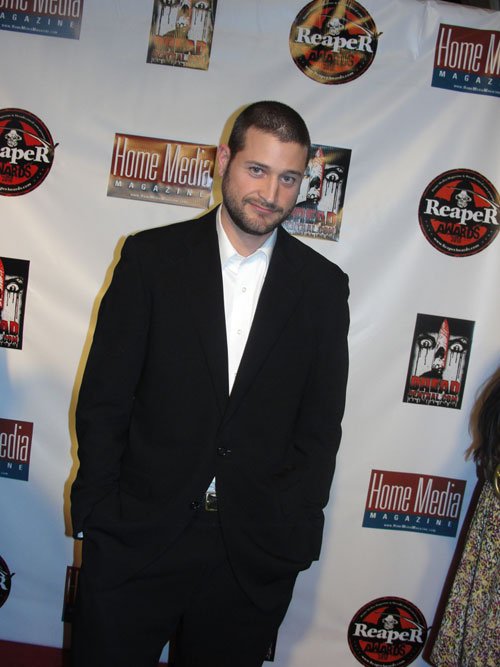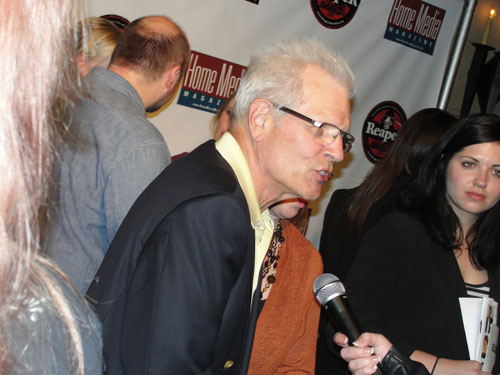 When I mentioned that it would be great if GRACE wins too, he nonchalantly & humbly replied, "We'll see. Whatever." Lo & behold, GRACE did go on to win tonight. And I couldn't be any happier. It's a film I supported for a long time, having seen it 3 times on the big screen through two festival screenings and it's Los Angeles opening last year.
Adam Green: My brief exchange with Mr. Green got off to an unexpected start with his tart response, regarding HATCHET 2.
Me: So what happens next for HATCHET 2 upon AMC's pulling it from theaters after one week.
Adam: "I don't know."
I thought he was going to say more, and when he didn't, we both started laughing. What can I say? I'm a red carpet rookie. He took me off guard for a brief spell.
He did go on to mention his upcoming projects: "I'm working on KILLER PIZZA right now, which is a kids comedy – a big kids movie I'm doing for 1492, Christopher Columbus' company, and CHILLERAMA has been announced, which is an anthology I'm doing with Tim Sullivan, Adam Rifkin and Joe Lynch. I'm very busy, very excited."
Joe Lynch: I asked the always-humorous Mr. Lynch on what we should expect from his newest cinematic venture, KNIGHTS OF BADASSDOM. Without missing a beat, he shouts back, "It's fucking Baddass. I'm going to use the fucking shit out of that for the fucking year. We're currently in post-production right now. It will be out theatrically next year. It's been one of the most amazing experiences of my life."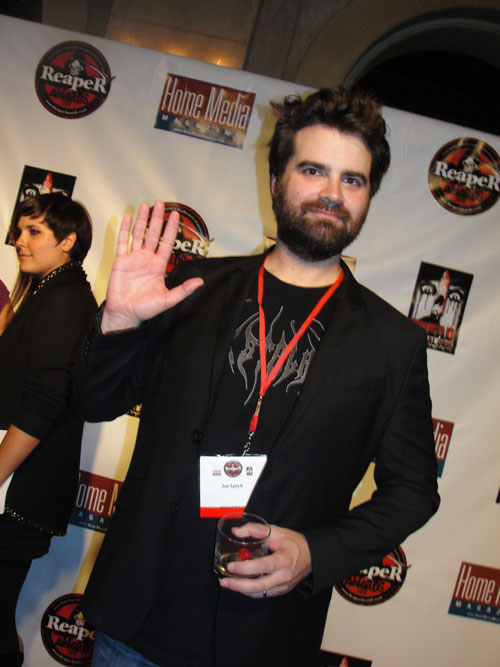 He went to describe the movie as a heavy metal horror adventure. "After living with it in post for a month, I can say it's THE GOONIES for grown-ups. It reminds me of an early 80's Amblin film (Spielberg's old production company that put out ET & POLTERGEIST), where you could be a little dangerous and be a little edgy. (But) it's not PG-13. This is some hard R shit."
I wondered if there is a "Chunk" character in the movie. Joe reassures me: "Yes! But I say no more. It will be up to the audience to decide who is 'Chunk'. And there is a 'truffle/shuffle' in there, but I'm not going to say how it happens."
Gabby West: Like Tanedra Howard before her, via season one of SCREAM QUEENS, Ms. West was the naturally gifted/talented underdog, and because of that fact, she instantly became my favorite for the entire duration of the show. I asked her how the whole experience of SCREAM QUEENS 2 has been for her: "It's been pretty amazing, since everything's been over. I have a website, and I've had hundreds and hundreds of really positive comments. I was just cast in the lead of Tim Sullivan's CHILLERAMA (see Staci Layne Wilson's story here
). So we start November 1st, and Marc Hudson (her date for the evening) is Tim's AD, and yeah, really exciting." She was genuinely happy about the amazing review that Horror.com's Staci Layne Wilson had written about her that she ended up putting it on her website.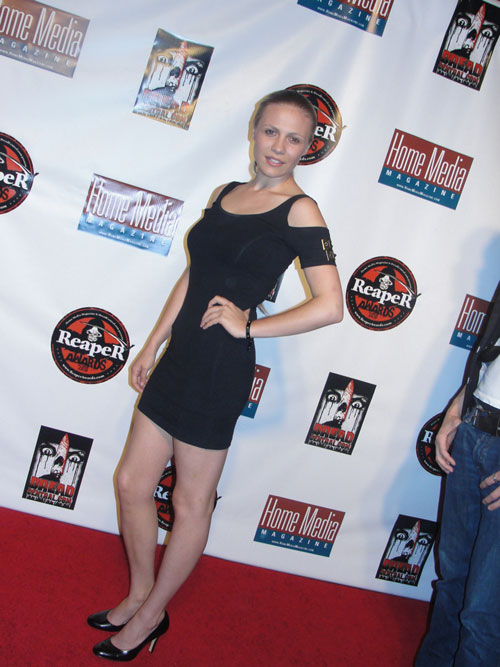 Steve 'Uncle Creepy' Barton: I joked with him that since he's been made into a Romero zombie in SURVIVAL OF THE DEAD that he should now become an iconic slasher villain. He agrees and says, he keeps telling Adam Green that he can go toe-to-toe with Victor Crowley. So, somebody give Uncle Creepy an axe (on the big screen) and let him get medieval on some unsuspecting young folks.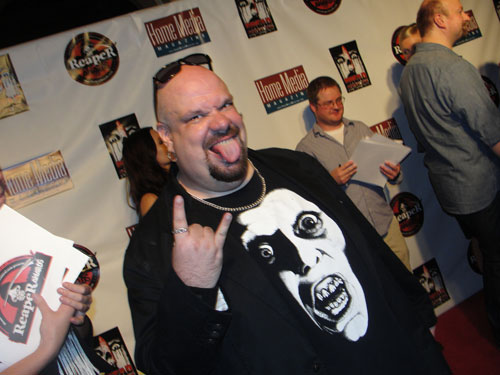 Oren Peli: The writer/director of PARANORMAL ACTIVITY has been on a career whirlwind ever since his debut raked in loads of cash for Paramount Pictures last year. As a producer, he is now attached to a couple of notable new releases, including the new haunted house movie INSIDIOUS from SAW creator James Wan. Oren explains how he got involved with that film: "Well, after PARANORMAL ACTIVITY, me and one of my producing partners Jason Blum and Stephen Schneider, we decided to try and produce a few films that are going to be very low budget, but still grab the essence of a really scary movie, and partner with really visual filmmakers like James Wan or Barry Levinson or Rob Zombie, and basically let them do whatever film they want to do without any interference. So, we're very lucky to have James Wan & Leigh Whannell come to us with a great script, and we instantly loved it. And we said, that (INSIDIOUS) would make the perfect first movie for us, and we can't be any more excited about the way it turned out and having Sony involved now – they get the movie, they love it so. We're very proud of the movie, and are very confident it is going to do well."
If any of you are one of James Wan's Facebook friends, you'll know how upset he was with the MPAA claiming his film to be too scary for a PG-13 rating, which he seems intent on getting. I asked Oren about the MPAA, if the film had received its official rating or not. Oren goes on to say that: "Not yet. It's not really gory or violent, but it's so scary that it crosses the line. They (the MPAA) don't want to give the kids too many nightmares."
Regarding PARANORMAL ACTIVITY 2, Oren states: "I didn't direct it. I was one of the producers, and we are extremely excited about the movie, premiering next week. I think the people who really loved the first one are really going to love this one, because it's true to what made the first one effective. We didn't go for gore. We went with the very scary that gets under your skin. So, I think people are really going to dig it."
Also in town to join the fun were Bill Moseley, the family Gulager (Clu & John and his wife Diane Goldner), Adam Gierasch (director of the NIGHT OF THE DEMONS remake), Neil Marshall and his lovely wife horror journalist/actress/ filmmaker Axelle Carolyn as was Sarah Butler from the I SPIT ON YOUR GRAVE remake (currently in theaters), Carlos Lauchu and producer Jacqueline Kelly (of SUTURES), Noah Segan (of CABIN FEVER 2: SPRING FEVER.
The Awards Ceremony
The show started on time with a great dinner buffet and cool little colorfully lit skulls adorning the tables. Most everyone must have imbibed of the witches brew, as many part-took in the running gag of the evening: hand jobs!!! The culmination resulted in producer Dan Farrands (NEVER SLEEP AGAIN: THE ELM STREET LEGACY) offering to give the ultimate experience during one of his acceptance speeches, while holding up his sharpened Freddy Krueger blade glove. No one could top that.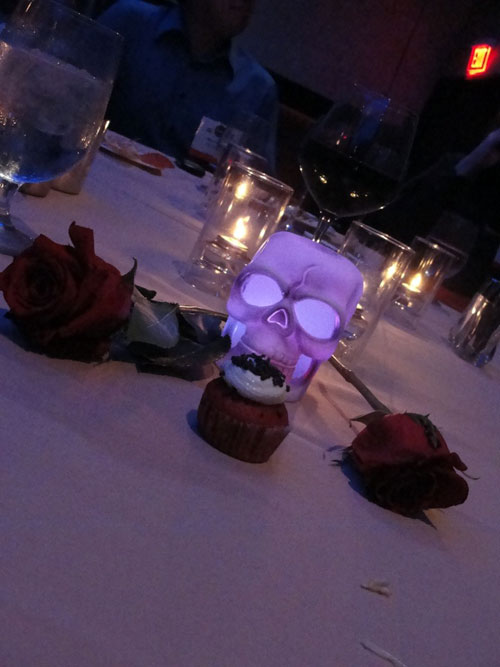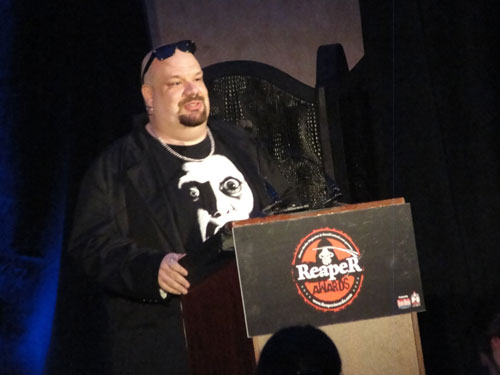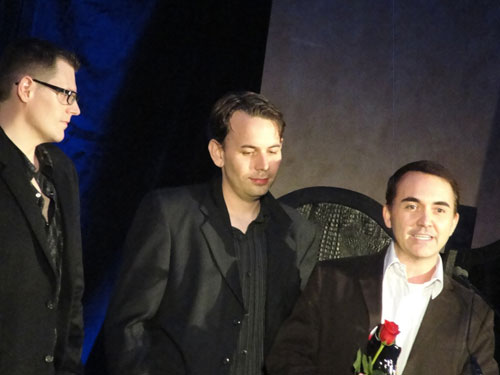 Speaking of acceptance speeches, here's a list of the winners:
BEST THEATRICAL DISC – Trick 'r Treat (Warner Home Video)
BEST DIRECT-TO-VIDEO TITLE – Never Sleep Again: The Elm Street Legacy (CAV Distributing/1428 Films)
BEST RE-RELEASE/CATALOGUE TITLE – Friday the 13th Part VII – The New Blood (Paramount Home Entertainment)
BEST BOXED SET OR TV SHOW – True Blood: The Completed Second Season (HBO Home Entertainment)
BEST INDIE OR FOREIGN TITLE – Grace (Anchor Bay Entertainment)
BEST BLU-RAY DISC – True Blood: The Complete Second Season (HBO Home Entertainment)
BEST PACKAGING – Friday the 13th Re-releases (Paramount Home Entertainment)
MOST-ANTICIPATED THEATRICAL – A Nightmare on Elm Street (2010 – Warner Home Video)
MOST-ANTICIPATED NONTHEATRICAL – 30 Days of Night: Dark Days (Sony Pictures Home Entertainment)
MOST-ANTICPATED CATALOG – The Alien Anthology Blu-ray (20th Century Fox Home Entertainment)
LIFETIME ACHIEVEMENT AWARD: Tom Holland (Fright Night
BEST IN SHOW – Never Sleep Again: The Elm Street Legacy (CAV Distributing/1428 Films)
Thus concludes the 2nd Annual Reaper Awards. Poor Mr. Reaper must have been tired after a long night of debauchery, mayhem and death.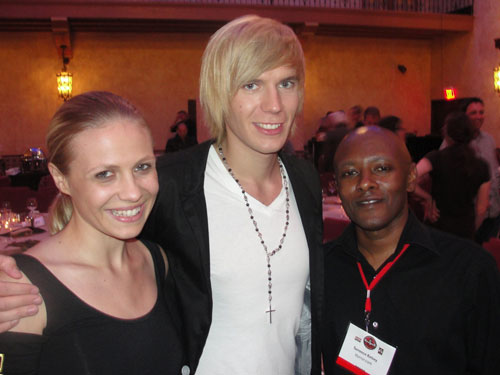 Gabby West, Marc Marc Hudson, Terrence Kelsey
The After-Party
Later that evening, the guests decided to hang out by the pool. I chatted with composer Joseph Bishara (James Wan's INSIDIOUS), and we talked about our mutual interest in dark ambient industrial music, via the Sweden-based Cold Meat Industry label. I promised to send him some dubs of CMI bands he's never heard of. These groups' muzak makes for perfect horror film scores. One of whom (the now-defunct Norwegian female duo AGHAST) whose ghastly tunes appears in my own supernatural horror short SPEKTER from 2007.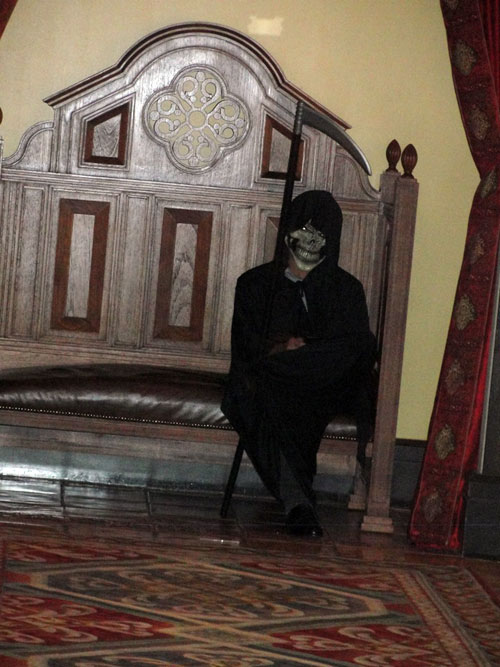 Not much more to describe about the event, other than to say we all received very cool swag bags of stuff at the end. I personally received a copy of the newly released blu-ray of THE EXORCIST, which I'm told is of amazing quality. Sweet!!!! Until next year, the Grimmys await their return.
And... and few extra pics!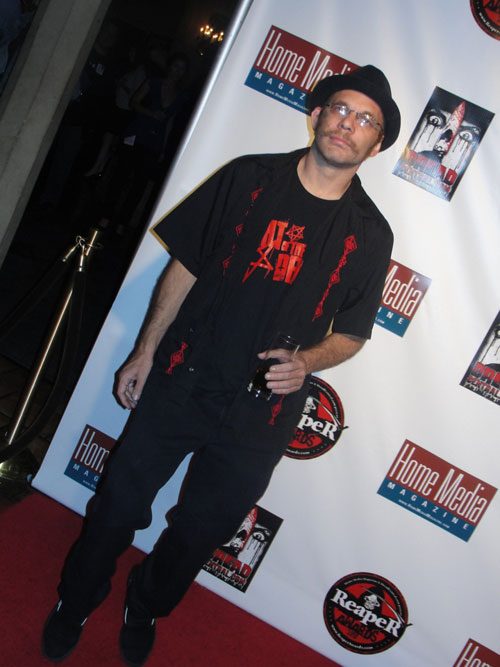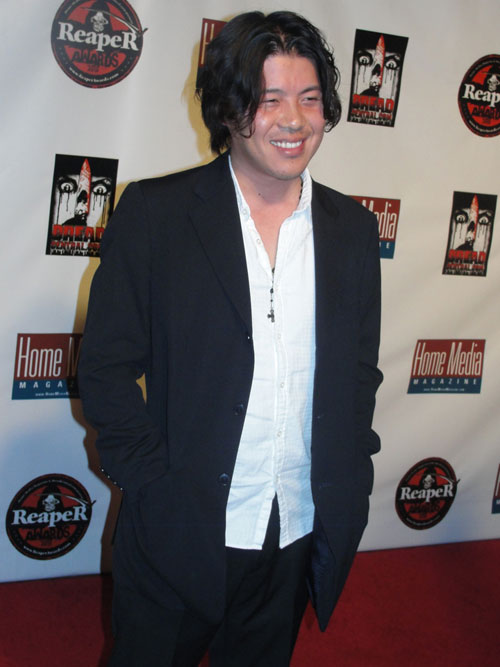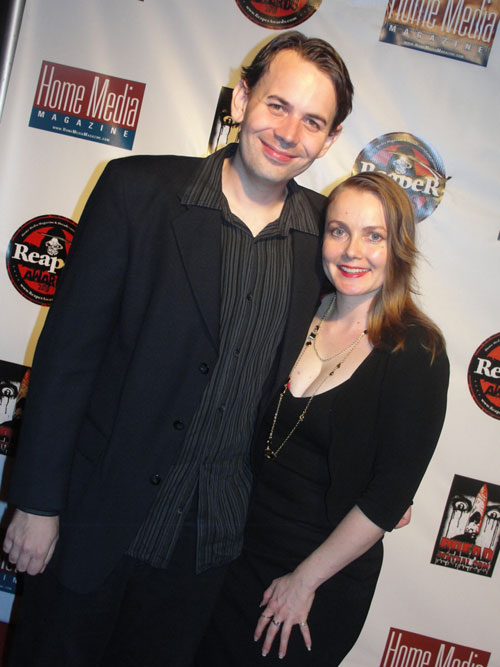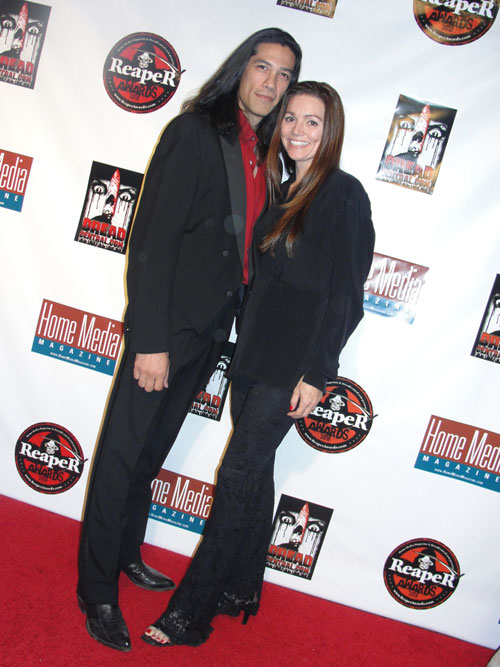 Carlos Lauchu, Actor (Sutures) and Jacqueline Kelly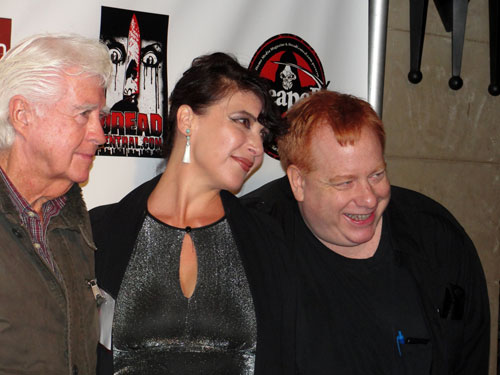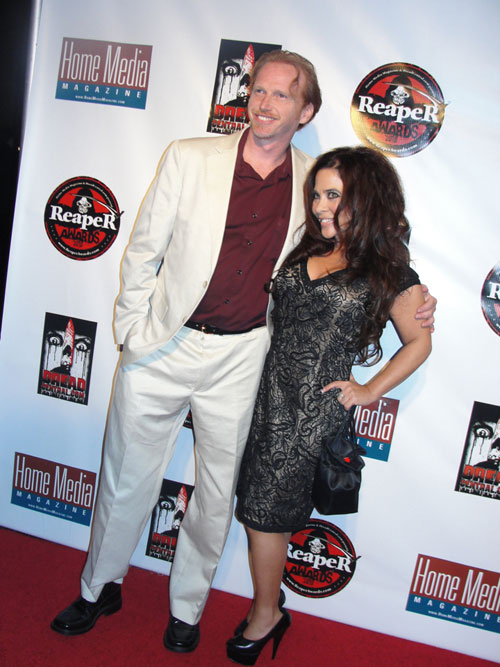 Courtney Gaines and Brooke Lewis
Eileen Dietz, Actress (The Exorcist)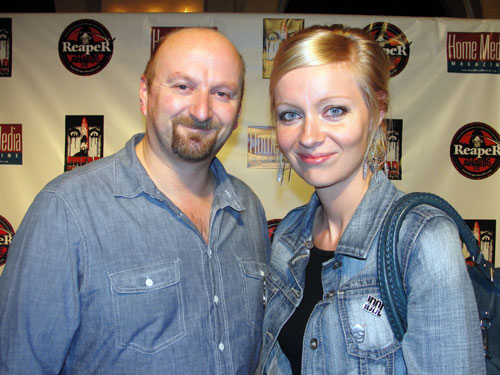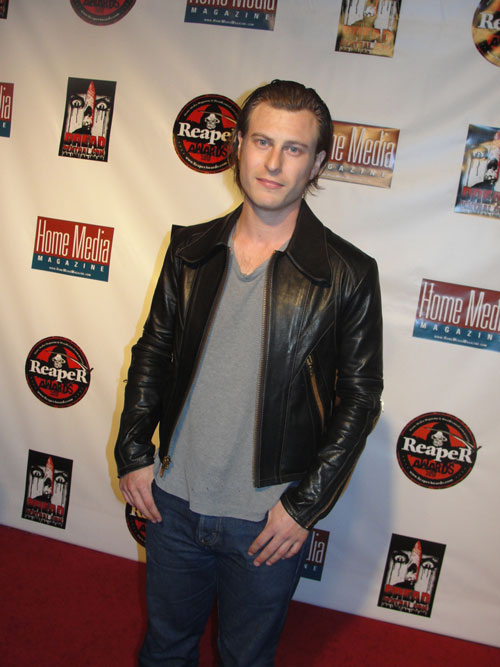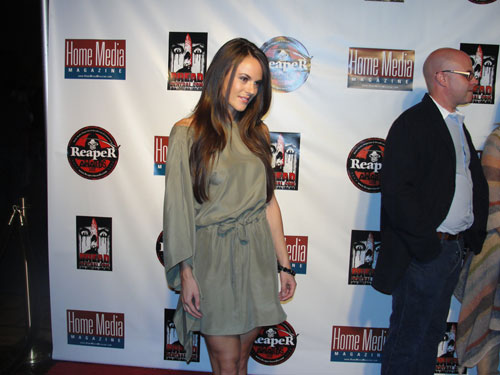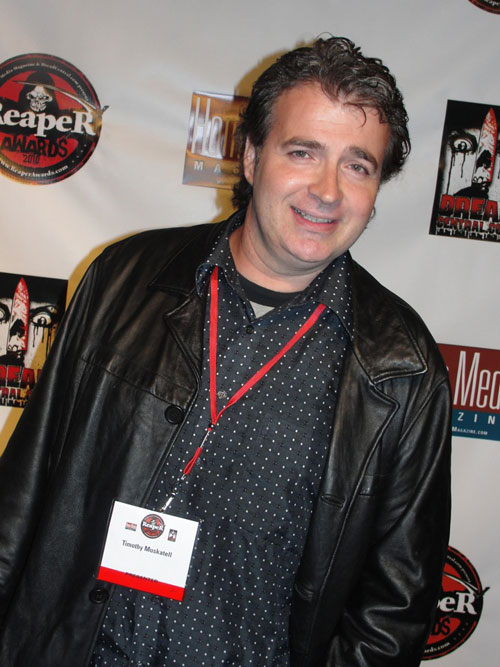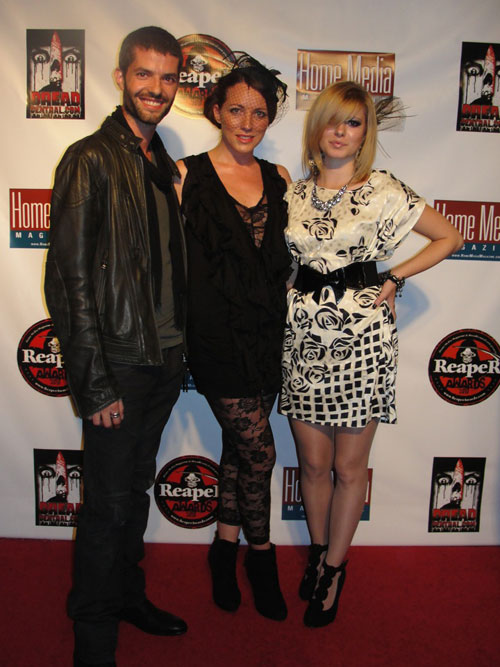 Victor-Garcia, Sanny Van Heteren, Tracey Fairaway