Illusion Industries Announces Vamp It Out - exclusive photo-gallery

Illusion Industries Announces Vamp It Out - exclusive photo-gallery
Vamp It Out stars Brooke Lewis, and is directed by Todd Tucker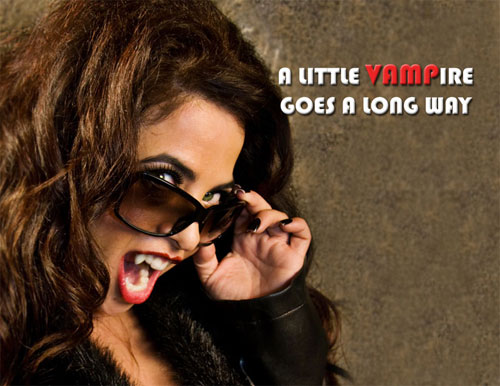 Actor Brooke Lewis, the petite powerhouse behind the campy Ms. Vampy (a character described as Elvira meets The Nanny in The House Bunny meets School Of Rock), is taking her show from the web to the cinema in connection with Illusion Industries and director Todd Tucker.
Horror.com was invited to special press day at the effects house and offices (newly rechristened, having a change in personnel and having had enjoyed success as Drac Studios with effects and makeup work on projects ranging from Bram Stoker's Dracula, to The Passion of the Christ, to The Curious Case of Benjamin Button). The visit was ostensibly for the press to meet the new regime (namely, CEO Ronald Halvas), to reconnect with Tucker, and to get the intel on their upcoming projects — but of course, what we really wanted to do was check out the latest in zombie makeup (modeled by Lewis) and check out all the cool props on display (we took lots of pictures!).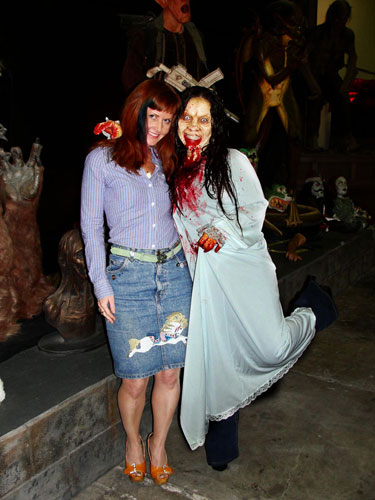 Wilson & Lewis (almost sounds like a rat-pack comedy team!)
While Vamp It Out is a Halloween family comedy which is aimed at young ladies and comes with the message that, as Lewis says, "it is okay to be different, it is inner beauty that matters, never give up on your dreams, [because] lives can be transformed."
Lewis adds, "I created this project to inspire and be inspired! I combined the work that I am most known for and love — from horror, to comedy, to mobster shows — and hopefully have found a way to make a difference."
Speaking of transformations, Illusion has a some other really cool-looking projects coming up, including a re-collaboration with actor Zack Ward (who starred as a mad scientist in Tucker's feature directorial debut, Monster Mutt) for an as-yet untitled project which is about ghosts. The movie will shoot here, but Illusion has studios opening in stateside in Louisiana and abroad in Moscow. Off-site projects to be announced.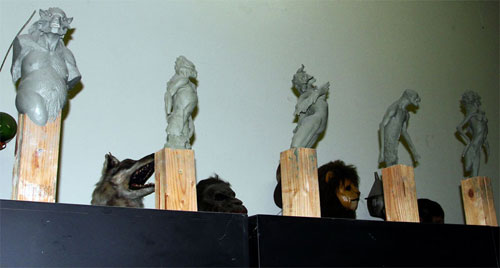 Most-soon scheduled for Illusion is Dylan Dog: Dead Of Night, poised to hit theaters April 29th — Tucker and Co. did all the creatures for the film. We're talking vampires, werewolves and zombies! (Not to mention Brandon "Superman" Routh as the title character.)
Check out the newly re-vamped (like how we did that?) Illusion Industries website at http://www.illusionindustries.com, then scroll down and check out the photos we snapped on the press tour.
Staci Layne Wilson reporting