Viscera Film Festival 2011 Los Angeles Report

Viscera Film Festival 2011 Los Angeles Report
2011 Viscera Film Festival Report and Reviews, featuring Heidi Honeycutt, Shannon Lark, Stacy Hammon, Bill Moseley, Brinke Stevens, Danielle Harris, Matthew Currie Holmes, Gabby West, Kevin Tenney, Peter Cornwell, and Susanna Lo.
Text and Photos by Staci Layne Wilson
with additional photos by Beau Ryan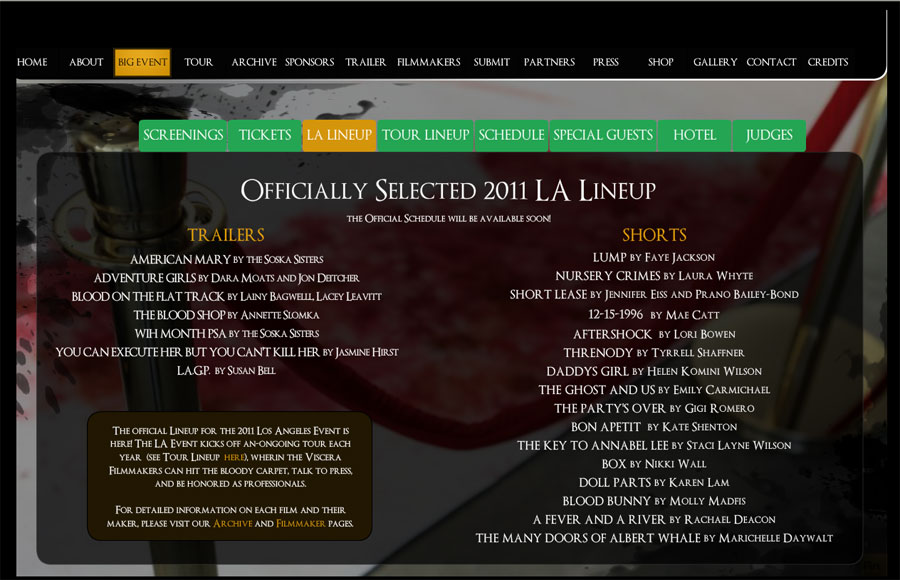 Cinefamily (or The Silent Theater as most of the local L.A. film scene still calls the establishment) played host to a gaggle of ghoulish gals and their accessorized male pals on Sunday, July 17 to show off the best and brightest female filmmakers from all over the world (one all the way from Norway).
Sticking with shorts and teaser trailers, Viscera Board of Directors Shannon Lark, Heidi Honeycutt and Stacy Hammon nonetheless had their capable hands full with hours of programming, partying, performances and a quick Q&A awards ceremony.
After a cocktail reception — celeb guests including actors Bill Moseley, Brinke Stevens, Danielle Harris, Matthew Currie Holmes, and Gabby West, plus directors Kevin Tenney (Witchboard), Peter Cornwell (A Haunting in Connecticut), and Susanna Lo (The Manson Girls) — attendees enjoyed the first round of films.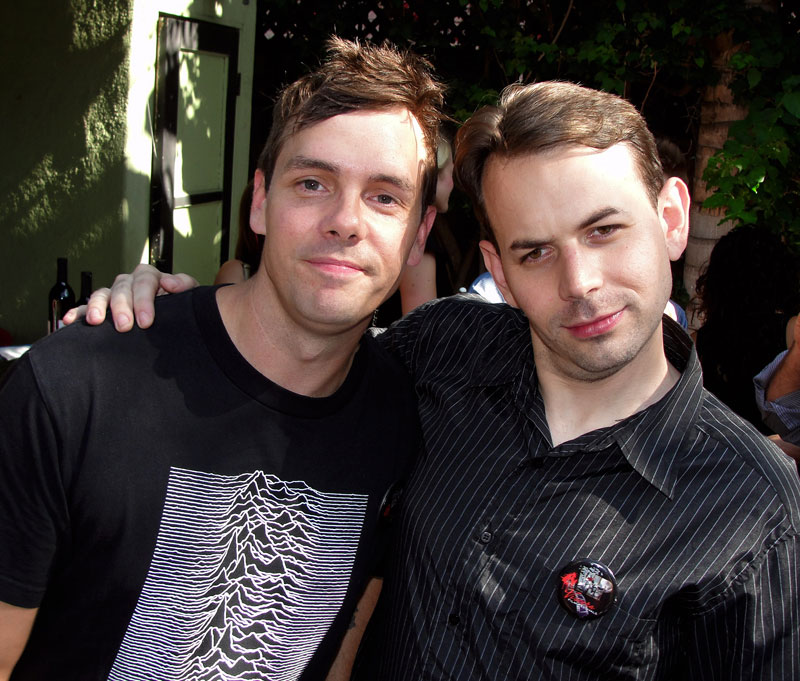 Actor and filmmaker Matthew Currie Holmes and recent Saturn-Award Winning Director (for Never Sleep Again: The Nightmare on Elm Street Legacy) Andrew Kasch

Ace actresses Dana Davison and Gabby West (who will be seen next in Chillerama, debuting at San Diego Comic-Con)
Trailers were up first, with Annette Slomka's The Blood Shop drawing the most enthusiastic response. What's not to love about the fusion of welding and weapon-wielding? Reminiscent of the 2006 Japanese feature Kamikaze Girls, but with a definite horror bite, Adventure Girls (written by Dara Moats, but directed by… shhhh… a man) was a personal favorite of mine on the trailers slate.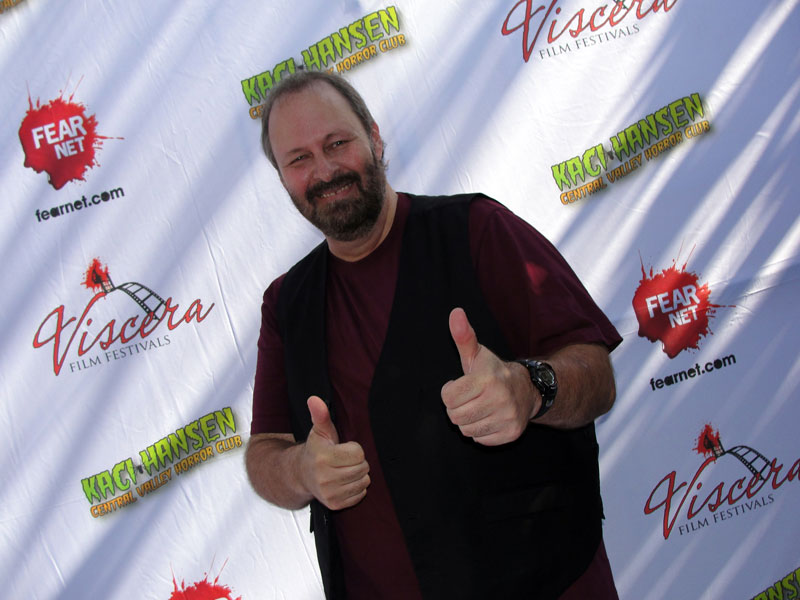 Kevin Tenney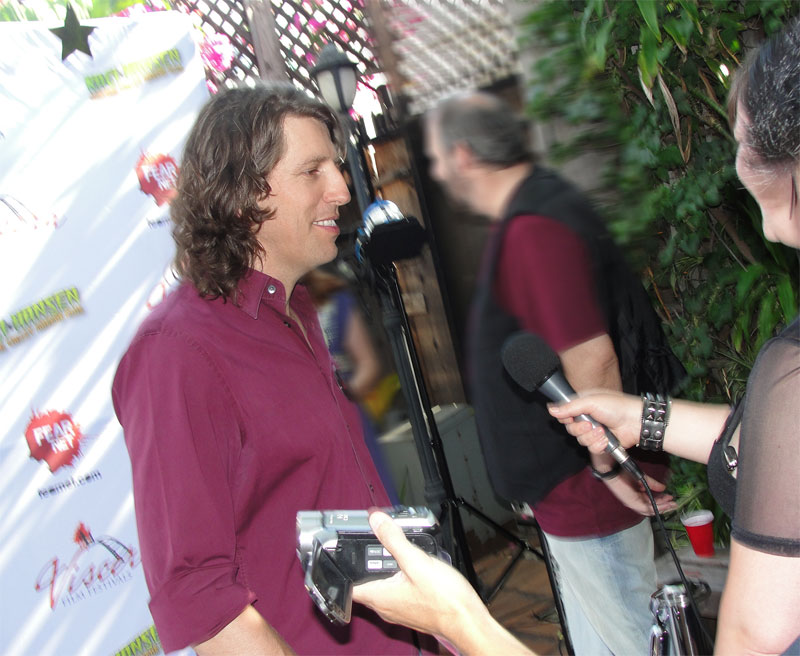 Peter Cornwell (who gets photo credit for the snap below)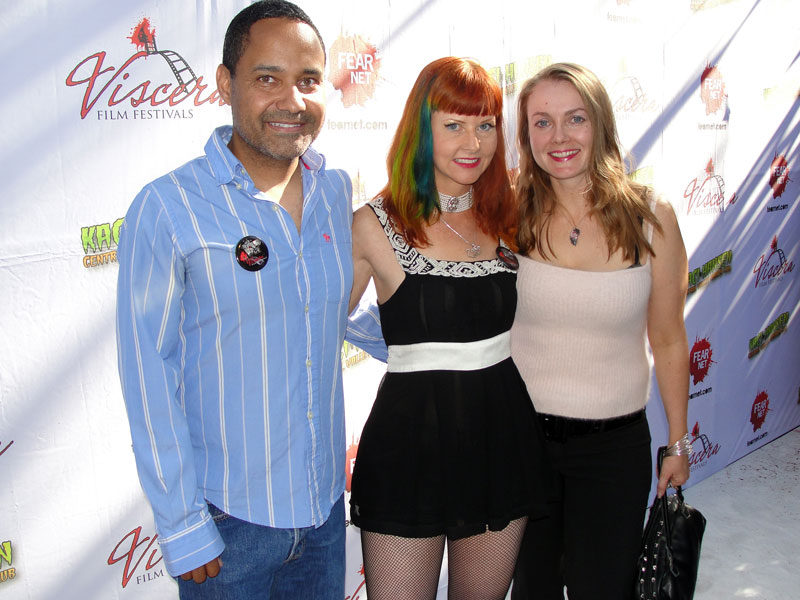 Jeffrey Reddick, Staci Layne Wilson and Annette Slomka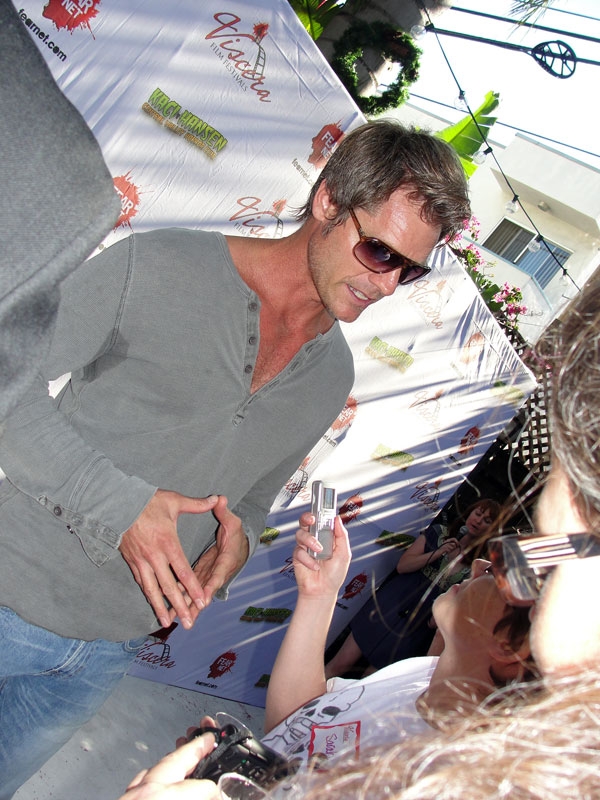 Mark Hengst
Shorts followed, galloping the gamut from funny and playful, to dark and twisted. I was lucky enough to be included on the program with a piece of my own artsy-shmartsy triptych, The Key To Annabel Lee — so, it was a rather cool conundrum to be there at the fourth annual Viscera Film Festival as both a journalist and a filmmaker (walking the red carpet and doing the Q&A, mixing with the ladies and watching their works while also watching with as objective an eye as possible).
12-15-1996 by Mae Catt (who later won the Best Director prize) — Spare story of two serial killers on a road spree, and what happens after they're pulled over by highway patrol. Strong performances, a tight script and witty but organic dialogue.
Aftershock by Lori Bowen — The ultimate vacation from hell story, wherein a woman awakes in her hotel room, ready for some fun in the sun, only to find that zombies have taken over the world. What's a girl to do?
Bon Appétit by Kate Shenton — Mini twisted takes on on three meals, breakfast & lunch & dinner… none too appetizing, but clever, cute and best of all: 0 calories.
Doll Parts by Karen Lam — Serial killers and hitchhikers collide in this moody and thought-provoking mini-mystery. Well-acted and nicely shot outdoors, Lam knows how to make an impression.
Blood Bunny by Molly Madfis — Truly hilarious holiday horror about the Easter Bunny vs Jesus Christ, each vying for the same holiday. "Hippity Hoppity, Heads Go Choppity!"
Blood Bunny from molly madfis on Vimeo.
A Fever and a River by Rachael Deacon — Somber and moody visual study of sorrow through a woman's eyes, featuring sad songs and Día de los Muertos makeups and artful body paint.
Short Lease by Jennifer Eiss and Prano Bailey-Bond — Ghost story about a realtor who finds herself on the wrong end of the for sale sign in this standard but well-made scenario.
Box by Nikki Wall — Easily the prize crowd-quieter of the evening, this disturbing but arresting and unflinching look at a home abortion has a supernatural twist which left the audience thinking… and soon lightening up again, with the next short…
The Ghost and Us by Emily Carmichael — A frothy take on Topper and Over Her Dead Body, this is a well acted, nicely photographed short with some impressive visual effects and a likable, albeit lifeless, lady in the lead.
The Party's Over, Lump, and Threnody followed the intermission, along with The Key To Annabel Lee (specifically, "Rocks" which is part three in the triptych) and The Many Doors of Albert Whale.
The other two out and out comedies in the lineup were, along with the aforementioned Blood Bunny, my favorites. Both featured tongue-in-cheek narration ala Pushing Daisies, with clever turns of phrases and even cleverer killers.
Nursery Crimes by Laura Whyte — Little Bo Peep on a rampage! Watch the short here.
Nursery Crimes Trailer from L. Whyte on Vimeo.
Daddy's Girl by Helen Komini Olsen — "Girl" kills "Father" just before a family picnic… wonder how she gets rid of the remains, hmmm? Standard story but full of flair, accented by perfect casting, natty costuming, and a narrator who sounds like he stepped right out of a classic Fractured Fairy Tale cartoon from the 60s. Regretfully, there are no links online to this adorably acerbic fable.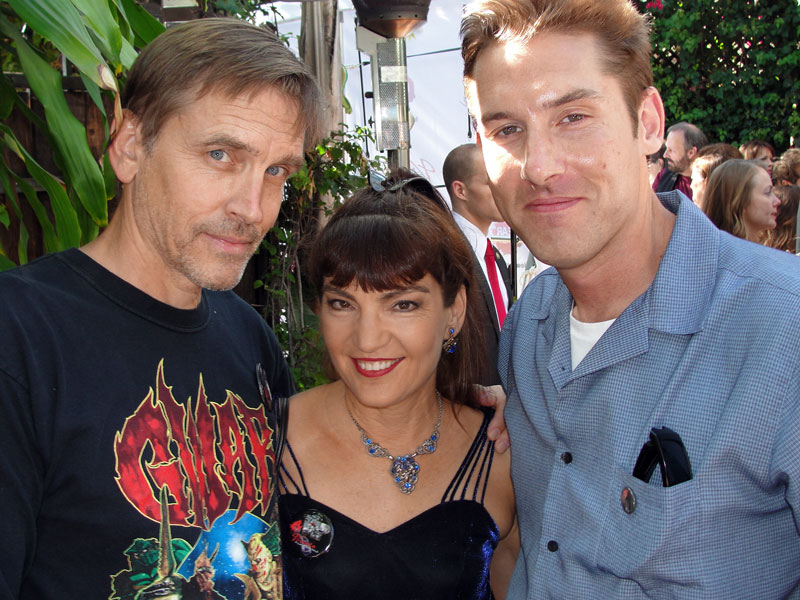 Attack of the Killer B's! Bill Moseley, Brinke Stevens and Brian Feeney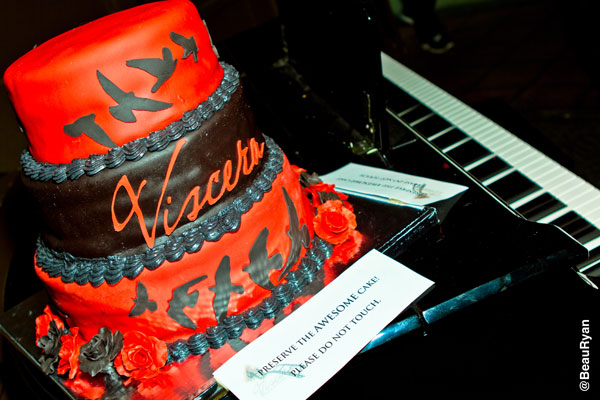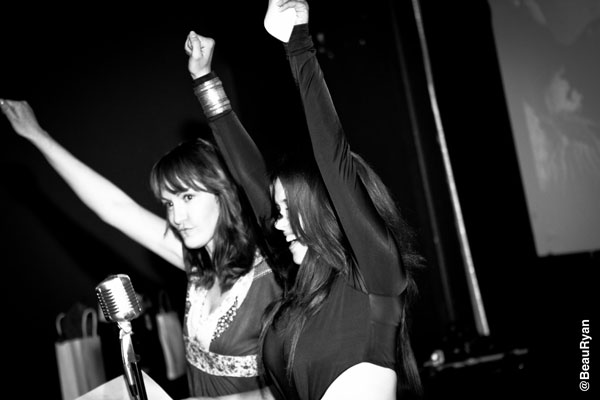 The evening ended with a Q&A featuring the filmmakers (lots of cracking wise about whom they had to sleep with to get their jobs — a few winks, since most of the ladies are married or otherwise engaged with fellow filmmakers — plus a few kudos from the audience) and the festivities continued with an after-party on patio featuring a specially made red velvet cake, gothic performance artists, and flowing spirits of all kinds.
Be sure and catch the Viscera Road Tour in Las Vegas next week if you can, or batten down the hatches and wait for its return to L.A. in ominous 2012. (We survived Carmageddon this year, so King Pacal Voltan be damned!)
[end]