Shockfest 2011 lauds Eli Roth as "Most Shocking"

Shockfest 2011 lauds Eli Roth as "Most Shocking"
Eli Roth, Girls & Corpses, Corpsy, Brooke Lewis, Sid Haig & Derek Mears hit the red carpet
On the scarlet rug (see how I found other words for "red carpet"? Damn, I'm good) for a special screening of Cabin Fever and to receive a trophy for being the "most shocking" filmmaker of the decade, Eli Roth rocked it at Shockfest 2011 and The Hard Rock Café Hollywood-style.
Shockfest — one of the many s-fests I covered this year, along with Screamfest, Shriekfest, and Scarefest (hey, I don't make these things up) — is now in its fifth year and was hosted with all the panache and pulchritude as might be expected from Corpsy (aka Robert Rhine), the editor-in-chief and resident rascal over at Girls & Corpses mag. With several scantily-clad, bloodied and zombified babes and bimbos on hand to help usher talent into the spotlight and in front of the press mics, Rhine emceed and hosted with the mostest until it was time for the scaremony (who wrote that? Not me!) to begin.
First up was the beautiful, talented and blissfully endowed (with talent, wit and… that other word which rhymes with wit. Yep: décolletage) Brooke Lewis. (and on that note, click Brooke's pic in the box above to enlarge.) Brooke is not only a dear friend of mine, but a fantastic ambassador for our favorite genre and scream queens of all ilk. That is probably why Brooke was chosen to judge the Miss Shockfest beauty contest, which took place later on at the Hard Rock. Before the crowning and glory and all that, I asked Brooke what her criteria might be when giving the hopefuls her once-over. "She has to be sexy," Brooke told me. "Sexy. And that doesn't necessarily mean pretty. And personality. That's essential to Miss Shockfest. Lastly, something a little Gothy. Bring out the dark side, for sure."
Since Eli was to be awarded for being so "shocking", I had to ask Brooke what jolts her when it comes to horror on film. Although Cabin Fever was shown on the big screen at the fest that night, Brooke conceded she likes that movie but it's not Eli's most alarming. For her, it was Hostel. As for as movies today, "Human Centipede freaked me out! Also, Martyrs. Inside is another good one, a lot of the French movies and basically foreign horror."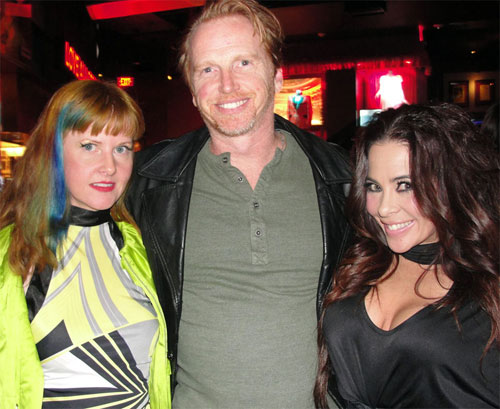 Yours truly flanking fellow redhead and child of the corn
COURTNEY GAINES, with BROOKE LEWIS
Also on the… um… crimson runner, was another buddy, Sid Haig. (You work in this biz long enough, personal and professional life overlap — and thank goodness for it; I've met more amazing people through covering the horror genre than by any other means.) When I asked Sid what's he doing for 2012, aside from preparing for the end of the world, he, in typical Sid fashion, scoffed. "Don't worry about it!" he assured. "They just didn't have a stone tablet big enough. World's gonna end in 2015, soonest. So, you've got some time."
Sid says that the most "shocking" (though nothing ever really shocks him, he says) film he's seen recently is Insidious. He calls it creepy, and says (newsflash!) "I like creepy."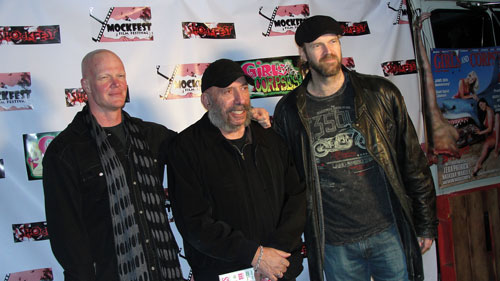 Villains unite! Derek Mears ("Jason Voorhees" 2.0),
Sid Haig ("Captain Spaulding" - the one, the only)
and Tyler Mane ("Michael Myers" 2.0)
Aside from a few filmic things in the hopper, Sid is going to put his powers of persuasion, as a professional and soon-to-be certified hypnotherapist, to good use. "It's not a done deal yet, but I am planning on offering my services free of charge to military people in response to an article I read about the fact that an average of 18 soldiers commit suicide daily." Shocking. And not at all funny.
I also got a chance to chat with the rather bodacious brunet, Christa Campbell who, much like most, finds "nothing" shocking out there, cinematically-speaking. "I'm so jaded," Christa said. She does hope to change that, however, with a new film she is producing, Texas Chainsaw Massacre 3D, set for release on October 5, 2012 (let's hope Sid is correct on his 2015 prognostication). When I asked Christa, who's best-known for her acting and modeling, how she came to add 'producer' to her IMDb credits, she said, "I know who's who in horror, and so we're making a really great film." She added that her project has nothing to do with Platinum Dunes who "lost the rights" and that the new 3D experience is meant to be a direct sequel to the seminal Tobe Hooper 70s classic.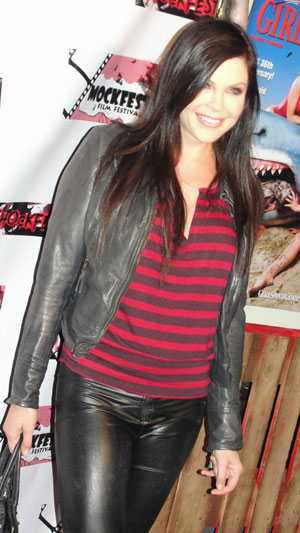 CHRISTA CAMPBELL ("The Milk Maiden")

Derek Mears, the affable actor who stepped into Jason's boots a few years back in the Friday the 13th reboot (all due respect to the aforementioned Platinum Dunes folks, who sent me out to the set in the first place, helping me to make yet another good friend in Mr. Mears, whom I did not know before that), was the one to finally come up with something shocking.
When I asked him about the s- word in connection with Mr. Roth, Derek said he was "crazy-shocked!" that night, especially over Eli's "dreamy eyes." But of course, he was kidding. In all sincerity, Derek summed up the best possible reason Roth, who, let's face it, has only directed three films and hasn't even been at features for a whole decade, should be receiving an award: "I relate to Eli because you can see his passion as a fan. It's absolutely true that he makes horror movies because he loves horror."
As for frightening films Derek recommends, he encourages everyone to see I Saw The Devil, a Korean thriller about a serial killer. "It was beautiful… disturbing, and shocking," Derek said. He also liked Dead Snow, and is in fact acting in an upcoming project from the same director, Tommy Wirkola. The movie is called Hansel and Gretel: Witch Hunters. Look for it in 2012 (that is, if you're still alive!).
Last, but most certainly not least, was the man of the hour, the guy with all the shock power, Mr. Eli Raphael Roth… and his cute little parents. Hm. Not so imposing after all! He does, however, have dreamy eyes. So maybe that's a tad shocking.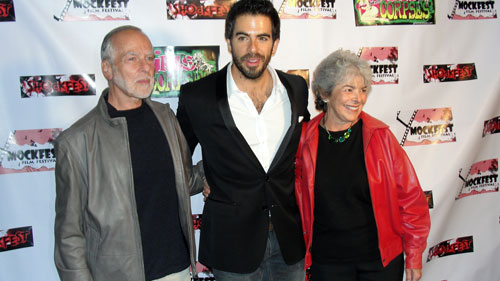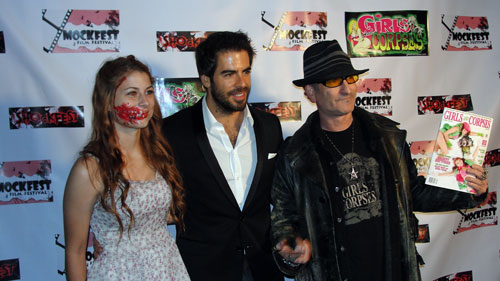 Eli Roth with parents,

Kelsey Lynn,

& Corpsy

After posing on the red carpet and hamming it up with villains and vixens alike, Roth stopped for an OTR talk with me. "I always wanted to be shocking," Eli said, citing his bar mitzvah during which he was "sawed in half." Wholly grateful for the award about to be bestowed, however, Eli added he was honored and happy to be thought of in such a way by his peers and gave special kudos to Girls & Corpses for hosting the festivities.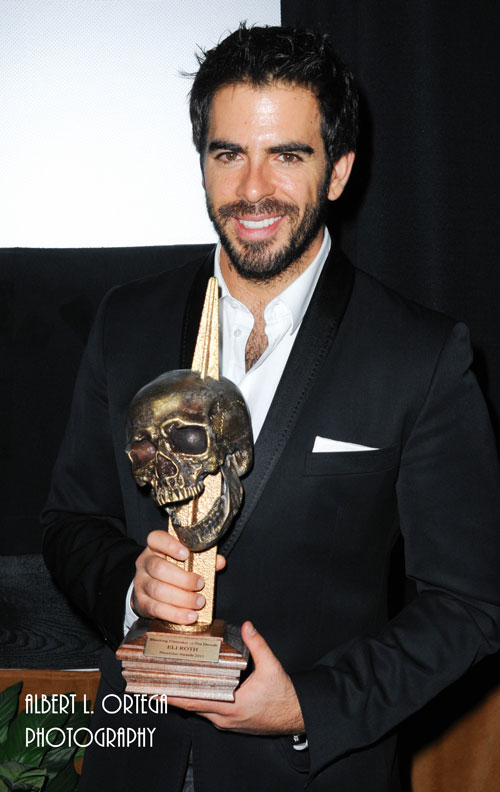 The only thing that really shocks Eli is when he hears people saying, "Horror is dead. People are saying this, even when Paranormal Activity 3 is out and killing at the box office. That's what's shocking to me, because it's clear there are so many new and young directors invigorating the genre." When it comes to what's coming up for Eli, he said he and Jeff Randall are still working on the script for Thanksgiving (it's been cooking longer than a 34-lb turkey on a Thursday afternoon), but what's really sapping all of his attention and shock-ability right now is The Man With The Iron Fists, a film he's written and is producing. It's the directorial debut of Wu-Tang Clan's RZA. It's out, in, you guessed it: 2012.
Where's Roland Emmerich in all this? He really should have been there that night.
For more information on Shockfest 2011 — and absolutely nothing about the end of the world, or Eli Roth's dreamy gaze — please visit the
official website
.