Come One, Come All to The Devil's Carnival! Exclusive Interview with Terrance Zdunich

Come One, Come All to The Devil's Carnival! Exclusive Interview with Terrance Zdunich
Repo! The Genetic Opera co-creator, writer, actor, artist and musican Terrance Zdunich talks about his latest, upcoming extravaganza, The Devil's Carnival.
The relatively small but decidedly steadfast cache of Repo! The Genetic Opera fans have been loyal. They supported director Darren Lynn Bousman's subsequent films Mother's Day and 11.11.11. They've stayed with co-creator and jackal of all trades Terrance Zdunich throughout his ongoing comic book series "The Molting", and enjoyed his online art instruction in the award-winning "The Tutor" webisodic.
But what they were all really clamoring for, and hoping and dreaming of, was a reteaming of the terrifying, tuneful two in another cinematic rock 'n roll horror musical. Finally, the wait is over. Poised to launch on a nonstop, nationwide U.S. road tour beginning inappropriately enough on Easter Weekend, Bousman and Zdunich present The Devil's Carnival.
The screenings will take place in movie theaters, but The Devil's Carnival isn't exactly a movie. Nope, it's a groundbreaking new series. Think HBO's Carnivale meets Fox's Glee. No, on second reflection: don't! That sounds awful… The Devil's Carnival sounds anything but (just check out the trailer here, to see and hear Zdunich, and returning Repo'ers Ogre and Alexa Vega, plus newbies to the fold, Sean Patrick Flanery and Jessica Lowndes).
In the tease, I learned that sinners are enticed into a not-so-amusing amusement park where they must endure a repeat-cycle of their mortal transgressions. The pilot episode features twelve original songs, written by Zdunich and Saar Hendelman, performed by an evil ensemble of actors and musicians, and dare I say… devilishly directed by Bousman.
But I wanted more than just tease, so settled for nothing less than going all the way (through 10 questions) for this exclusive, soul-searching interview with Zdunich.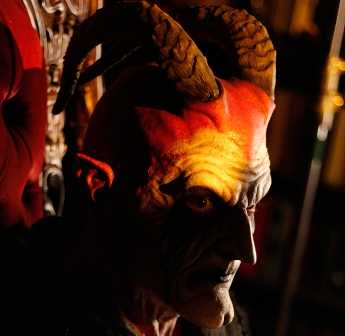 Q: Is this a "Repo reunion" -?
A:
We did "repossess" a few familiar faces for The Devil's Carnival, but I assure you that that the two projects are different. We like working with friends, so director Darren Lynn Bousman and I brought back a lot of the REPO! gang, but they're playing very different roles in TDC. Alexa Vega, for example, has shed her sweet Shilo shtick for something nastier with Wick, a naughty clown trickster.
What's the most far-out thing one of the new (non-Repo) cast members brought to the table, as a character?
I think fans of The Boondock Saints will be pleasantly surprised to hear Sean Patrick Flanery croon an emotional, Nick Cave-like ballad, as John, in The Devil's Carnival.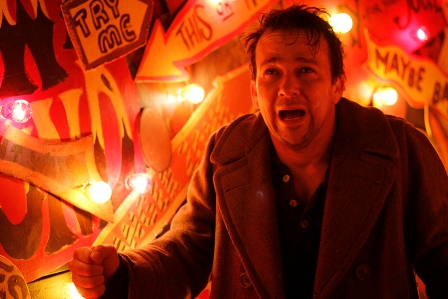 Flanery fans the flames of hades.
How about one of the returning renegades? Any surprises or "evolution" from anyone in particular as an actor and performer?
Bill Moseley went from playing the knife-wielding psychopath Luigi in REPO! to a nervous, stammering magician in TDC. But fans of horror, fear not…this magician pulls more than just fuzzy bunnies from his hat!
Why did you choose to play the Devil?
The character of Lucifer has always fascinated me: a being outcast for daring to challenge authority. As such, I chose to represent Lucifer as a storyteller in The Devil's Carnival, for what greater act of rebellion is there than daring to create in the face of one's creator?
Talk a little bit about how you arrived at his look and how it reflects his personality.
We struggled quite a bit with Lucifer's look, oscillating over how "human" to make the character. Initially, my devilish pride fought the idea of losing my face entirely in the process, but I ultimately acquiesced to the notion that the character needed to be bigger than life; someone immediately recognizable as The Dark Lord, but, at the same time, specific to our carnival world. Vincent Guastini and his fabulous makeup team came up with the idea of Lucifer's painted-on jester face. In TDC, Lucifer is a performer, just like the carnies he oversees; his pride requires him to doll up for his audience. I'm not sure I want to know what this says about me.
Why does the carnival atmosphere hold such allure? What is it about the setting that makes it such a fun playground as a writer?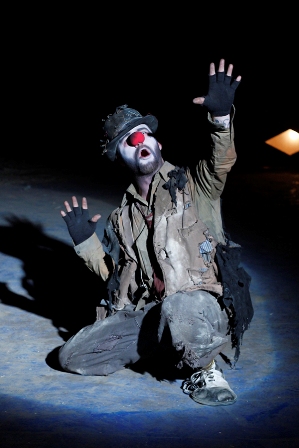 Ivan Moody sends up the clowns
Like fun house mirrors, carnivals are exaggerated reflections of the real world, from the beautiful to the profane. What mortal can't resist its lure?
We all know you're the big sex symbol, yada yada... but who are some of the beautiful ladies in your cast, and who do they play?
I'm more like a sex phlegm bowl. But yes, there are some fine females in the cast of The Devil's Carnival. It was sometimes difficult to concentrate working with the likes of curvy brunettes Briana Evigan and Jessica Lowndes. Don't blame me if I gawk, ladies… the devil made me do it! In all seriousness, it's awesome to work with women who are both talented and beautiful. Emilie Autumn, for example, plays the scornful temptress Painted Doll. Fans are going to love her voice and character. And she's easy on the eyes, too.
What do you like most about writing female characters -- and, least?
It's like Jack Nicholson's character in As Good as it Gets said when asked how he writes women so well: "I think of a man, and I take away reason and accountability." Actually, I have no idea how to answer this question other than to say that when men create, it's always in service of women, be it for positive, negative, or yet-to-be determined reasons. I happen to be a man.
Name a few of your favorite carnival and circus horror films, what it is about them you like, and how they may have influenced you.
The creation of The Devil's Carnival was more influenced by amusement park dark rides than carnival-themed films. For a long time I'd been itching to create a world composed of painted flats in forced perspective, one that utilized music in the way The Haunted Mansion or Mr. Toad's Wild Ride do at Disneyland. TDC's design team did reference the dark ride scene from 2004's The Machinist in a few production meetings, however, particularly the way that scene retold the story of the protagonist's life via a ride.
As you were researching fables and parables for The Devil's Carnival, what is the one moral lesson that gave you the most pause?
"Pride cometh before the fall."