Vampira & Me Documentary Movie Review

Vampira & Me Documentary Movie Review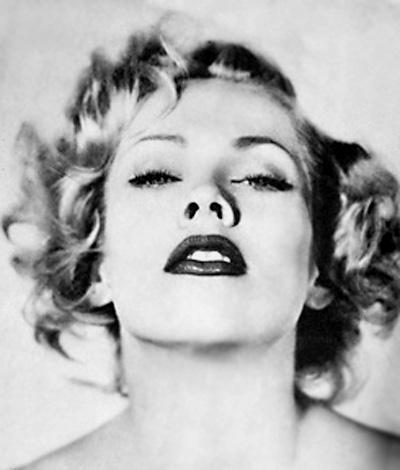 Maila Nurmi was punk rock, alt, hipster, goth, and a far out chick long before such forms of feminine self-expression became the norm. Most fans will know her as novelty horror host "Vampira" — but the rare footage presented in the new documentary about her life and times, Vampira & Me, shows the hep miss with a half-shaved head /punk/, heavily kohled eyes /alt/, treggings /hipster/, all-black attire /goth/, and even stroking a pet rat while spouting seductive prose long before INXS front-man Michael Hutchence did it for M-TV /far out/.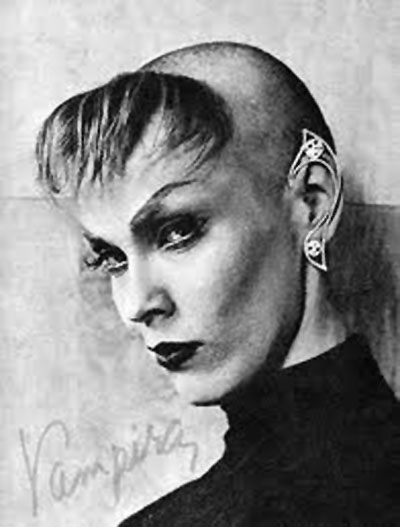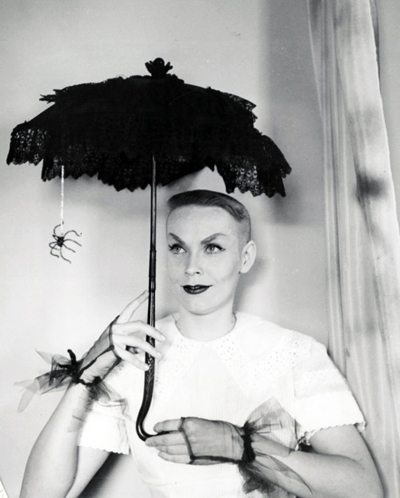 In 1954, she was nominated for an Emmy Award as "Most Outstanding Female Personality" (even though the show was quickly canceled). She returned to films right away with Too Much, Too Soon, followed by The Big Operator and The Beat Generation. Her most notable film, on which she worked for only a day, is Ed Wood's camp classic, Plan 9 from Outer Space. In 1960, she appeared in I Passed for White and Sex Kittens Go to College (fun fact! This reviewer's mom, Buni Bacon, is also in that film).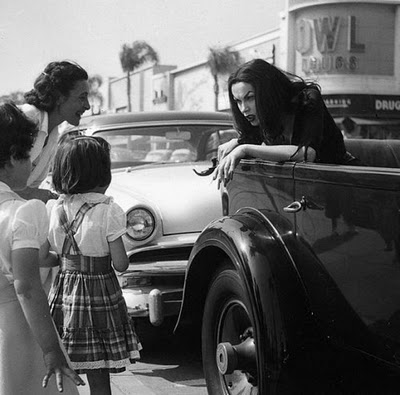 So, there we have Vampira.
But not much of the "me" — director and narrator R.H. Greene first met Nurmi a decade ago, and while he touches briefly on their friendship, we don't get to know a lot about what his sensibilities are, or why and how he arrived at the choices which shape this story. Told in a fairly straight-ahead manner, this is not a stylized documentary fashioned in such a way as to convey the essence of the filmmaker (ala Werner Herzog, Ken Burns, Michael Moore, Penelope Spheeris, or Nanette Burstein) and for that it suffers slightly.
Still, thanks to Greene's diligence I learned a lot about Nurmi and was pleased to see so much of her in later years — and to find that she was still stunningly beautiful and razor-sharp — as the bulk of the footage is from his talks with her from a 1997 on-camera session for the documentary Schlock! The Secret History of American Movies. There are also dozens of period photographs of her at work and at play, film clips ranging from Plan 9 From Outer Space to a Satan's Cheerleaders punk rock video she starred in in the 80s, and, best of all, extremely rare, recently unearthed kinescope footage of Nurmi as Vampira in 1954. Her charisma, charm and cool, coy humor as the character she created transcends the decades to the point of palpability.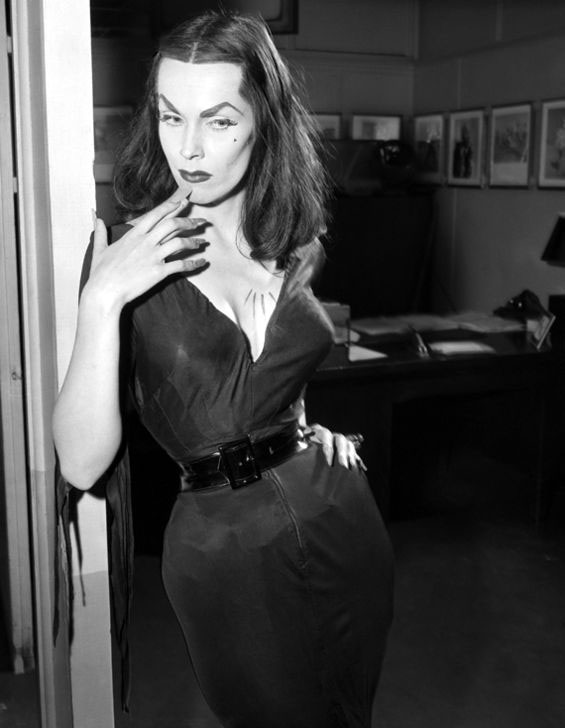 The Vampira character came to Nurmi first as a party costume donned for choreographer Lester Horton's annual Bal Caribe Masquerade. It was somewhat modeled after Morticia Addams from the comic strip, but with a touch of the underground fetish culture just bubbling beneath the scantily-clad surface. There are some interesting parallels drawn between Morticia, Vampira, Bettie Page bondage scenarios, and ultimately, Elvira. It's noted that Nurmi invented the concept of the late-night horror hostess (which debuted in a teaser called Dig Me Later, then morphed into The Vampira Show). However, frustratingly, the documentarian does not explore how she could possibly have been unsuccessful in her suit against Cassandra Peterson for intellectual-property infringement. (Her inability to pay legal fees is part of the story.)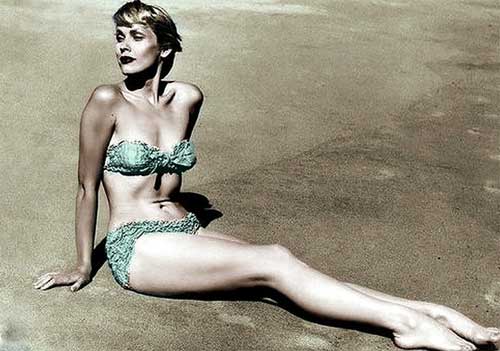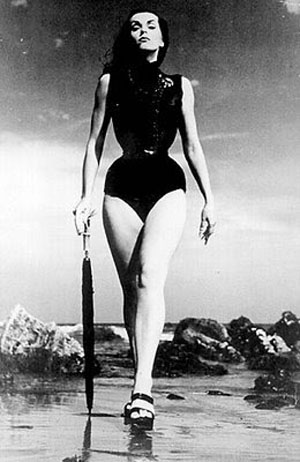 Nurmi tells edifying Old Hollywood tales of Howard Hawks, Lauren Bacall, Man Ray, Orson Welles, Marlon Brando and Liberace. What's more, the doc goes into the famous Vampira / James Dean connection, setting the rumors straight: the two were not, in fact, lovers. In these moments, Nurmi seems a bit kooky, talking about she and he being "aliens" and recounting prophetic dreams, and the like. It would seem that Dean's death marked the beginning of a downward spiral for Nurmi, who never really recovered. Other dark times include the brutal attack on her by an obsessed fan, and how she exploited her own bruised body when she posed sexily for tabloid photographs the very next day.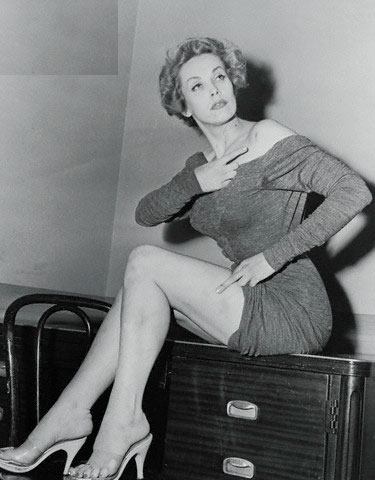 At times the actress, model and icon seems like a tragic, passive figure and a victim of circumstance. It's very sad to know she died in poverty and obscurity, especially in today's vintage-obsessed pop-culture vultures, buying everything from Bettie Page dresses to Elvis Pressley lunch-pails. Other times, she seems to have cut off her nose to spite her face over and over again, making it hard to feel especially sorry for her. One wonders if she may have suffered some mild form of mental illness, but Greene does not pose the question.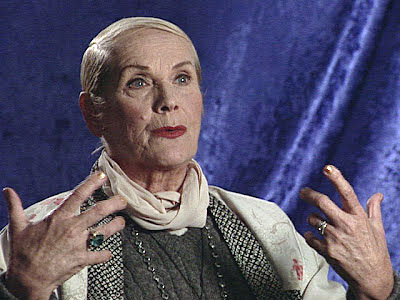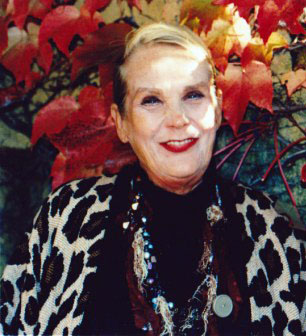 Ultimately though, Nurmi is sympathetic, likeable, and quite intriguing; she is well worth spending an hour and half with.
Vampira & Me premiered at the 2012 Los Angeles Film Festival. (Stay tuned for information on how and when you can see it.)
Reviewed by Staci Layne Wilson
"Vampira"
by The Misfits, 1982
Black dress moves in a blue movie
Grave-robbers from outer space
Your pulmonary trembles in your outstretched arm
Tremble so wicked
Two inch nails
Micro waist
With a pale white feline face
Inclination eyebrows to there
Mistress to the horror kid
Cemetery of the white love ghoul, well
Take off your shabby dress
Come and lay beside me
Come a little bit closer
Come a little bit closer
Come a little bit closer
Come a little bit closer to this
Vampira, vampira, vampira