A Taste of Dark Delicacies

A Taste of Dark Delicacies
Burbank, California specialty horror store offers a startling selection of the grim, the gruesome, and the just plain fun.
Interview and photos by Staci Layne Wilson for Horror.com
Step into the little shop of horrors owned by Del and Sue Howison, and you are in for a very special treat, indeed.
Dark Delicacies is located in close proximity to Warner Brothers (Interview with a Vampire, anyone?) and Universal Studios (called the 'studio the monsters made', with its early success in Dracula, Frankenstein and werewolf films) in sunny Burbank, CA. It's a mecca for literary lovers of all things dark and delightful. And if you can't be there physically, you can always jump on the information superhighway and pull over at their website.
The specialty shop opened its doors in 1994, but I myself was deprived until I had my first horror book signing there in 2000. I spent more on buying novels and trinkets than I sold, but needless to say I'm glad I did. I am still the proud owner of a creepy Chucky doll and a now dog-eared copy of Grimm's Grimmest. For bibliophiles and aficionados of bloodcurdling baubles, Dark Delicacies is a well one can dip into again and again.
It sounds trite, but it's true: The best part about visiting the store is the people - shopkeeps Del and Sue are always ready with a smile and a helpful hand to guide you to whatever trifle you might be seeking. They have a plethora of books of course, but also original artwork, greeting cards, clothing, accessories, jewelry, dolls, ornaments, accoutrements... and, well, you get the idea. The Howison's may be horror-mavens, but they are far from horrible; the couple are owned by two dogs they rescued from the pound (named Gomez and Morticia, natch), and they give back by publishing an annual charity tome (a very scary cookbook one year; an art and prose collection last year) and they donate all of the proceeds to the needy (four-legged and two-legged alike).
I've always been curious to know the stories behind the storefront, so a few days ago I cornered Del. Actually, he was already there - Del likes dark corners.
Staci Layne Wilson: How did you and Sue get the idea to open a store?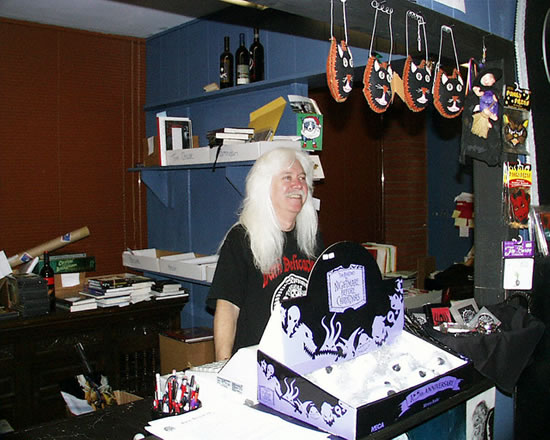 Del Howison: The simple story on how the store started is that when we moved in together we wanted to decorate our home with items that reflected our love of horror. About all we could find at that time were those dumb dog gargoyles with wings from the Tuscano catalog. So we began a search for more unique things. We wondered if other people were having the same troubles, or if we were the only weirdo's who wanted this stuff. Much to our surprise the stuff was out there, but it was a real search.

The thought was to put all of the things in one spot to make it easier for people to find (books, collectibles, jewelry, etc). After we'd collected some things, Sue thought that it might be neat to have a table at some cons and see if other people were interested. The store grew from that and $5,000 seed money and a lot of help from friends and family.

SLW: Dark Delicacies is one of the last independent bookstores - and certainly one of the select few that specializes in horror - How have you managed to keep afloat where others have sunk?

DH: I think "keeping afloat" is a relative term. You go so far in debt to start a venture like this that oft times it seems like there is no light at the end of the tunnel. Success comes in many different forms. Publicity success in terms of spreading the word and getting people to your store. We have done this through word-of-mouth and every free press release area we could find. Having articles written about us has been critical. Except for the rare ad, we spend our PR budget on getting authors from other parts of the country in for our customer base to meet. It's the customer who keeps you afloat.

SLW: What is it about the genre that still keeps you interested after all these years?

DH: This is a small genre within itself and yet it touches everybody and everything in the world. It morphs quickly with the times and current events. If you sit down and try to examine what horror is and what is its makeup, it starts to feel like a late night world problem discussion where everybody is stoned and smiling and nothing is accomplished. You define nothing. You solve nothing by trying. It's different to different people and cultures. It is the constantly shifting amoeba of genres. What's not to like?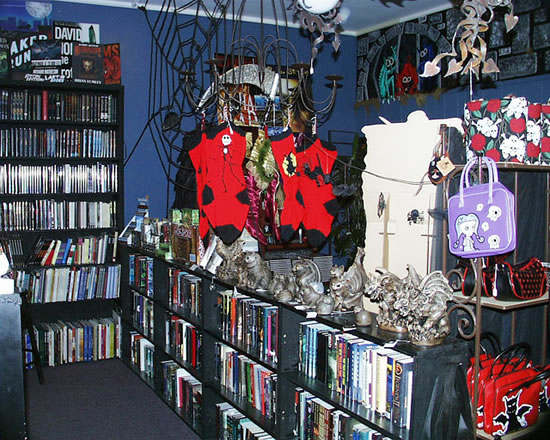 SLW: Dark Delicacies manages a great balance between sponsoring signing and reading events for up-and-coming horror authors and showcasing small publishers, while at the same time attracting the very biggest names in the business (Clive Barker, Guillermo del Toro, and Bruce Campbell to name a few) - what's the most satisfying aspect of running such a diverse business?

DH: The most satisfying thing IS running such a diverse business. I sat and talked with William Peter Blatty about Mexican food, had Clive Barker threaten to smack me (although he never has), seen Dennis Etchison picked up and raised over the head of a Leatherface, and on and on. All of these people and hundreds more that Sue and I
have met are puzzle pieces that, in most cases, have changed from heroes to humans and back again. It's truly an amazing thing. I really am a kid in a candy store. I still pinch myself occasionally.

SLW: Nice bruises, by the way. Are you finding that horror books are as popular (relatively speaking) as horror movies?

DH: It is exactly the same as books, in general, are as popular as movies, in general. The genre doesn't matter. The further from a passive experience you get, the less popular it becomes as fewer folks want to put forth the effort. It's a lot less work to watch a movie than read a book, and quicker. So you get that instant gratification thing working.

SLW: What are some trends you're seeing in the horror genre?

DH: In the overall school of things good writing always wins out. I have noticed a bit fewer books coming out that feature the "puke school of horror". You know what I mean. The ones where the reader doesn't give a shit about any of the characters (nor is he supposed to). The stories where entire chapters feature people forced to fornicate in their own feces and food.

SLW: Um... I think I missed that one in my Book of the Month club catalogue.

DH: There is a place for that but once the shock value wears off, who cares? I think is was Clive Barker who told me in an interview something like pornography is only good reading until you orgasm then the rest of the book or film is a waste. Sure, I equate this stuff with pornography, which is fine. I personally feel there is a place for pornography. But the writers and readers should at least have the balls to call it what it is.

SLW: How has having a shop online enhanced your business?

DH: It has saved me from having to do a lot of shows. When we opened the brick and mortar store I didn't want to do any shows. I still do a few but the internet gives me the world. Now when authors come in for a signing most of them have a stack of pre-sold books waiting for them from online orders. Having a real store seems to give you some sort of credibility to add to that, so that people think you'll still be there tomorrow and be more apt to stand behind your products. You have an address. They can find you.

SLW: What's the strangest or wildest thing that's ever happened at a Dark Delicacies book signing or reading event?

DH: I wish I could tell you but we're like Las Vegas. What happens in Vegas, stays in Vegas.

SLW: Oh, now you have me intrigued. When's the next event?

Who are some of the coolest authors and genre folks you've hosted events for?

DH: [Exorcist scribe] William Peter Blatty (he still scares me to this day), [Chucky] Brad Dourif (a really nice guy who dances to his own tambourine instead of a drummer), [goth goddess] Christa Faust and her dogs (she emotionally shifts from sex queen to mama. It's nice to see). And of course, the beautiful Staci Layne Wilson (she keeps reminding us that animals aren't people, they're better).

SLW: Aw, shucks. (How much do I owe you, Del? Is a check OK?)

Who is your clientele? Do you have all shapes and sizes and types coming in to browse horror? What's the most unexpected customer you remember?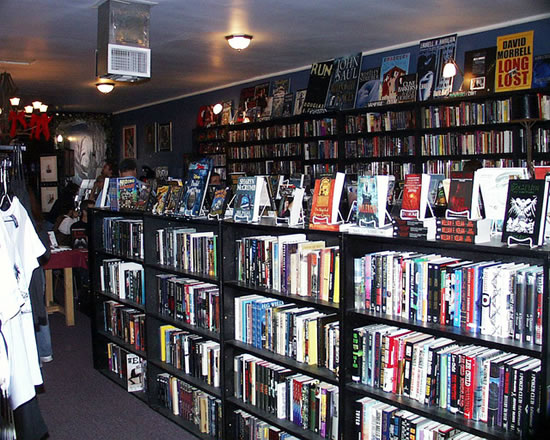 DH: Everybody is our customer. Which surprises the hell out of me. Cops, criminals, male, female, young, old, rich and poor. The most unexpected customer I've had was Bob Dylan the day after the Grammy's were in town. He bought sleight-of-hand magic books and the person with him (his girlfriend, his wife?) asked for and didn't receive a discount. It's not Tijuana, you know!

SLW: No discount for the Tambourine Man himself? You drive a hard bargain, Del! But really, the store is full of great bargains already. Thanks so much for taking the time to share some of your stories with the readers at Horror.com.

DH: You're welcome. Or should I say, "velcome"?
Visit the Dark Delicacies website here.
Latest User Comments:
yeah thats when no one knows no one that when my heart goes on a stike these are not horror horror is here in my heart plz talk about horror more than this thank u all my friends
01-20-2004 by amin_z88
discuss
thought it was ment 2 b a scary shop???
12-23-2003 by sammy
discuss