What do the "monsters" do for Halloween?

What do the "monsters" do for Halloween?
Playing dress-up with horror icons Doug Hutchison, Coralina Cataldi-Tassoni, Sybil Danning, Tiffany Shepis, Christa Campbell and Chad Cherry.
Did you ever wonder what people who play dress-up for a living do when it comes to Halloween party-time? It seems to be an even mix when it comes to out on the town fun vs. stay at home ho-humming. Actor
Doug Hutchison
, who's famous in the horror community for his roles as Victor Tooms in the X-Files and Loony Bin Jim in the most recent Punisher feature, says he shuts the front door and stays at home on All Hallow's Eve. "I avoid Halloween Gatherings like the plague," he told us. Well, he may mince livers on TV, but he doesn't mince words.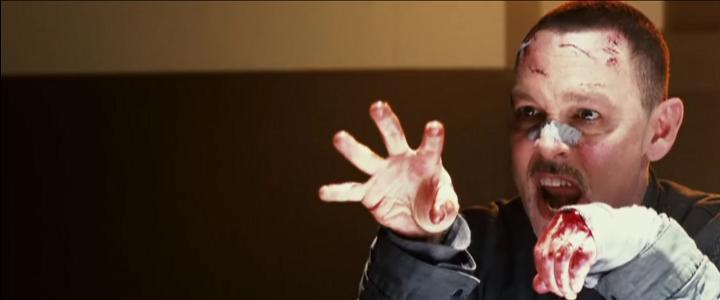 LOONY BIN JIM
Hutchison does jokingly add that if he were to dress up this year, he'd embrace his recent rep as a letch — "Based on the current international controversy my wife, (17-year-old) Courtney, and I (at 51) have unwittingly stirred up based on our [ahem] 'unconventional' relationship/marriage, I'm thinking of going as Charlie Chaplin this year ... or maybe Jerry Lee Lewis ... or Roman Polanski ..."
DOUG & COURTNEY
Coralina Cataldi-Tassoni
, whose eyes were gouged in Dario Argento's Opera and whose innards have been outed in a number of other horror films, says that in spite of her more visceral roles, she rather prefers the ephemeral: "I love being a Ghost. Why? Because I love certain traditional, classic rituals. I find that these days they have become originals. My simple white sheet in which I cut out holes for eyes. You would be surprised when I walk down the streets of New York how people compliment my ghostly appearance. People hand me candy and smile. I love to see the adults in their suits going to work smile and wave, as I can see in their eye that sparkle that I know is the child in them. I have had store sales people call me in to their store to make me meet the staff. People young and old wanting to take pictures with me. And the beauty is, no one knows what is under that sheet. If I am a man or a woman. I make sure not to talk, and when they hand me candy I wave and blow them a kiss.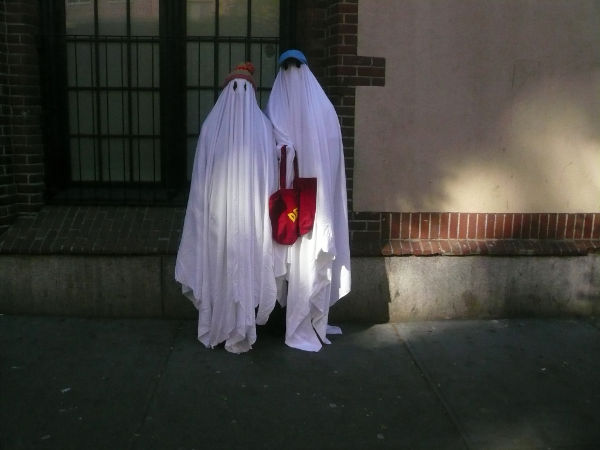 CORALINA & MARIANO UNDERCOVER
"Last year I started my Ghost Movement and I took director Mariano Baino with me. I have also used my Ghost in an installation (Cataldi-Tassoni is an accomplished fine artist) last year called HIDDEN BY A THREAD."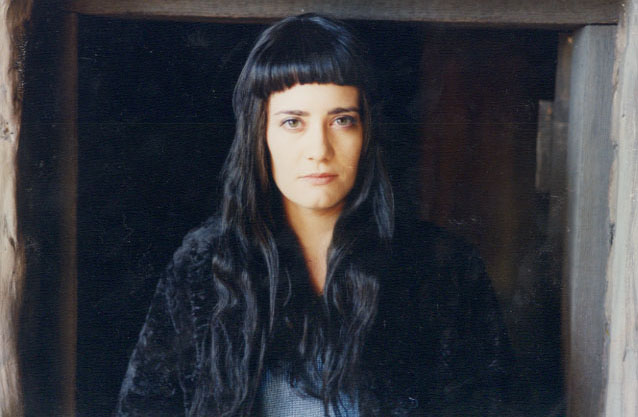 CORALINA SANS SHEET
Performance artist and musician Chad Cherry, leader of the band
The Last Vegas
, says, "Every day is Halloween in my life, I dress up crazy as a werewolf on a daily basis! Halloween is the one day everybody gets to dress up like me," he chuckles. "I think monster movie costumes are way cooler then dressing up as a pop star, President or a pro athlete. Monsters, ghouls, ghosts and witches are more appropriate for the real purpose of Halloween — and the more creepy, sexier and original, the better."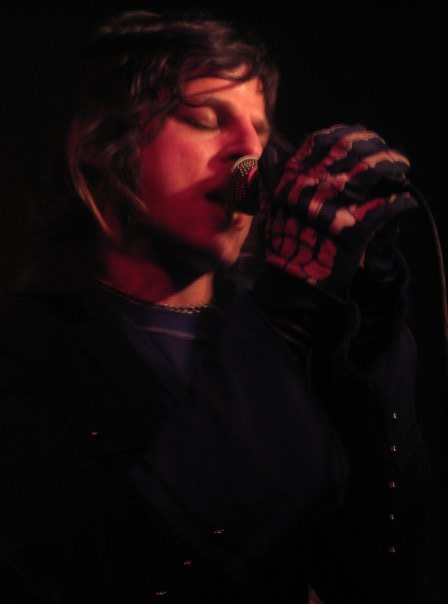 CHAD CHERRY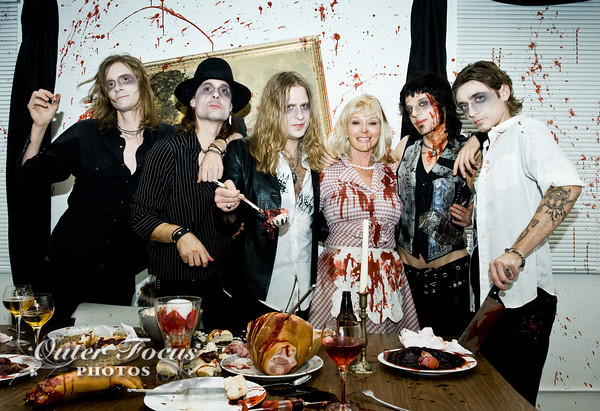 THE LAST VEGAS HALLOWEEN THEME ROCK VIDEO STARRING SEXY SYBIL

Cherry recently teamed up with one of the sexiest werewolves on the planet,
Sybil Danning
(
she stars in The Last Vegas' upcoming rock video
), who wowed and wooed in the classic B-horror The Howling II: Your Sister Is A Werewolf. Danning dresses up for a living, and so, she says, "Basically, I'm in costumes in most everything I do professionally so it's not a Fest I need to go to, to dress up. I must say, I've been in fewer horror movies than fans think. I never played a monster, but I guess you could call my role as the first-ever blonde werewolf as Queen Stirba a 'monster' [because she] spared no one including her own brother (played by Christopher Lee).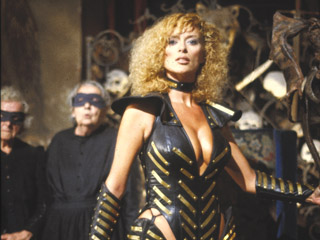 HELLO, SISTER SYBIL!
When it comes to parties, Danning definitely gets invites to the hottest in Hollywood: "I must admit, when I was in L.A. and Hef (that's Hugh Hefner to you) had his private Halloween party at the Mansion, to which I was invited to every single one, I truly enjoyed it. Costumes, not masks are mandatory and it is for sure the greatest Halloween party anywhere!
"As you drive up the winding private road to the mansion, zombies attack you. Black and orange lighting and decorations everywhere inside and out. Arriving at the mansion, lightning and thunder awaits you as you step out into the creepy air to face a fully fledged Cemetery with corpses rising from the graves, and the headless horseman prominent against creatures of all kind roaming aimlessly. The highlight of the party is always the enormous ominous Tent entailing an equally incredible House of Horrors complete with movie horror themes, including unknown actors playing out scenes, dark as you pass through, screams of real people everywhere not knowing where you will end up next, with a human butcher shop and creatures coming out of casket's, tombs and walls. I looked forward to it every time, and time and time again, it still scares you. This IS my favorite Halloween party!"
Halloween isn't as big a deal in Europe and other countries as it is in the U.S. Danning says she doesn't have the usual American memories, from childhood, "The years I remember growing up in Germany/Austria, were without Halloween. We celebrated November 1, All Saints Day. This was no fun and very serious as you go to the cemetery, usually the entire family, to pray and pay respect to the deceased you loved."
Cataldi-Tassoni, who is Italian, spent much of her childhood in New York and remembers fondly, "The smell of sweet candy and trick or treating in Manhattan." Hutchison grew up in Detroit, and he recall folding a little trick into his treats: "There was an elderly lady on our block, Mrs. Sowinski, who would give out individual bags of Lay's Potato Chips as treats. We used to switch out costumes and return to her house over and over and over again in order to collect as many bags of chips as possible."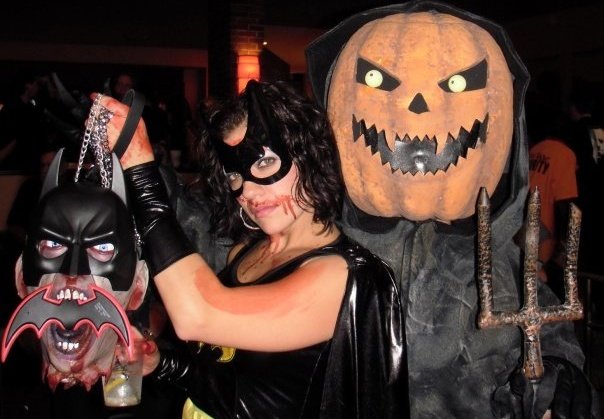 TIFF IN ONE OF HER HALLOWEEN COSTUMES - EVIL BATGIRL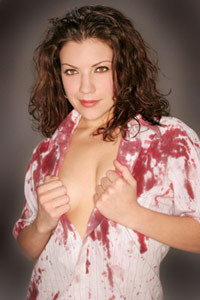 COSTUME? WHAT COSTUME?
Tiffany Shepis
, who was so much fun in the recent Night of the Demons remake, and definitely my favorite character in the film, says, "I grew up in New York, so Halloween really looked like Halloween. No other day in the year is as visually arresting. I watched a lot of horror movies with my older brother so it was always a great time to act out. However, the only costume I can remember wearing as a kid was a really lame-ass cavewoman costume." Last year's disguise was a vast improvement. "I went as a marionette and my husband went as my puppet master. We strapped a pole to my back that had a marionette's cross-bar at the top with elastic strings that were attached to my limbs. I was a creepy living puppet and I stayed in character all night. We got invited to some radio station Halloween party and we ended up winning $1,000 in their costume contest. Not bad for a $16 costume that we made ourselves."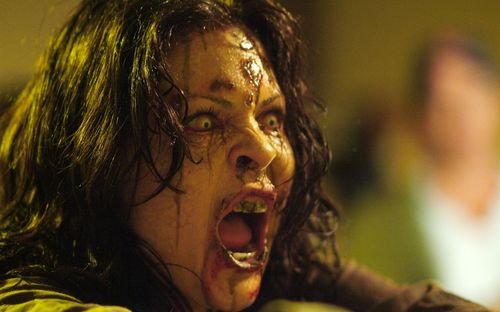 CHRISTA AS A ZOMBIE IN DAY OF THE DEAD
Hutchison's favorite dress-up from days gone by "was Frank N. Furter [back when I was, like, 19]. I used to religiously attend the Friday midnight showing of The Rocky Horror Picture Show every weekend, and made a killer rendition of Tim Curry in drag!"
This year:
Chad Cherry: This Halloween The Last Vegas are going to dress the part and play the music of The Runaways. I'm gonna be Cherrie Currie, obviously... Try to guess the outfit... Ya... Oh boy... What was I thinking?
Doug Hutchison: I plan on staying home, popping some corn, ripping open a bag of Reese's Pieces, lighting the Jack-o-Lanterns, and curling up on the couch with Courtney [and our pups, Tuna and Bazaar] to watch scary movies like "Night of the Living Dead", Hitchcock's "Psycho", and "Halloween" [the original w/Jamie Lee Curtis].
Christa Campbell
:
When I was a kid, I loved dressing up as a ballerina, and my mom would go all out — it was like a competition at school, who had the best costumes and who wore the paper ones from K-Mart. Nowadays it seems like either it's too dangerous or people don't allow their kids to go to strangers' houses. I really miss that. This year, I plan on going to a great party with great friends.
Tiffany Shepis: Says she still loves Halloween, "but ever since I've been tagged with this whole 'Scream Queen' thing, I feel some sort of obligation to always have a cool and sexy costume. The problem is trying to find something that isn't going to be worn by every other skank out there, or doesn't make me look like a total douche." When it comes to her ideal 10/31, Shepis adds, "I'm not just saying this because I was actually in this movie, but I thought the house party from the Night of the Demons remake was the shit. That's the kind of Halloween party I want to have.. minus the ass-raping demons, of course."
Staci Layne Wilson reporting