Holliston TV Series Review

Holliston TV Series Review
Just when you thought it was safe to back in the bathwater… here come Adam Green and Joe Lynch with their very own TV show!
Last night, Lionsgate hosted a sneak preview of FEARnet's first original scripted television series, Holliston. Holliston is named after, and is set in, the town where creator/writer/director/star Adam Green lived before coming to tinsel town to make scary cinema (his feature credits include Hatchet and Frozen).
Series regulars Green and his buddy (in real life, too) Joe Lynch appear as chowderhead college grads chasing the fantasy of becoming big time horror movie filmmakers — Shinpads, a zombie soccer flick, is the dream project — while barely scraping by in their menial jobs as TV personalities at a Boston cable access station.
In the first episode, The Hooker, we learn that Joe has an eccentric artist gypsy girlfriend, Laura (Lara Ortiz), while Adam has an ex-girlfriend, a cute, smart blonde called Corri (Corri English) …and he also has a mentally challenged cat and an imaginary fiend named Oderus Orungus (played by… you guessed it: Oderus Orungus, of GWAR).
We also meet their boss, Lance, who might run the station, but really wants to run with the devil in his passion project, a Van Halen cover band called Diver Down. The ambiguously gay (think: the running skit on 'Pat' from SNL) spandex-clad and heavily made up washed up rocker is played by none other than Dee Snyder (of Twisted Sister), who was actually one of Green's early mentors in real life. For those who know Green and Lynch IRL (as many of we in the L.A. horror community do), there are many little inside jokes and nods on the show. But what about the so-called Neilsons out there in TV land? Will they 'get' Holliston?
I don't watch many sitcoms anymore, though I have seen some of the currently running network shows like 2 Broke Girls, Mike & Molly, New Girl, Community, 30 Rock, Modern Family, The Middle and so on… what sets Holliston apart is that it's not about single girls, families, or the workplace — it's a guy-centric comedy bringing to mind Wayne's World, WKRP in Cincinnati and The Big Bang Theory. I think it's good enough to keep the interest of horror-comedy fans, even those who aren't familiar with the series creator.
Generally speaking — and this is no secret if you've read some of my reviews of Green and Lynch's feature work (most notably, and most recently, Chillerama) — I'm not a fan of their propensity toward not just sophomoric, but scatological, humor. Now, there is a little bit of that in episode 3, Skunked, when the boys are bathing together and one of them vomits in the suds, but overall the show is witty, entertaining, and funny thanks in no small part to the fact that the series regulars can actually act and have comedic timing. Now, Holliston isn't on par with The Office or shows of that ilk, but I was definitely laughing a lot more than I expected to.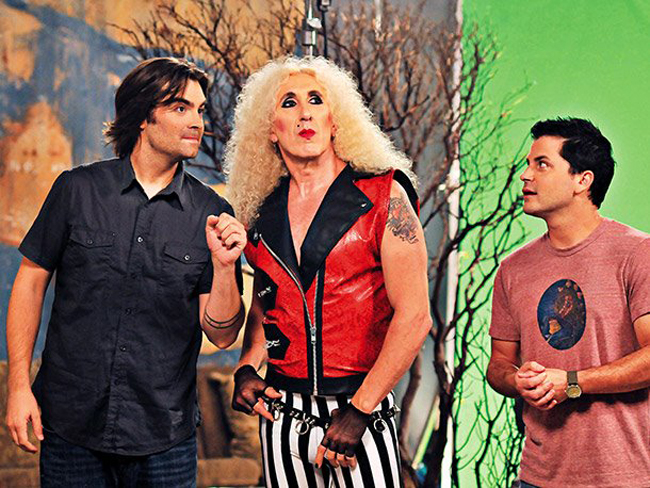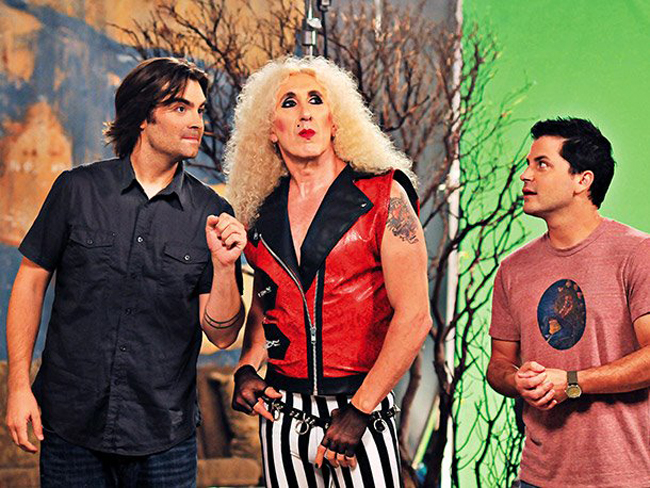 Green and Lynch have always had a brisk repartee, both in their long-running short film collaborations and just watching them together at parties — so that aspect is a given. What pleasantly surprised me was how good Snyder is, and the guest stars are cast to spot-on perfection. The show definitely has an old school vibe with a modern twist, ala That 70s Show, or even The Big Bang Theory. Speaking of The Big Bang Theory, if I have a complaint about Holliston in comparison to that show, it's that there isn't nearly enough genre 'geekiness' to it. There's the occasional aside in regard to classic slasher movies, but I would have liked to have seen a lot more on that theme, including even more blood and gore (it is, after all, FEARnet!). Holliston is more a situation comedy than anything else.
It's pretty niche, but I think it has enough broad appeal to please both the horror and comedy audience.

Episode 1 - The Hooker
Adam agrees to a double-date with his ex-childhood sweetheart, Corri. But he really amps up the awkward by hiring a hooker as his date off the bad advice from imaginary friend Oderus Urungus, when he can't find anyone else willing to go with him.
Episode 2 - Camera Rental
Joe and Adam hire out the company's camera to fund their horror film trailer – but the guy they rent it to vanishes! And, Corri and Laura discover their new apartment is haunted. Guest stars: Bill Moseley, Ray Wise and Parry Shen.
Episode 3 – Skunked
Hunting for their cat Axl, the boys get skunked. Corri and Laura head to the corner store for vinegar to help get the stink off but the cops, leary of their purchase, detain them. Guest stars: Brian Posehn, Derek Mears and Colton Dunn.
Episode 4 – Candyman
What's harder than getting Candyman out of your head? Getting the real Candyman out of your life! Their life turns sour when horror icon Tony Todd takes Adam and Joe out for a wild night, and decides to move in with them. Forever.
Episode 5 - Laura's Little Twitter
When Laura inadvertently tweets her racy photo, she's one of the hottest girls in the "twitterverse" - for the wrong reasons. Joe has Adam hire a mentally-damaged make-up artist for their movie trailer.
Episode 6 - Weekend of Horrors
Desperately trying to get their movie trailer to a legendary director at a horror convention, Adam and Joe pretend to be disabled to avoid paying for a "Gold Pass". Guest stars: John Landis, Kane Hodder and Danielle Harris.
FEARnet will launch Holliston on April 3. The horror network is currently available On Demand on Comcast, Cox Communications, Verizon FiOS, AT&T U-verse, and Time Warner Cable, among other outlets (series episodes will air first, and then go to the FEARnet website).
= = =
Reviewed by Staci Layne Wilson
Find out more about Holliston, character bios, and watch clips from the show at the official website