The Shiver of the Vampires DVD Blu-ray Movie Review

The Shiver of the Vampires DVD Blu-ray Movie Review
Directed by Jean Rollin. Starring Jean-Marie Durand, Sandra Julien, Jacques Robiolles and Michel Delahaye.
It's always lesbian o'clock in this kooky, erotic super 70s romp directed by the venerable Jean Rollin. The arty black comedy stars Sandra Julien as a young bride who gives her virginity away to the seductive vampiress who emerges from a grandfather clock at midnight, and Jean-Marie Durand as her unwillingly undersexed groom. Stuck in a musty old castle haunted by bloodsuckers and populated by eccentric residents, the young couple must do battle with the undead… or join their ranks.
The Shiver of the Vampires (Le frisson des vampires, aka Strange Things Happen at Night) is Rollin's third feature film — he would go on to complete 52 films… many of which were of the x-rated variety — and was his most accomplished to date. Prior to this were Rape of the Vampire, and The Nude Vampire. Rollin would later become a master of mood with slow, dreamy suspensers like The Iron Rose, Lips of Blood and The Living Dead Girl, but at the time he was still kind of telling stories (not his strong suit) and delivering punch-lines (again…).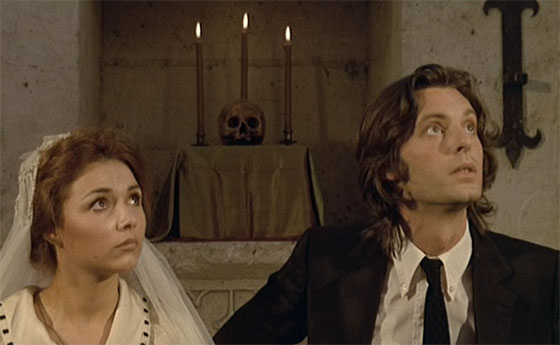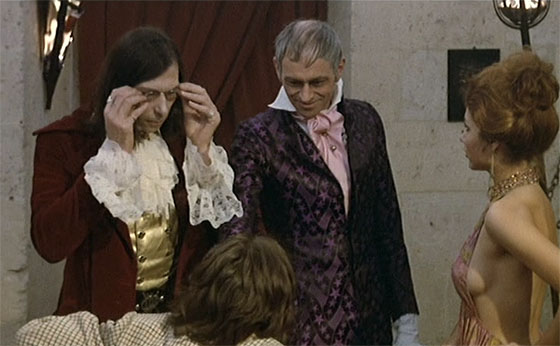 The character do many nonsensical things, but since many of them are in the name of fashion — like, when someone stops to put on a beautiful sheer scarf before firing a pistol at an enemy; or when a woman is killed by spikes in set of lethal pasties — it's A-okay.
Imbued with Rollin's go-to's (temptress twins; skyscraper castles; eerie graveyards and rocky beaches; striking color schemes and bold lighting choices; and of course, Sappho-saturated sensuality) The Shiver of the Vampires is a mixed bag and probably not the best one to be your first. However, if you're already a fan then by all means sink your teeth into this beautifully restored Blu-ray.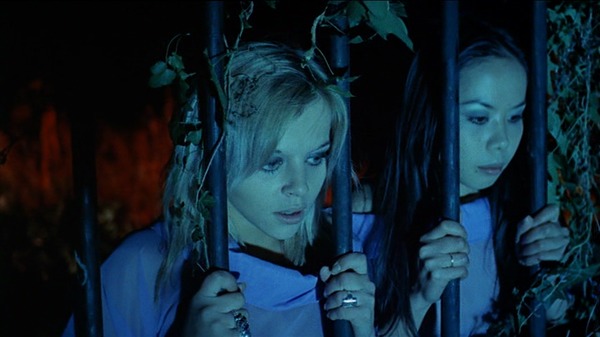 Kino/Redemption should be applauded, lauded and kissed repeatedly for their great works in restoring Rollin's ouevers. Keeping in lots of the natural film grain, yet making all the colors pop like never before, the movie looks great in HD. The guitar heavy soundtrack by Acanthus is fuzzy and fantastic.
As far as extras go, there's a beautiful Tim Lucas 20-page insert / booklet with informative text and lovely stills, an extended intro by the director, plus an interview with him conducted by film scholar Dr. Patricia McCormack, running approximately a half-hour.
Reviewed by Staci Layne Wilson